In My Dining Room with MacKenzie-Childs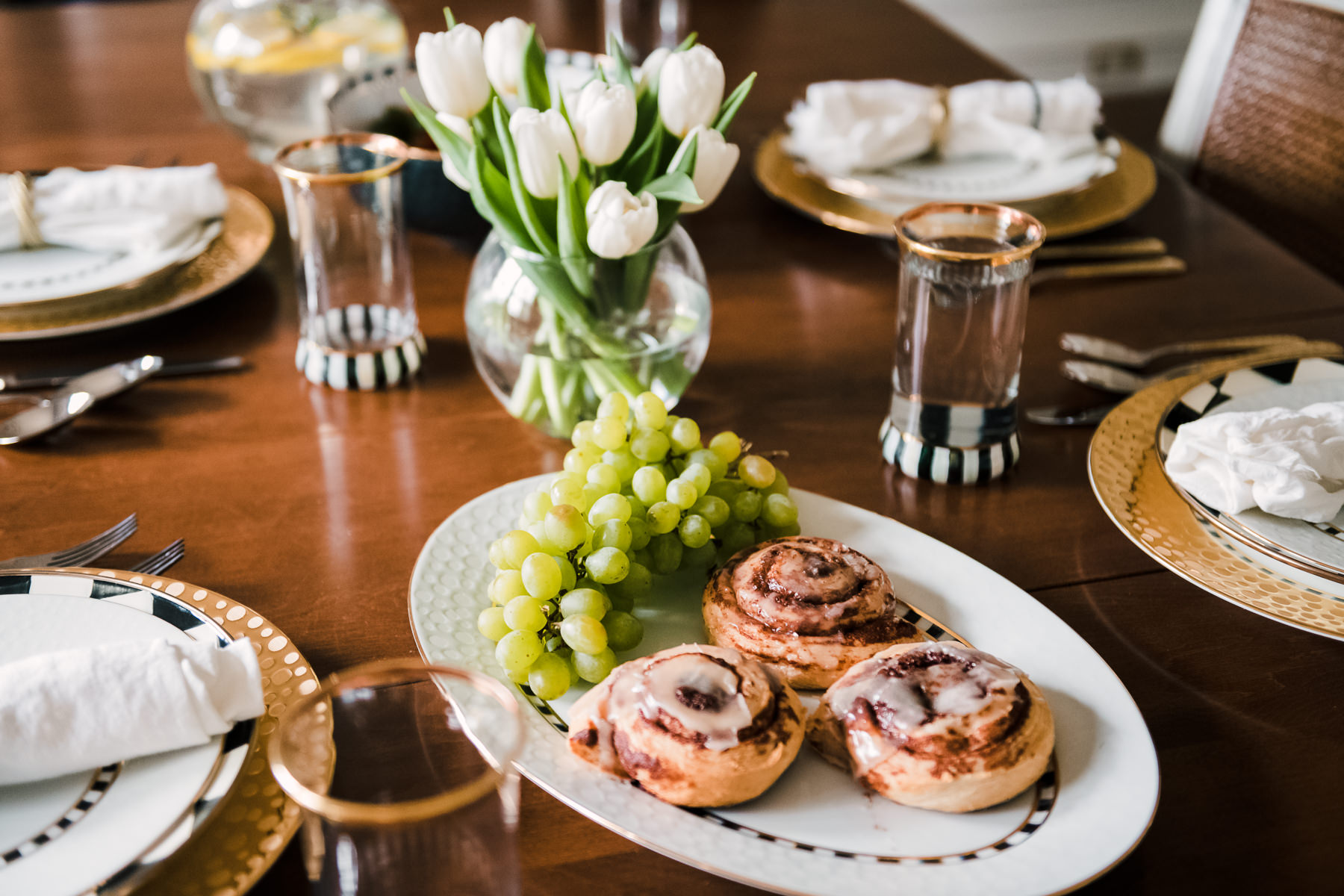 We've been in an unprecedented quarantine for what, six weeks now? I've been craving new ways to keep things normal and even special, all while social distancing. Back in February, when this pandemic was a mere twinkle in our eye, I went to an all-day event hosted by MacKenzie-Childs, where we learned about the brand, its history, and even had my own hand at decorating some of their signature dinnerware/tableware! I had no idea the rich history the MacKenzie-Childs brand had and how they employ so many independent artisans; also, the brand has such a cult following! People collect these items over the years and some dedicate full hutches just to MacKenzie-Childs pieces.
Mackenzie-Childs Tableware
#MCTakesChicago
The MacKenzie-Childs event in February was incredible. It was held at the chic Kimpton Gray hotel in their covered rooftop event space and was a day chock full of meeting with the brand's CEO and designers, followed by delicious meals (on MacKenzie-Childs tableware, naturally) fun group events, and learning more about the brand from the employees themselves. The company is based in upstate Aurora, NY where there's a farm and houses artisans who spend their days creating their beautiful products. You may recognize their signature MacKenzie-Childs Courtly check–the bold black and white squares that pops up on tea kettles, stovetop pots, and plates.
Did you know that each piece is individually hand painted by an actual person? They're truly dedicated to creating a unique product and that's what makes Mackenzie-Childs so special and sought after. They let us take a turn and decorate our own pottery (a pie pan). And I attempted to do a courtly check (let's just say, it's harder than it looks). We mingled and bonded with other local influencers, made floral wreaths with my favorite local florist, Flowers for Dreams. And finished off the day making signature cocktails with MacKenzie-Childs barware (which I also was able to bring home!).
Setting My Table with MC for Mother's Day Brunch
MacKenzie-Childs has expanded their line over the years; it's not just for table settings, but also seasonal decorations, rugs, even furniture! But I knew I couldn't resist having their tableware for years to come.
This is the start of my own MC collection, starting with this SoHo tableware. When I was initially brainstorming for our partnership, my idea revolved around a springtime dinner party because their new SoHo Collection goes really well with my wedding china and I knew I'd love it for years to come. I love the deep navy platters and bowls that pop against the gold and silver chargers and neutral plates. This color scheme fits perfectly in my home and I knew I had to have it. I added the gold and silver checked flatware, again, because it's so unique but will go with any place setting I put down on my table. I even added the signature Courtly Check plates because it's the brand's calling card–love having the pop of checks peek underneath the plates.
My spring dinner party may have to be put on hold until summer (hopefully) but I love any reason to celebrate. So I brought out the fun, MacKenzie-Childs plating and flatware for a fancy Mother's Day breakfast. It can be easy–cinnamon rolls, a bunch of fruit, paired with mimosas and orange juice. I even got fancy with lemon-rosemary water. It's a nice way to celebrate when we can't go out for brunch. But it still makes it special enough to call it a celebration at home. And I don't have to worry about the MacKenzie-Childs plates around the kids–their enamelware doesn't break!
MC for Mother's Day Gifting
Also, I'm gifting my own mom some MacKenzie-Childs for Mother's Day as she entertains her various card groups (Bunco, anyone?) quite often and think she'd love some of the fun and bold pieces that MC offers. I'm thinking she will love this Courtly Check serving platter for a charcuterie spread along with this matching cheese knife set–I think it'll be a huge hit!
PS Check out more of my home posts here!
*Thanks to Mackenzie-Childs for having me at the event and sponsoring this post!