Packing for Paris in the Fall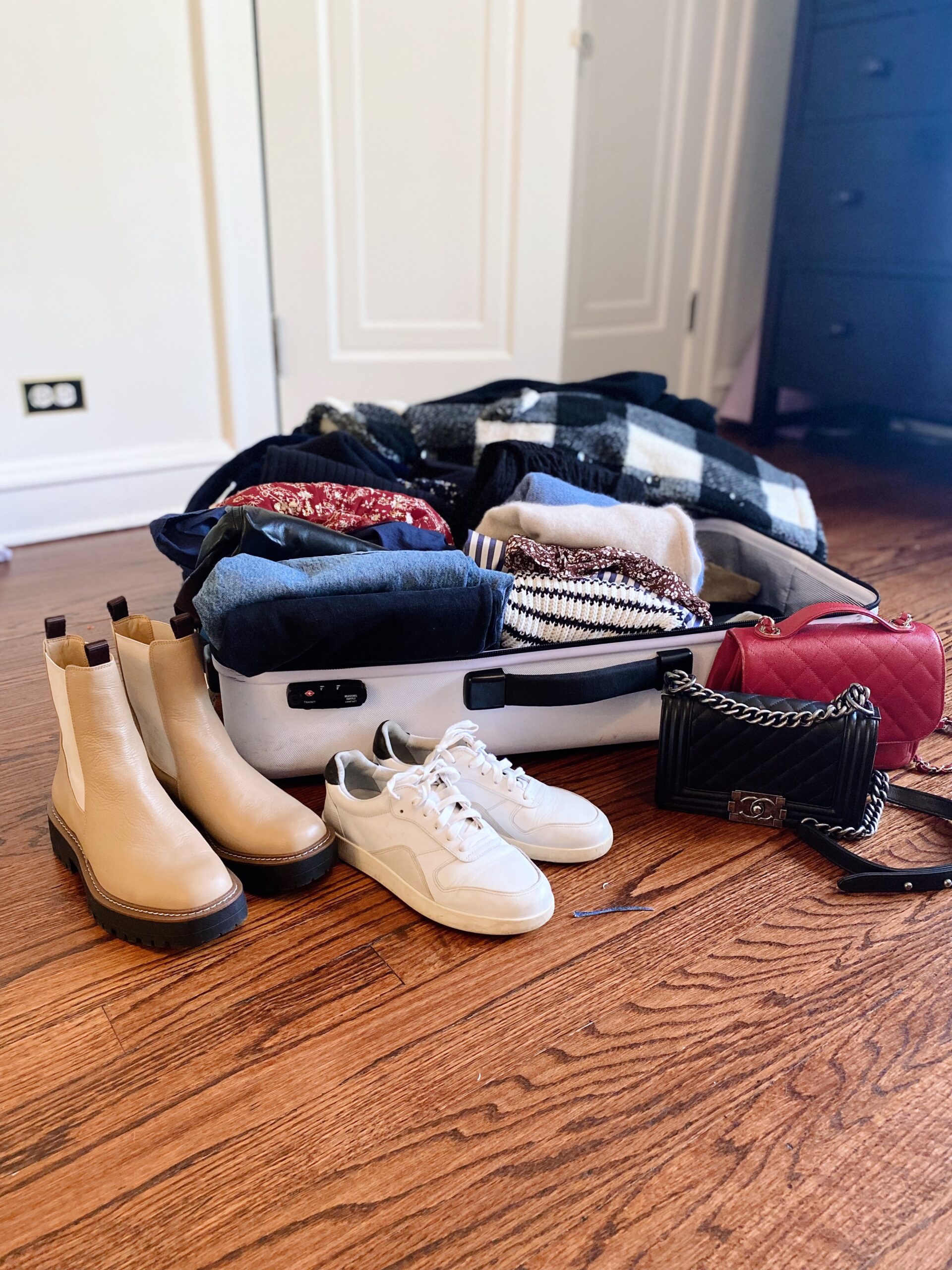 I received so many questions about my packing strategy for Paris. Packing for a short trip abroad in the cooler months can be a challenge so I wanted to share what I did and learnings (aka what I didn't wear at all). I also will be sharing a more robust itinerary but if you want a list of places we went to in Paris (and a few we didn't make it to but came highly recommended) please download the Out of Office app and you can find our trip here!
Packing for Paris in the Fall – My Checked Bag that was Exactly 41 lbs:
Four coats
I know that sounds extreme but coats are your outfit! I wore my bulky fleece shacket on the plane (and stuck it in the overhead bin). Also, one of the coats was technically a blazer as it was heavy enough for a warmer day.
Apparis plaid coat (shop more Apparis here)
IRO Camel wrap coat (very old but similar Theory Outlet version here)
Bernardo fleece checked shacket
Bonus: I bought a fuzzy shacket from Sezane while there!
Three dresses
I brought one "night out" dress but the other two could be dressed up or down–I needed options!
Rhode Pia dress – size up! It runs small (shop more Rhode here)
En Saison pleated dress (shop more En Saison here)
OPT square neck dress (shop more OPT here)
Three sweaters
I actually packed four but didn't wear one so I'm advising you to pack three for room! Plus, you might be shopping, right?
ABLE ribbed striped sweater (wore on the trip AND plane ride home)
Wolford turtleneck body suit – maybe not technically a sweater but it's acted as one on the trip–easy to pack, too!
Vince cashmere polo – this Everlane one is a great 'look for less.' (Shop more Vince here)
Three pants
AGOLDE leather pants (shop more AGOLDE here)
Three bags
Goyard tote for the plane (see my review here!)
Chanel boy bag – I prefer small bags while traveling to keep my valuables close
Chanel business affinty
Three boots
Because we need options!
Isabel Marant Denvee – I knew a knee high option had to come with me–bonus, the heel made them very walkable.
Sam Edelman Laguna – COMFORTABLE–wore theses on the plane because they're heavy and chunky
Tamara Mellon – for outfits that require a heeled boot (these are old, similar SW here)
Two tops + 1 tee – great for day OR night
ASTR the Label top (shop more ASTR here)
One sneaker
Everlane – classic, white, and easy
Others
Sheer, black tights
Everlane cords (totally forgot to include these in the pants category but you can definitely get away with 3 pants)