Before and After: Our Boys' Green Bathroom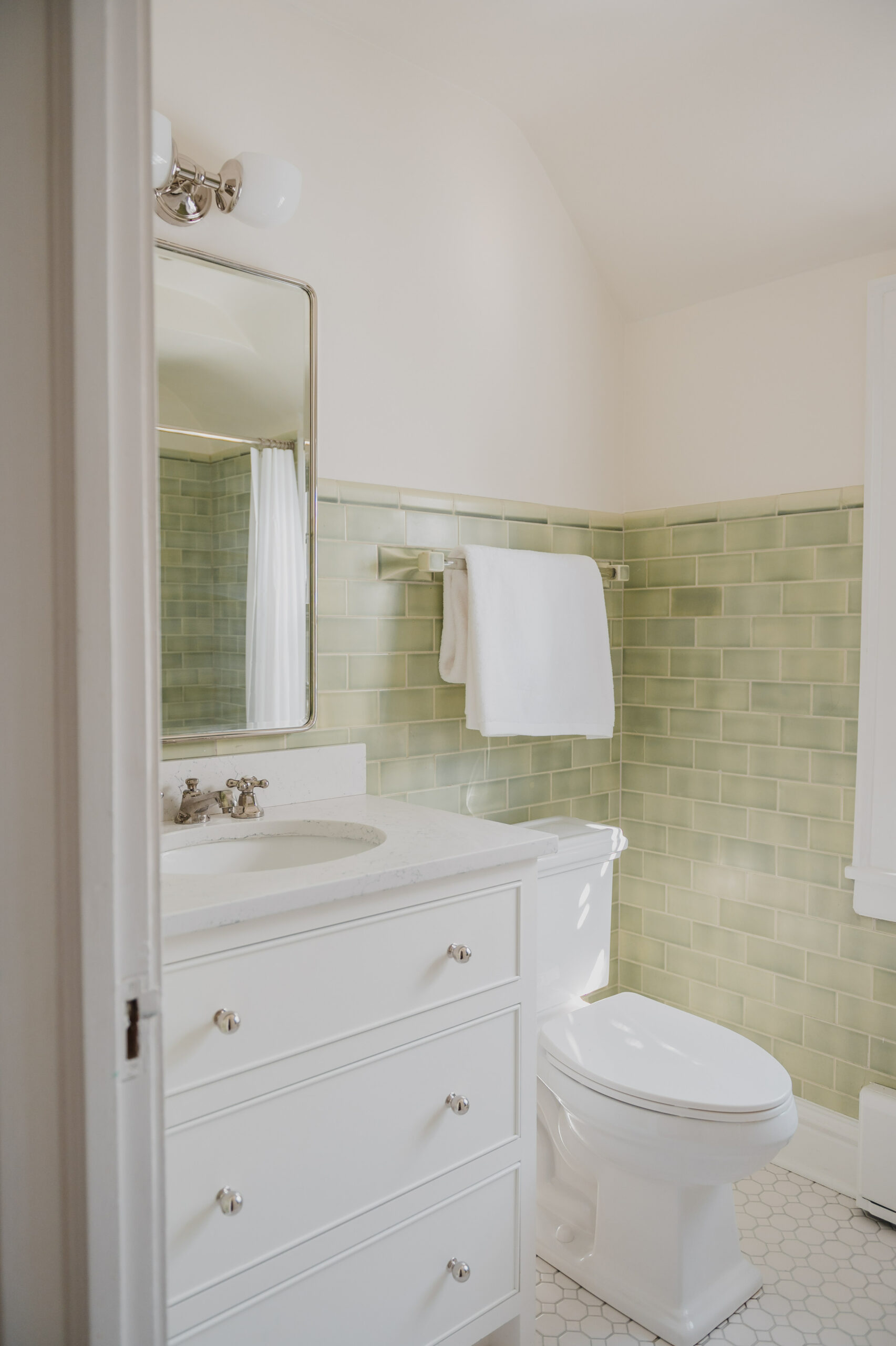 Happy St. Patrick's Day! What better way to celebrate than to showcase our remodeled green bathroom. I've been looking to update this bathroom for awhile and I'm so proud to show off the end result.
The kids' green bathroom is a prime example of why people suggest living with something before you decide what you'e going to change. If you would've asked me about this bathroom right when we moved in, I would've said the green tile was gone. Over the months, it really grew on me and I began to appreciate its unique-ness, style, and beauty. They truly don't make things like they used to and the craftsmanship on these 1920s tiles are second to none. I knew there was a way for me to update the bathroom while keeping the tiles in tact.
Before and After: Our Boys' Green Bathroom
The Process
I basically told my contractor, I want to update the whole bathroom except the green tile and the cast iron tub. Most of the bathroom was original to the house and in pretty good shape. All the owners of #thisoldtudor really took care of it. Keeping the tile and tub was a big cost savings, too! However, keeping the tub and tile meant I would need to fix cracked tiles and reglaze the tub which definitely isn't free.
What I Bought
The plumbing also stayed in tact, which made it a very plug and play process. I used my original plan to buy the items for this room. Here's what I bought:
How Long It Took
We took Covid precautions and our contractor only sent one person at a time so it took longer than planned, but it was fine because we were used to the kids using our bathtub, ha! It took about two months. I know what you're thinking–whoa! For a small bathroom with the same layout!? But we had parts delays and the person who fixed the cracked tiles took weeks, which is fine because I wanted that done right! And like any renovation, we had days where no one came because they got pulled into something else. Words of advice: for any home project, always plan for longer than the estimated quote. How the Property Brothers renovate homes in 4-6 weeks, I'll never know.
Would you do it again?
A resounding "hell yes!" I love that I was able to maintain the character and history of the green tiles while giving the bathroom a fresh and functional update. A pedestal sink is hard when there are kids in the bathroom–you need drawers or cabinets for all their stuff. I tried to keep it as simple as possible–polished nickel, soft whites, and classic fixtures. All in all, I am very, very proud of what we accomplished in this bathroom. I hope you love it as much as I do!
Check out my master bathroom renovation here!