Finally! Our Master Bathroom Renovation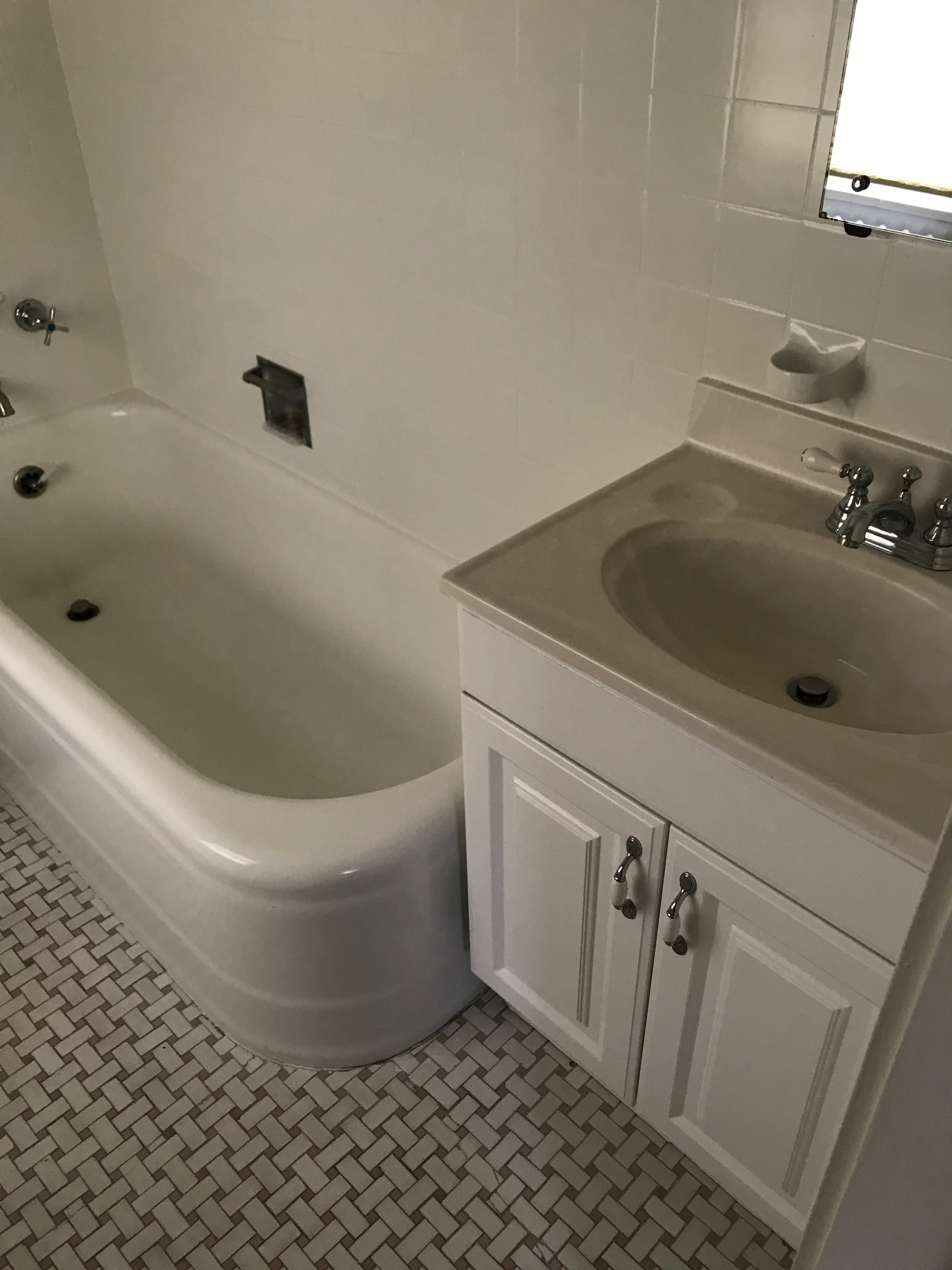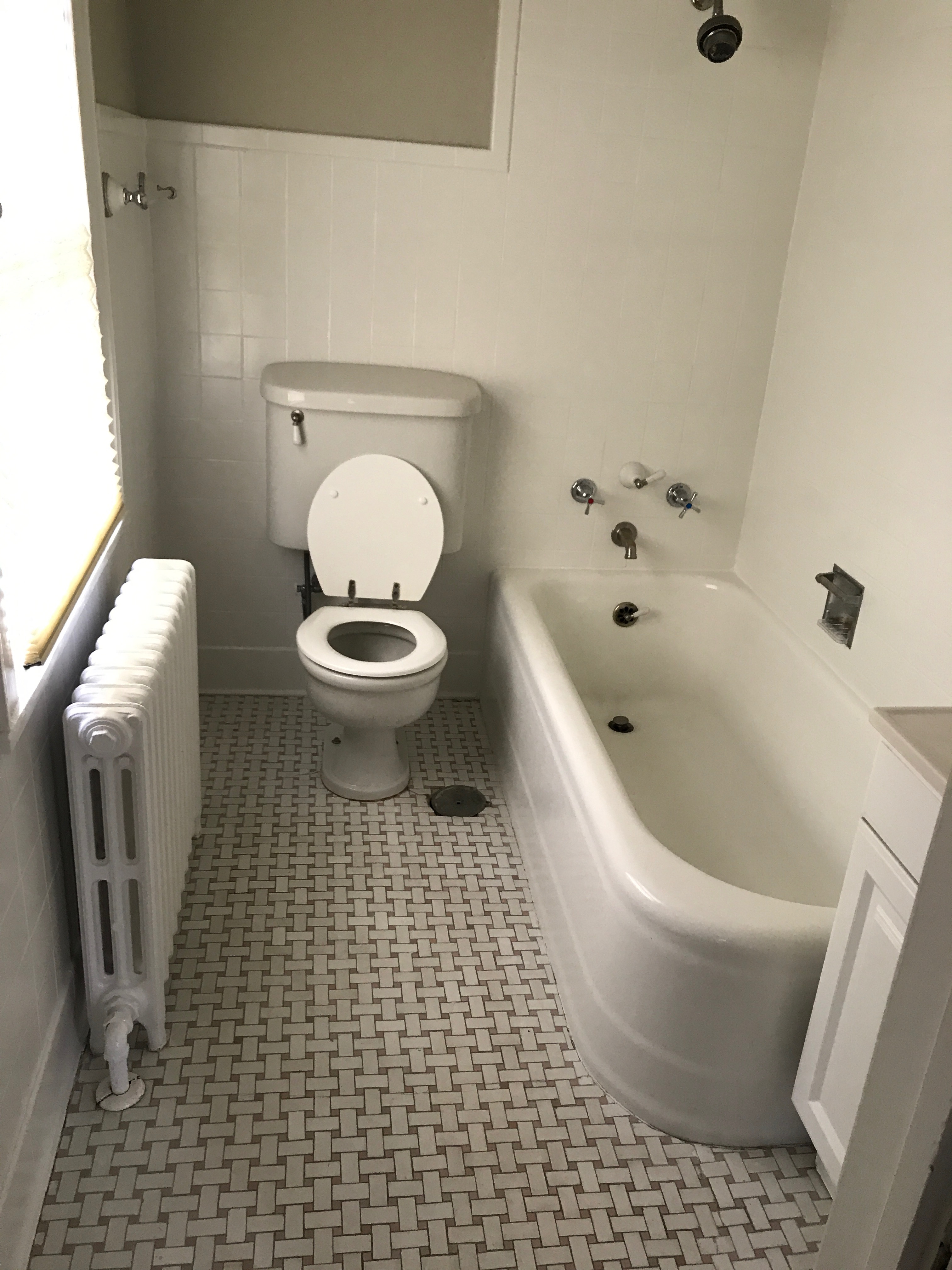 It's here!  Behold: our long-awaited master bathroom renovation reveal.  Join me for a good before and after along with what we learned during the process.  We have never done home renovations so this has been quite the journey for us…and I have to say–I can see how people say it's addicting.
What did we do?
It was a complete gut job down to the studs.  We expanded the floor plan and added a walk-in master closet.  The only thing that remained was we kept the toilet in the same spot (it was cheaper to keep the plumbing in the same spot).  We started from scratch with our contractor via his architect who planned the space; our bathroom still isn't huge–in fact, I think it's smaller than the master bathroom at our condo, but it's such a vast improvement and I think we made great use of the space.  The old space was approximately 9'x4′ and the new space is about 9'x9′.  Kira David Design helped me pick all the fun stuff…and I'm obsessed, of course.  When I was waffling between designs, she recommended I go with the one that was more serene so our bathroom would always feel calming and I couldn't agree more.  Also, I wanted some elements to pay homage to the original design (note the floors); it was my version of Marie Kondo thanking  things she has used in the past–I wanted to thank this bathroom in a way.
Why did we do it?
When we moved into #thisoldtudor, we knew we'd update the bathrooms.  The master bathroom is the only one we planned to gut completely and expand the floor plan.  As you can see, the bathroom was charming but tiny.  Like, very tiny.  And as I mentioned from the walk-in closet renovation, our master bedroom had room to spare.  The bathroom had never been updated…and it made me a little sad to disturb it.  It was mostly original from when the house was built in the 20s–we confirmed that the cast iron tub, toilet and tile were all from when the house was built (I don't believe the vanity was original).  The toilet is actually really cool, but don't worry–we have two more left in the house just like it. Side note: can you believe a toilet that's almost 100 years old is still working!?
What did we learn?
Expect delays.  The project will most likely take double the amount of time you're told (there's always unforeseen circumstances).  We were quoted 6-8 weeks–and it took almost four months.  There were delays due to everything but I knew deep down that there was no way it would take 6-8 weeks, so I was mentally prepared.
Prepare to be disappointed about something.  We had to downsize our tub due to room.  Not the worst thing that could happen but we spent a good chunk of change on this entire project so it can be a bummer when your vision doesn't come to fruition.
Unexpected costs.  THANK GOD we didn't have many of these because we've all watched Love It or List It, right?  I feel really lucky that we didn't run into any issues with the old plumbing and what not (it makes me feel really good that this was a solidly built house and it has been well taken care of)–I've heard horror stories.  But we forgot about a couple extras we wanted during the planning of this project (ahem, a steam shower) and it cost us.
Would we do it again? 
Hell yes!  In fact, I'm trying to plan out the kids' green bathroom right now–which will not be even close to the magnitude of this project.  I want to keep the green tile and bathtub and just make general updates.  Either way, I can't wait and I hope you'll follow along!  Also, my towel racks are on back order so those aren't even hung yet…I should probably get on that.
Sources:
Kira David Design created this space with me via e-design (she's amazing!)
Custom vanity painted in Farrow & Ball "Shaded White"
Pottery Barn medicine cabinet mirrors
Brooklinen towels