The Kids' Green Bathroom – Keep or No?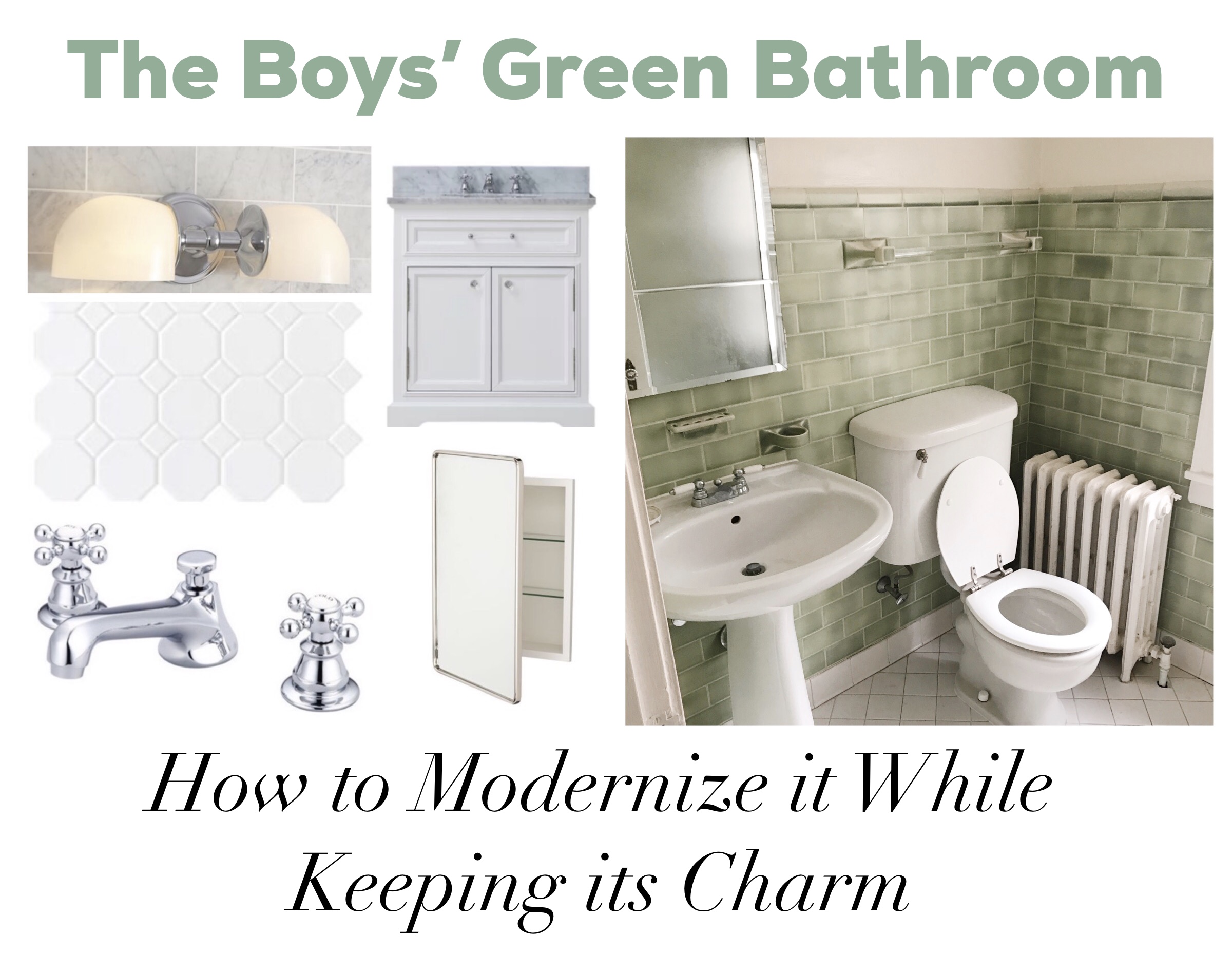 Another day, another decision to be made in #thisoldtudor.  Home renovations are stressful yet addicting.  And look at that beaut of a bathroom.  Sometimes, I can see a room's potential; but I'm no designer, so much of the time, I can't.  When I saw this bathroom for the first time, I thought, 'oh dear God, no.'  But I heeded everyone's advice and lived with it for awhile.  Time passed and I still wanted it gutted–but it would have to wait until 2019.  And now we've been in the space for 4-5 months and I have to say, the green tile–it's grown on me!  It makes a STATEMENT, that's for sure–and what kind of statement, I can't say.  (Maybe it's 'I like old things' or 'Green's my favorite color?') . But seriously, it's grown on me.  I told Eric one night in bed, 'what if we keep the green tile?' and he was aghast because I'd been so adamantly against it.  The tile is original to the house and largely in pretty good shape but the rest of the room needs some updates.  And I think the green could look pretty cool–modern and intentional even, if I updated a few other things.  And honestly, it'd save us a bunch of money if we kept it in.  Also, even if we decide some day that it needs to go (due to too many broken tiles or something), it could be changed while the other updates stay!
Vanity – marble top, great price point, simple design
Medicine cabinet mirror – the medicine cabinet already exists and I'd love to keep it with a new mirror!
Floor tile (VERY reasonably priced) – vintage-inspired and oh-so-cute
Lighting sconce – love the traditional, yet updated shape
Faucet – I can't resist a cross handle faucet!
Toilet – I've been advised to install a new toilet for efficiency purposes (it'll use less water) as this one is definitely from the early/mid 20th century.  Now is this a good looking toilet or is this a good looking toilet?
Paint – I'll also paint the walls and ceiling my signature color – Benjamin Moore 'White Dove'
So what do you think?  Would you salvage the green tiles for a smaller update or wait and completely gut it?