An Easy Date Night Look
There's something about a date night in the city that makes me want to wear a fun, silk, blouse and jeans. A typical date night for Eric and me happens once a month–sometimes once every other month (I know, I know). It's usually spontaneous and we look at each other and are like, "shoot, we need to go out alone ASAP."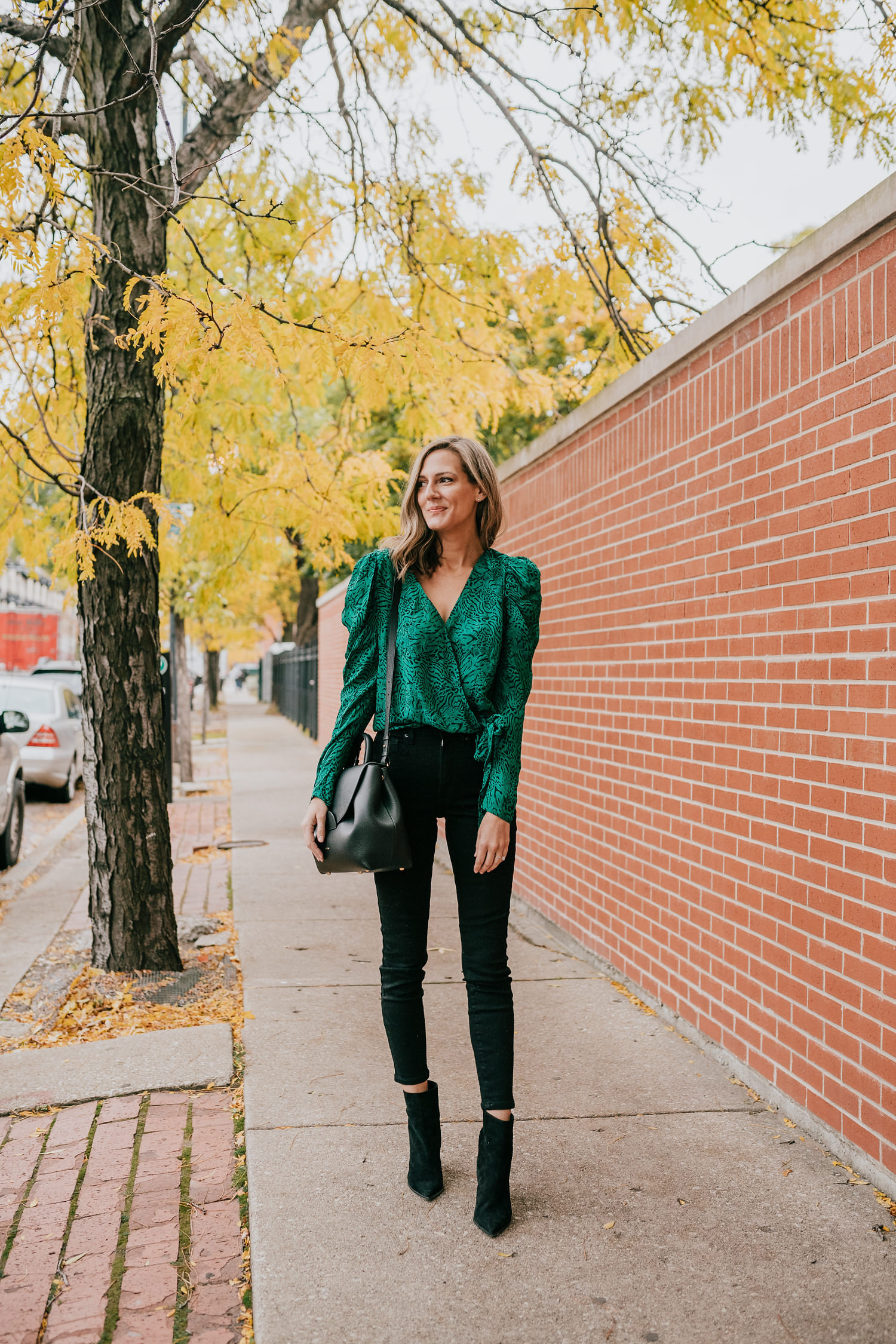 And because it's always last minute, we end up going to our favorite classic spot, like Bavette's (sneak a spot at the bar because we can never get a reservation) or see what last minute reservations we can snag on Resy or OpenTable (check out some of my Chicago faves here). And because we don't always know what we'll be doing, I feel safe in a gorgeous blouse and jeans–it just works for an easy date night look.

PS Remember "going out" tops in college? They always bared your shoulders and you'd wear a fleece jacket or puffer over them in the dead of winter – ha!
Here's a few more fun blouses to go with your favorite jeans on your next easy date night:
English Factory (shop more EF here) – I like a puff sleeve for some structure and the black means you can wear it with anything.
Joie (shop more Joie here) – This brand always has a good showing when it comes to date night tops (hint: you can easily wear them to work, too).
WAYF (shop more WAYF here)- I have this top (worn here) and I'd highly recommend for any occasion! Lace is kind of romantic, though, right?
Abercrombie – I just feel like bodysuits are so sexy for a night out – I have a similar version to this (by Paige) but love this look for less!
Smythe – Ok, this is a SPLURGE (I'll wait for the sale) but it's absolutely gorgeous. I'm in my 30s so a going-out top needs to be sophisticated and a little suggestive. It's like a sexy blazer! (ha)
PS. I DID wear this exact outfit bowling and it was a bad idea–the wrap top isn't meant for the athleticism needed for bowling.