Binge-Worthy Shows I've Been Watching on Netflix (and Hulu)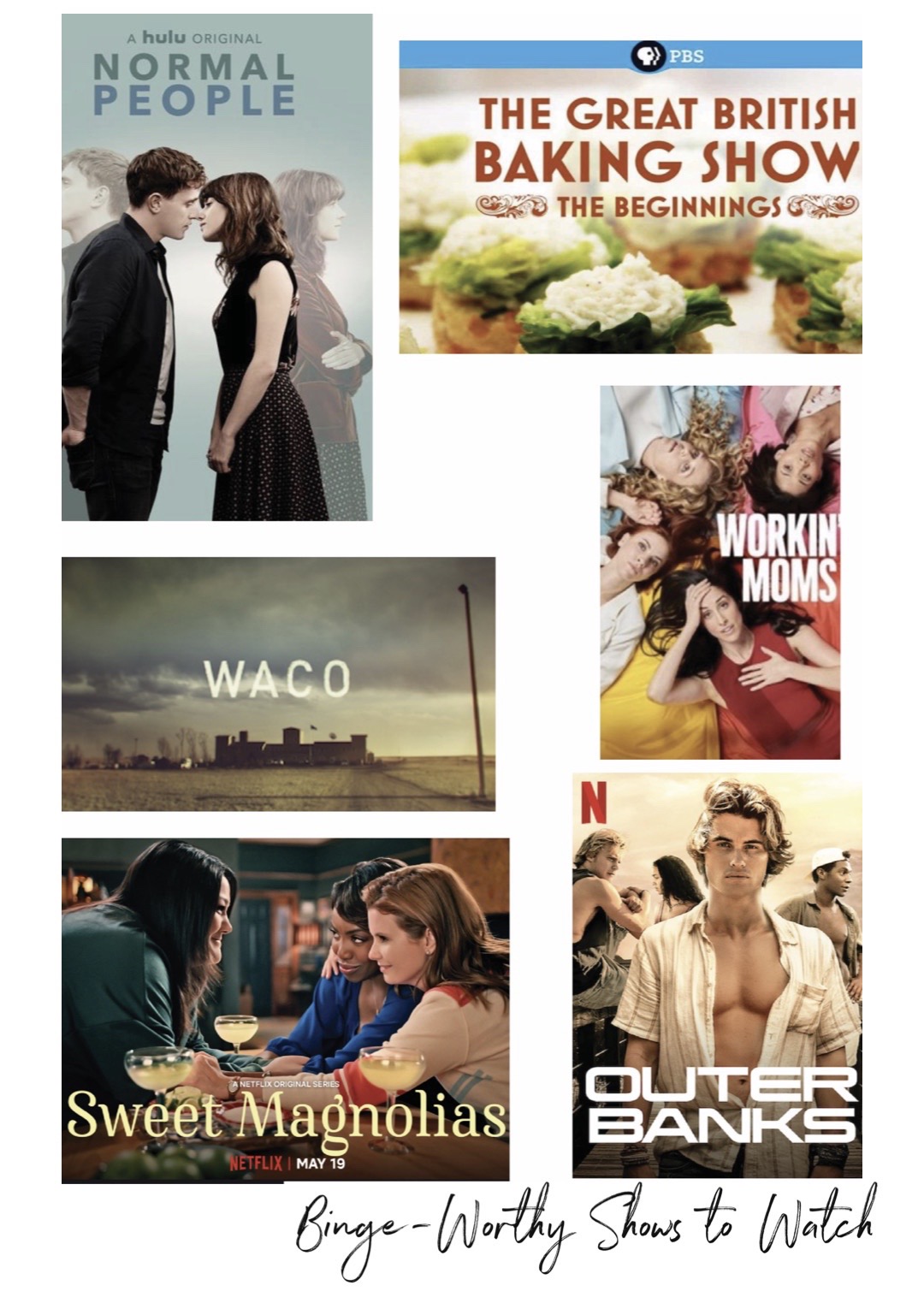 Binge-Worthy Shows on Netflix and Hulu
Anytime I post what I'm about to watch on TV, I receive so.many.messages that either you agree the show is amazing, or that you have the same impeccably cheesy taste in television and appreciate the rec. Hey, I watch adn love take a serious show or film, but I have a real affinity for the cheese. I mean, I don't want to brag, but I liked Lifetime and Hallmark movies before they were cool. Remember when they were basically after school specials? Oh yeah, that was the good stuff.
Anyway, the last couple months have meant a lot of quality TV time. I don't plan on watching as much this summer as I plan on being outside as much as possible, but who knows, maybe I'll pick up another show. In the meantime, if you're looking for a summer show, I have you covered!
Sweet Magnolias
If Hallmark had a show, it would be this, but we're all in luck because it's on Netflix. It has ALL the Virgin River vibes, so if that's your jam, you'll love this. My friend and I had an in depth discussion that the main character, Maddie, gets all the cute clothes and the rest of the cast is a little overshadowed (maybe they brought their own wardrobe?). Also, Chris Klein's accent had me LOLing. Personally, I can't wait for season 2!
Great British Baking Show
I know I'm a decade late to this show but dang, is that flour in my eye or am I going to shed a tear? There's no cash prize and the cast isn't tearing each other down like you see in American reality shows. They're all just plain lovely and it's a joy to watch. I've never seen such an uplifting reality show; it's like they ARE there to make friends (what a concept, eh?). (I've only seen two seasons but I suggest you start at "the beginnings")
Waco
Alright, Waco is super sad and this isn't the Tim Riggins you're used to. I was about six years old when this happened so I don't have much of a memory of the events ( I do remember that it put the city of Waco on the map), but the show really does a pretty good job of showing perspective from both sides (not all reviews agree with that). But it's really quite good and worth the watch.
Dead to Me
I *just* started season 2 so no spoilers, please! But season 1 was so good that I have no doubt it will be just as amazing. Christina Applegate is just a gem.
Outer Banks
A little Goonies, a little Dawson's Creek, a lot of attractive teens with tons of manufactured drama. I will take it over and over again. I cannot WAIT for season 2.
Workin' Moms
It's a Canadian show and it's very funny and on the nose. I've seen every season on Netflix (they just released season 4!) Lots of raunchy and smart humor–I dig it! Fun fact: I have a knack for identifying actor's other roles and Anne is from one of my favorite mid-2000s Lifetime movies: Dead at 17.
Normal People
So, I read this book (review here) and liked it but I LOVED the series n Hulu. Holy moly, the actors are incredible and while I feel that tv/movies often ruin a book, this just made it sing. I've read criticism on the casting of Marianne and I wholeheartedly disagree–I thought she was perfect. Definitely watch this…it's incredible!
Be sure to check out my other "Best of Netflix + Beyond" post here.