The Our Place Always Pan Review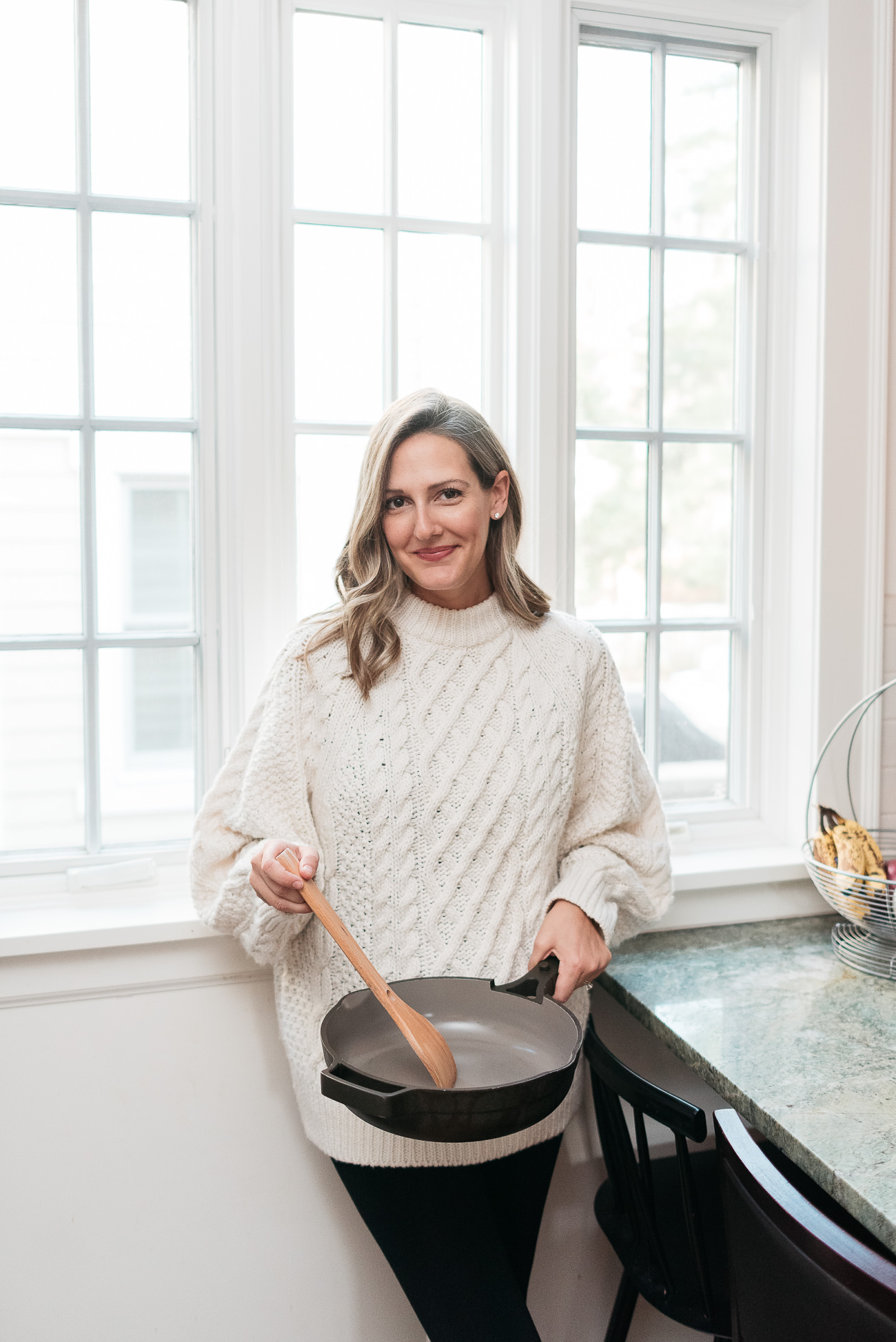 You've seen it on Instagram ads. You've seen it on my IG stories. What's with all the buzz surrounding the Always Pan from Our Place? Instead of doing a traditional Always Pan review, I thought I'd answer some FAQ/DMs I received about the pan (which I've owned and used for several months now). As someone who cooks quite a bit, let me tell you that it's all about the versatility and the non-stick/non-toxic factor.. And if there are any questions I didn't answer, please leave them in the comments!
Always Pan Review: FAQs
Why is the Always Pan so great?
It's way deeper than most of my skillets (it can make one pot meals!), non-toxic, and truly non-stick, which makes it a breeze to clean.
It's REALLY non-stick?
It's REALLY non-stick. A couple tips: don't use on super high heat–that can make things stick and an oil/grease helps, of course. And it's super easy to clean. No need to soak!
Is there anything the Always Pan can't do?
It's not oven safe, so don't stick it in there. Also, nonstick pans aren't the best for searing because you shouldn't use super high-heat on them (but occasionally is fine). And although it's dishwasher safe, I'd advise NOT to put it in the dishwasher to extend the longevity of it.
What are some of your favorite features of the Always Pan?
I love the spatula holder–its genius and I wish all pans came with that. The steamer basket is also super handy. I steam vegetables for the kids sometimes–like cooked carrots and the steamer basket is pretty clutch. It's also great for dumplings (I love to steam them and them pan fry for a little crisp–all in the same pan!)
Would you recommend the Always Pan?
Definitely. I think it's a great option if you're a novice cook who makes only a few things or even more advanced as I've used it for one-pot meals for my family. It's definitely my go-to pan and I think it's the only one I've used for the past few months, with the exception of a large pot for boiling water. It would also make an awesome gift!
Our Place is also dedicated to sustainability practices and invests in the local community (most recently, they donated 200,000 meals to those affected by COVID-19!)
And get this–they're running a Black Friday sale until November 30 (or until they run out of pans). Shipping & returns are free and you can use code SUPERSALE for $50 off!
*Thank you to Our Place for sponsoring this post!