Skincare Products I Keep Buying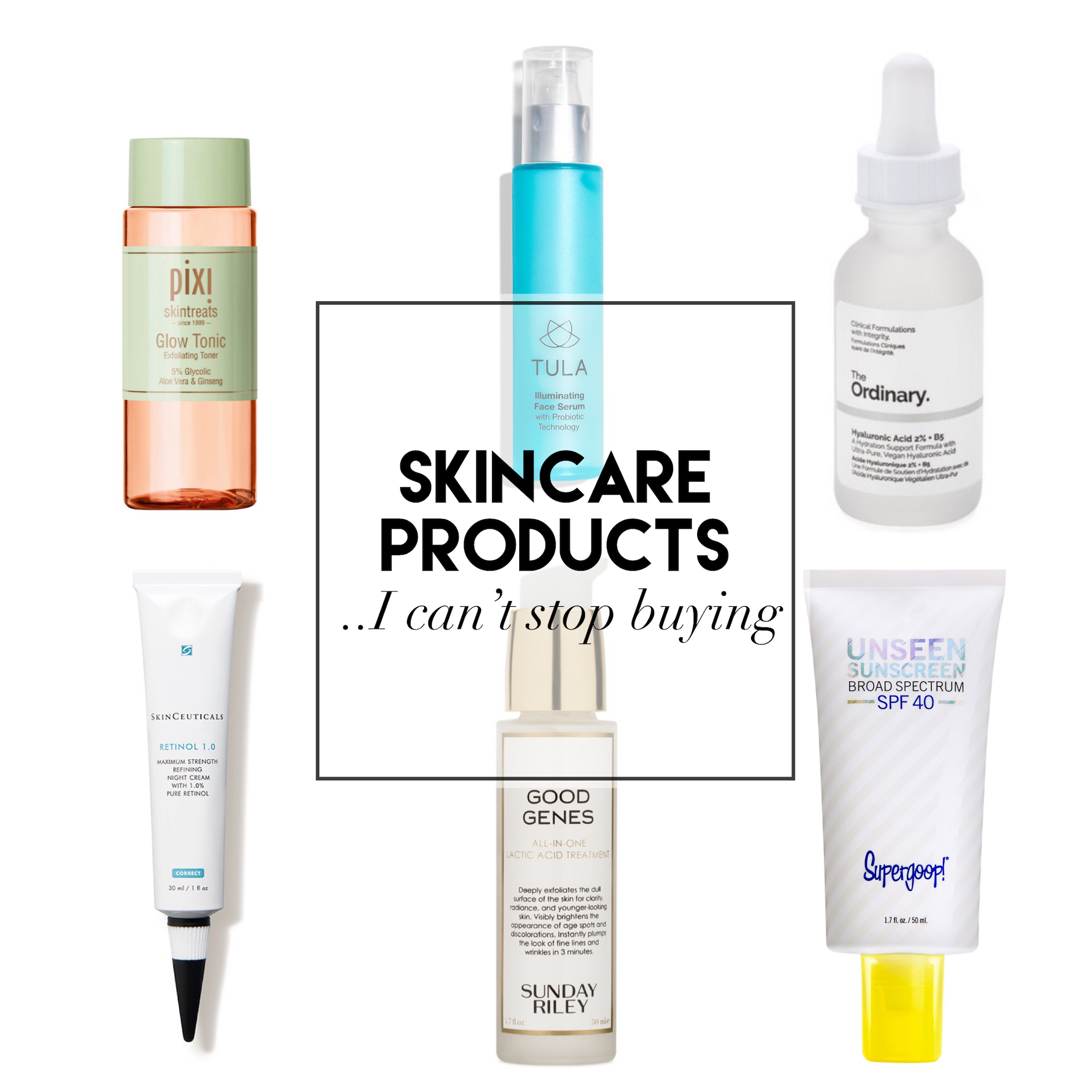 It's hard to claim you love a skincare product when you don't feel compelled to re-buy it.  There are a handful of special products–"HG status" products, that I keep buying, even if I'm lured to try something new.  And hey, it's the nature of the business; I love trying new things and telling you guys what I think (plus, who doesn't love trying new products?).  But, there are some products that I absolutely love and stand by–that is, until something better comes along!

Skinceuticals Retinol – Have been obsessed with this stuff since I first dipped my toe in the retinol pool last year (I currently use 0.5% but I'm ready for 1%!).  It's all I've used but it's going great so if it ain't broke…

Sunday Riley 'Good Genes' – Safe during pregnancy (I'm not) but it is probably the next best thing to retinol.  Smooths my skin wonderfully–I love using it at night and am on my 4th bottle!  Use it with Luna Oil for extra oomph (but not if you're pregnant).

Tula 'Illuminating Serum' – This gives such a glow that I'm confident enough to go makeup free some days.  I love it, wear it daily, and get sad when it runs out. (Use code ANNAJANE for 20% off!)

The Ordinary Hyaluronic Acid – I found The Ordinary to be SO overrated in general (anyone else?), but I really liked slathering this stuff on before my products.  I have no idea if it does anything except for make my skin feel plump, but at $6 a bottle, that's good enough for me.

Supergoop 'Unseen Sunscreen' – The best sunscreen I've used for my face, hands down.

Pixi 'Glow Tonic' – Love this stuff and they sell it at Target so it's easy to re-buy.

My ask for you all: I need help finding a vitamin C serum that will help brighten my skin tone.  I've never found one that I like enough to buy again…help!