Shop Your Closet: Linen Skirt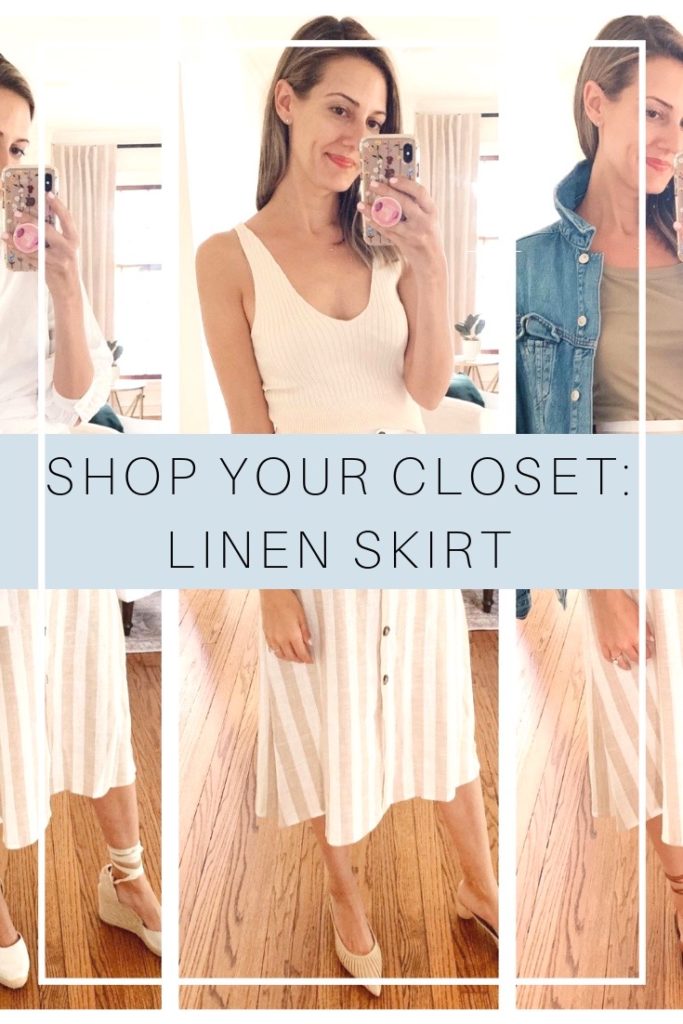 In honor of being OOO this week, I wanted to share several ways to style a linen skirt, which I packed for Spain. I featured this linen skirt (similar here) last week on my weekly IG stories rendition of #shopyourclosetseries. A lot of people are thinking fall because the fashion and retail industry has trained us as such. It's August and kids are heading back to school soon, the cicadas are buzzing, but the temperatures are just as warm, if not hotter. I'm trying to be the change I want to see and resist the urge to buy new fall clothes when I won't be needing them until at least the end of September. In the meantime, it's ok to wear your summer clothes! In fact, I bought a few summer dresses for my trip–no regrets.
I bought this linen skirt at H&M and it's breezy, comfortable, and yes–a bit see-through. I've come to terms with the fact that linen can be sheer and white pants can be a bit see-through, so it all depends on what underwear you wear. You can wear a nude-colored brief or thong (nude = your specific skin color) or even Spanx! It all depends on what you're comfortable with and personally, I go nude boy shorts under something like this. If it's a pair of tighter white pants, I'd probably go nude thong. So, which linen skirt look is your favorite?
Find more #shopyourclosetseries here