Kitchen Renovation Plans: A Face Lift
I'm really holding on that 2021 is the year we give the kitchen a facelift. It's not going to be a major kitchen renovation but I'm very excited at the possibility. Fingers crossed it happens; I need to talk to my contractor and also contact some cabinet companies (if you have recommendations, let me know!). I posted I had some plans on IG stories, and as usual, you guys gave me fantastic things to think about. Let's go through my thought process, shall we?
I know kitchens sell homes and I don't think we're staying in this house forever, so I want it to look pretty for selling. A facelift will do her well! I think the last time this kitchen was renovated was in the late 90s/early 2000s and they did a great job with high end finishes and appliances.
We're keeping the floor plan (but are open to minor tweaks). Open concept kitchens are IT right now; and ours doesn't even have an island. It's VERY functional but it's a bummer but we're a little landlocked don't want to do anything major. I want to keep plumbing and cabinets where they are. I don't want to tear down walls. That's where the costs skyrocket and we're not doing that.
Eat-in kitchen. The major change I'm weighing is that I want to get rid of peninsula seating and add in a built-in banquette so it's a true 'eat-in' kitchen. I LOVE anything built-in and think a banquette will be a charming and very functional addition.
Reface vs paint? Spraying cabinets can make them look like new. Our cabinets are quite nice but there are a handful that need to be replaced or fixed due to wear and tear. The decision will largely come down to cost.
Brighten it up. Our kitchen is a lotta wood. And a lotta green. Picture this: Cream/greige cabinets (similar to what I have in my master bath), white quartz counters., polished nickel finishes, a new oven/range. It makes me giddy.
The photo below is where I would put the built-in banquette. I'd make the counter flush with the cabinet (i.e. no overhang), remove the built-china cabinet, and put in an L-shaped banquette. Plus two chairs on the right and a pendant above. It'll make use of some dead space, right?!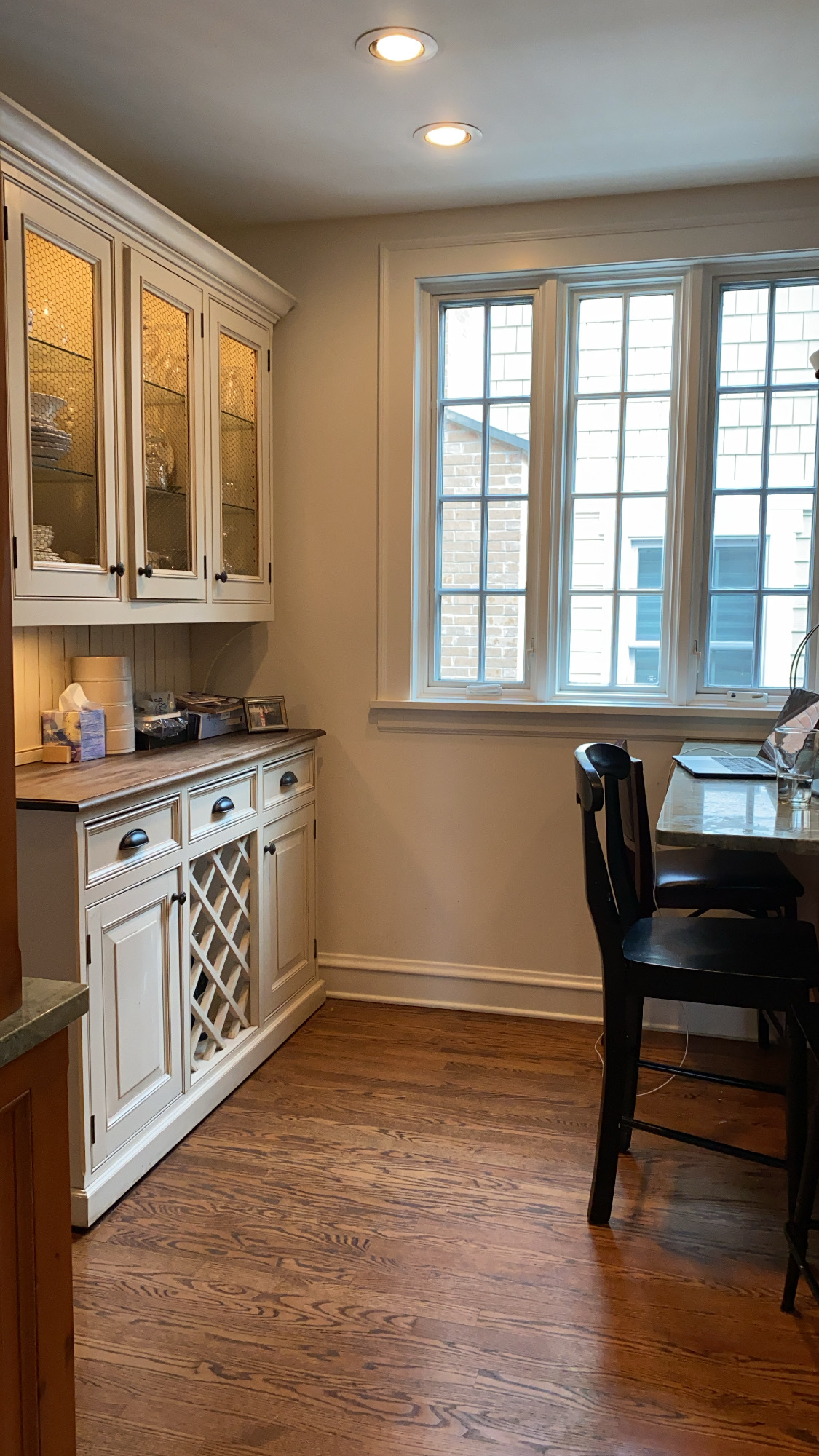 A glimpse into our kitchen from the foyer. To my immediate left is where I want the banquette kitchen table. To my immediate right is a whole bunch of junk drawers; i think I will make them cabinets to put in our brooms and sweeper–a utility closest of sorts. That white wall is a doorway to the adjacent dining room. Again, if we were looking to do a major renovation, I'd probably open up the kitchen and tear down the wall to the dining room, but it's just too much and I think I can make the kitchen look current and brighten it up.
In the middle of the kitchen on the right is the big, ol' built in subzero fridge, which is great, but it takes up a lot of space–but will most likely keep it there. Again, the kitchen is long (almost 24′!), but not wide. but that's what I'm working with! Open to any suggestions, but my mind is 80% made up.