Home Renovation Updates: One Year In – What We've Done + What's Next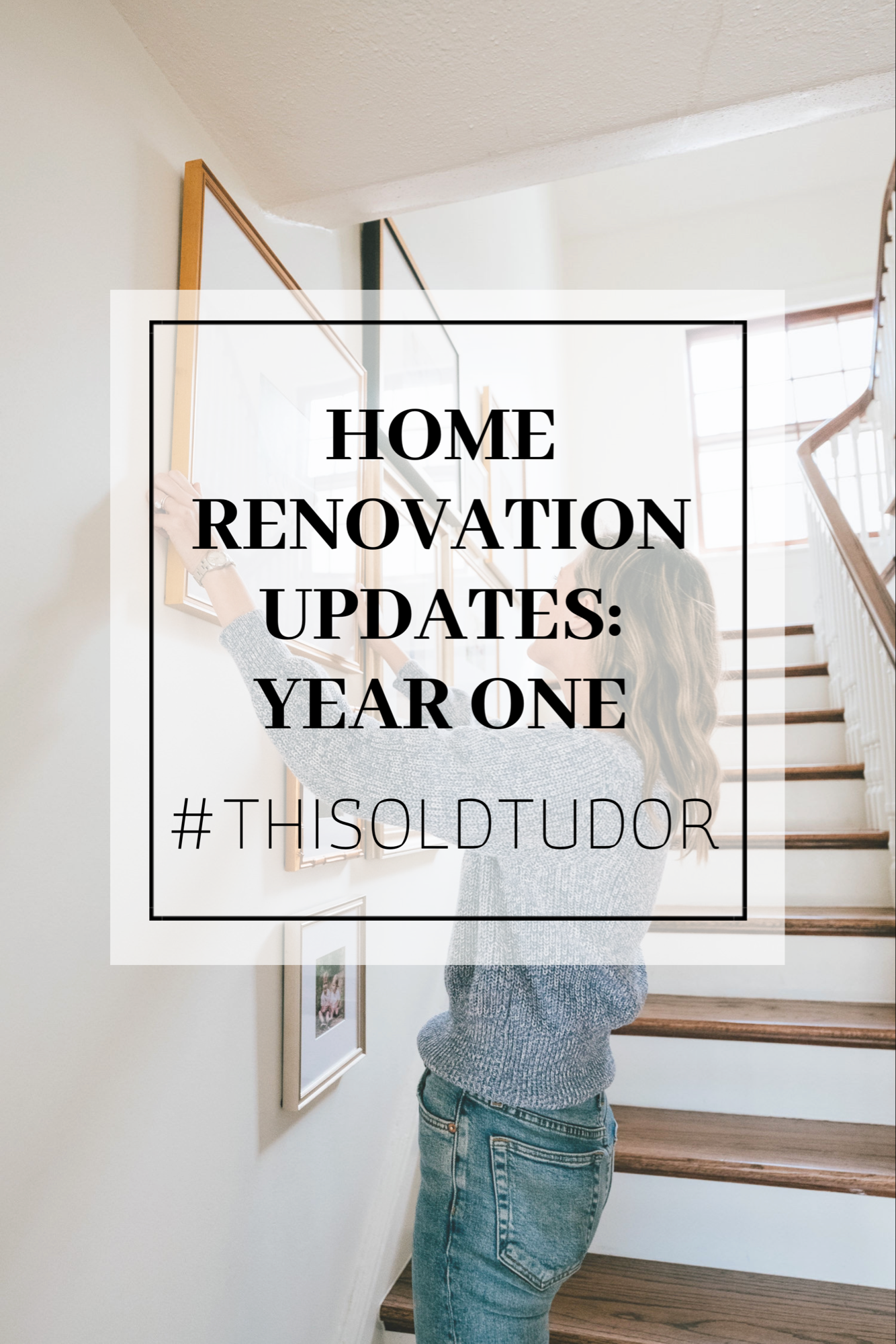 It's been awhile since I shared what we've done, what we haven't done, what's been delayed and what's sprung up in terms of our home renovations.  Well, folks, today is the day.  And I'll tell you–I have an ambitious summer ahead.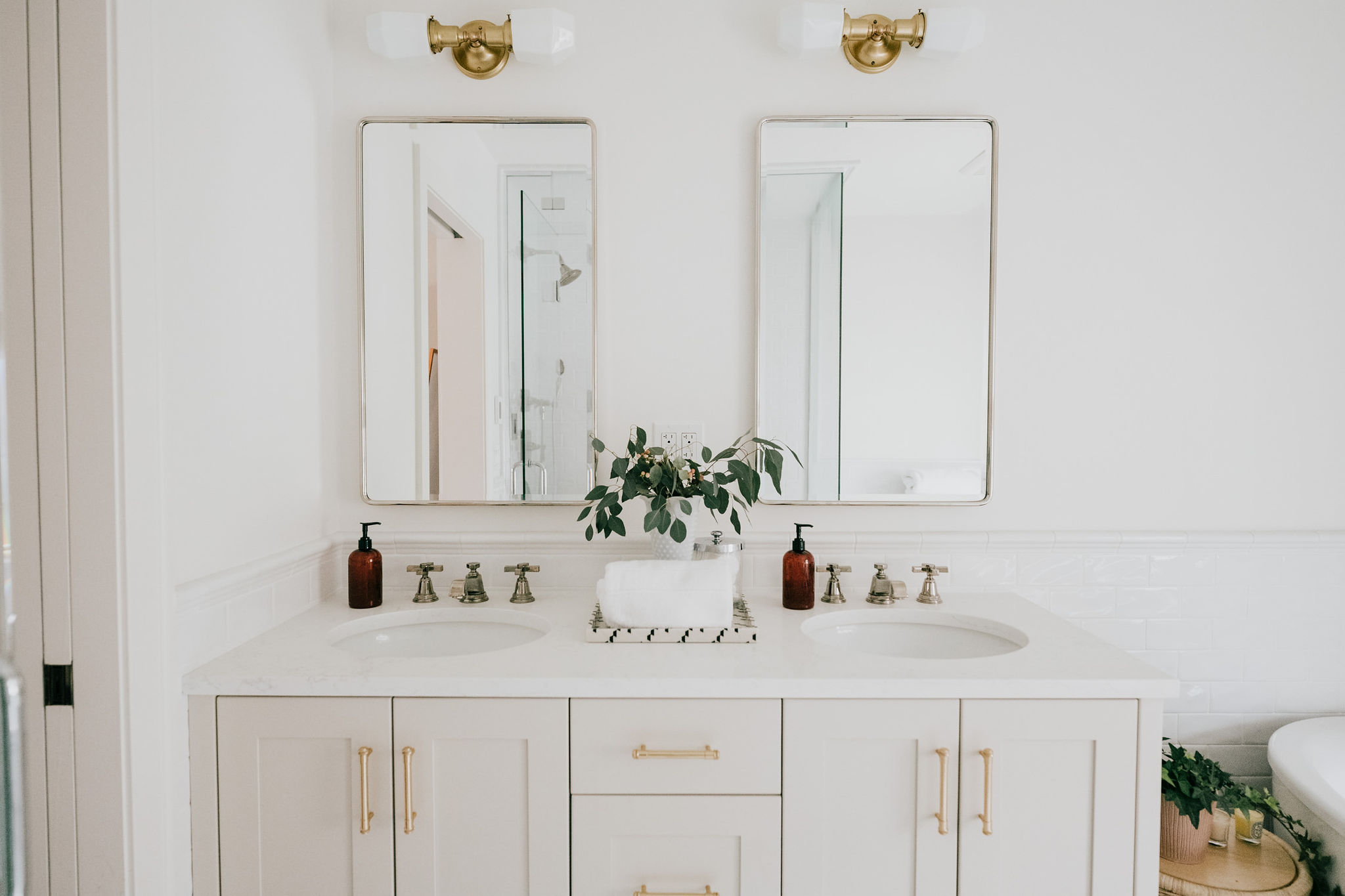 What We've Done (In Order):
Pre-move in (paint the molding, re-stain the floors, skim coat the plaster walls, and paint the entire house)
1st Floor Powder Room (relatively inexpensive and simple)
Formal Living Room (the space just needed to be furnished–I still need drapes!)
Master Bathroom (our biggest job yet–we moved a wall)
Master Closet (one of my favorite projects)
Immediate Upcoming Projects:
Kids Green Bathroom (plans here–crossing my fingers for an inexpensive project since it's not a gut job)
Basement – THIS is a project that was sprung upon us. We've had some seepage in the basement due to it being the wettest spring ever and want to nip it in the bud before it gets any worse (so we'll need to have some pros come in and re-seal the basement).  I was hoping to paint the wood paneling in the basement eventually (it's retro-chic but not really my style) but it looks like it totally has to go since some of it has been affected by the water.  We will be putting in drywall and a vinyl floor that looks like hardwood.  While we're at it, I will also build some cabinets and shelves for our laundry area and build out a type of mudroom (we have two entrances right by the basement stairs so it will be convenient, given that we don't have a proper mudroom).  I have to say, I'm a little bummed about what's transpired.  The basement is a total kids zone and I had no real intention of touching it any time soon; I'd much rather give our kitchen a facelift than spend all that money on a basement, but it's one of those things you just need to address before it gets any worse.  Sigh.  Old home ownership.
Small Projects (Chipping Away at Them):
Master Bedroom – I need to finish furnishing this space  It's definitely influx right now.
Guest Bedroom Suite – It needs some color, wallpaper, and general life in it.  There's a full bathroom attached, too.  It's very simple but could benefit from a new vanity, paint, light fixture, and new floor tile (it's cracked and missing several tiles that I'm currently covering up with a rug.  (This might be the project where I learn how to change the floor tile myself.)  It has a lot of potential to be a gorgeous space for when my mom and in-laws visit.
Sunroom – The sunroom is off of our formal living room and we use it a lot.  It's a nice, bright room and we often watch TV in there as a family and I will also work in there when I'm home.  It holds all our furniture from our Chicago condo–time to make it look intentional.
Big Projects (Next Year…?):
Kitchen – It was probably renovated in the early 2000s.  I go back and forth on whether or not we change the layout.  For cost savings purposes, I don't think I need to.  It's a peninsula kitchen (the other option would be tearing down the wall between teh kitchen and dining room and making it one big space.) . I actually think I like having separate rooms and I don't think I want to modernize the space too much.
The 3rd floor/5th bedroom – Half of our attic is finished and half is storage.  Before we moved in, it was a bedroom.  With it's slanted walls, I immediately think it could be a fun play room.  Or I could make it a dreamy extra bedroom?  I don't know what to do with it but it could be a really cool space and I'm a little stuck.