H&M Spring Buys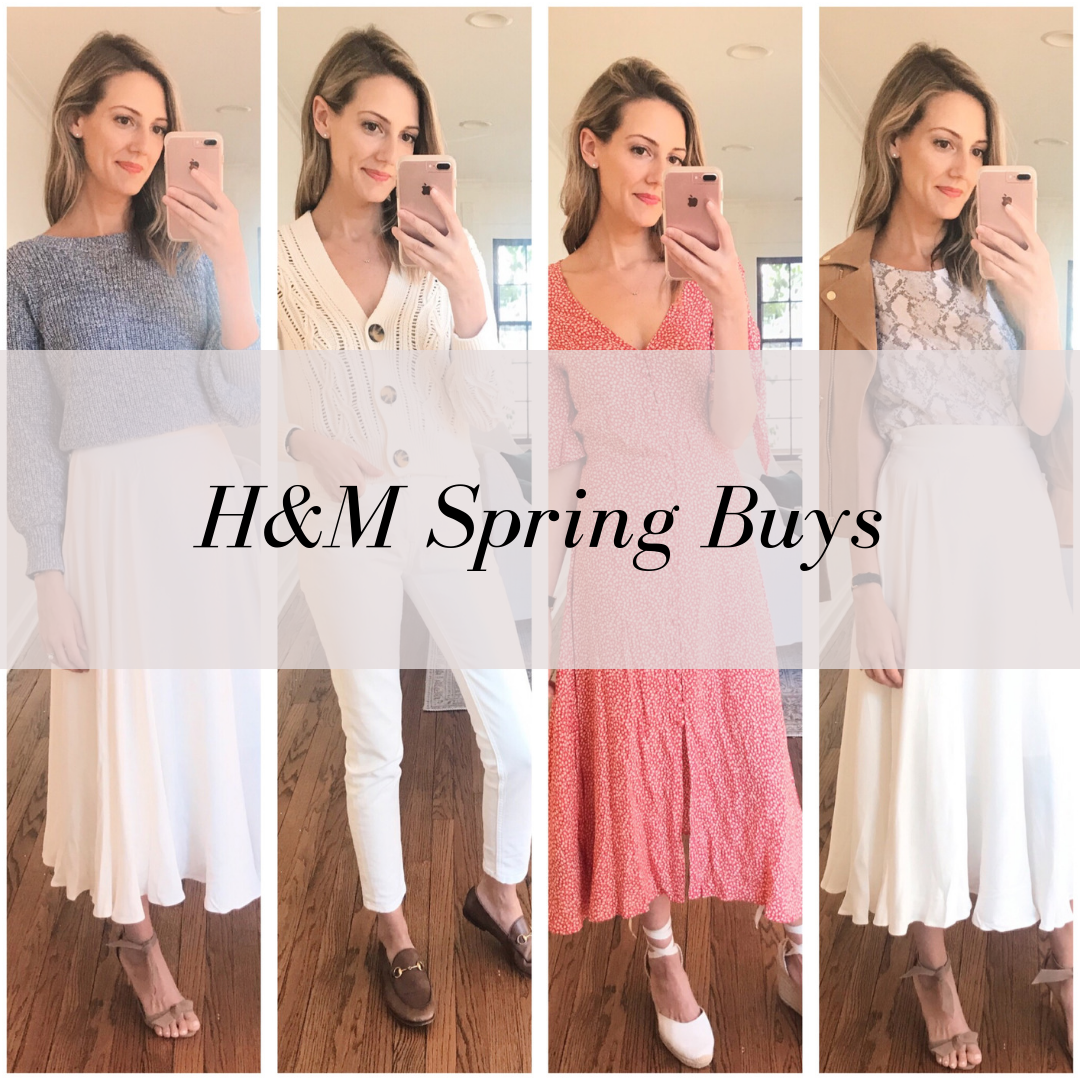 In case you missed it, I featured a few H&M picks on my IG stories last week (they're saved to my highlights if you want to go watch!) H&M and Zara are two of my favorite budget friendly brands and I appreciate that while they're fast fashion, they are making more conscious efforts to be more transparent about their supply chain (they have a long ways to go, but per articles I've read, are making progress).  Also, in all honesty, the items I own from those two retailers aren't 'throw away' items to me.  I've had some Zara + H&M items in my closet for YEARS.  If you choose wisely and take care of your clothes (I'm a big fan of the delicate cycle), these pieces can last much longer than a couple years.  You all seemed to love the H&M sweater post I did last fall (I kept all the sweaters except for one, which I gave to my sister) and I wore them all winter long!  
My Top Five H&M Picks:
Blue knit sweater (wearing a small): This sweater is most gorgeous blue hue and let's face it, spring sweaters are a thing.  My heart says it's spring but my body says it's still freezing, so I buy a few seasonally appropriate sweaters in spring colors and textures.
Circle skirt (wearing a 4): This piece is a little more costly for H&M but it's GORGEOUS…and lined!  It feels like it's a Vince skirt…I kid you not (which will run about $395 retail) so I consider this baby a steal at $59.  The tea length is so chic and I will be wearing this in London when I visit next month.
Snakeskin tee (wearing a S): ALL HAIL THE $5 tee.  It's oversized and chic….and costs you as much as a footlong sub from Subway (do they still do that?  I lived on those when I was a 22 year old consultant in White Plains, NY).
Pointelle cardigan (wearing a S): Again, with the spring textures…"pointelle" just means a sweater with eyelet holes that create a lacy effect and that cardigan is just that.  It's so chic with jeans–wear a cami or nude bra underneath!
Red-printed creped dress (wearing a 2) – This has ALL the Reformation/Faithfull the Brand vibes…and it was $39.  I just bought it and it appears to be sold out but keep checking online (when I bought it, it was available in three colors, too) and in-stores.