Why I love the Current Body Skin LED Light Therapy Mask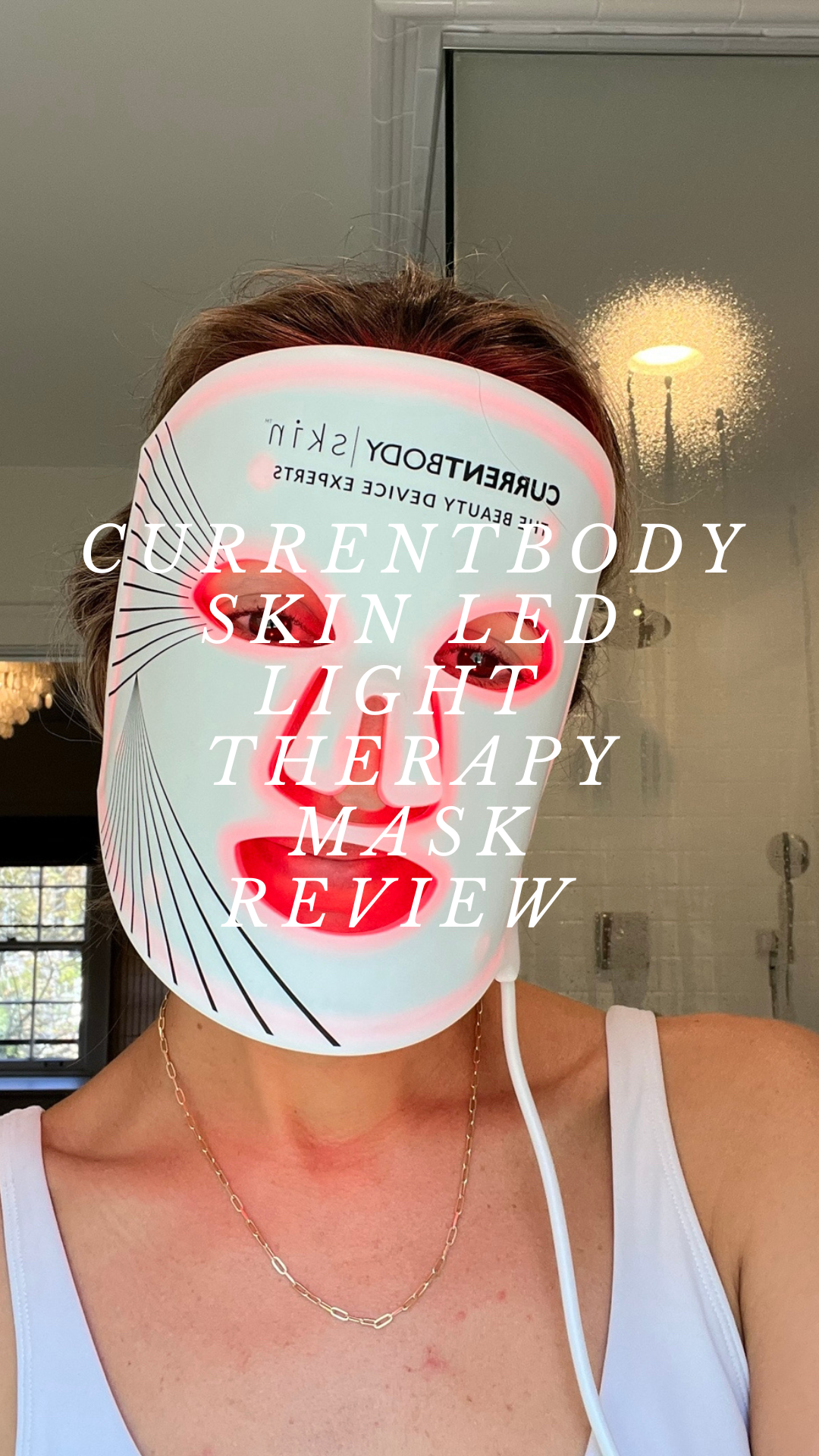 I was definitely influenced to buy an LED mask back in the winter of 2023. I was suddenly seeing a lot of people talking about the benefits of red light therapy on the face. Then I went to get some gua sha facials and noticed that the facialist was using a red light therapy mask on it. And then I went to my queen facialist (Nusheen in Winnetka) and noticed she was using red light therapy as well. I knew I had to get in on it and research which mask would be best for me.

After lots of comparing and contrasting (Goals to Get Glowing comparison post really helped to inform me) CurrentBody's LED Light Therapy Mask stood out as the winner AND I was able to find a discount code–extra bonus (ANNAJANE gets your $15 off)! If you want the rundown of what I researched it's this:
The CurrentBody LED mask is the ost powerful LED mask on the market

(and around the same price as the other big hitters). Might as well get the most bang for your buck, right?

Clinical trials showed that the CurrentBody LED mask reduced wrinkles 35% in 4 weeks

. I love that I can lay there and fight fine lines.

95% of users said their skin tone, texture and firmness was improved.

This is what I WANTED…and it delivered.

It calms down redness and helps skin heal faster

. Maybe you have a bruise on your face that you want healed–LED red light therapy helps!

The device combines Red (633nm) and NearInfra-Red Light (830nm) and near Infra-Red works beneath the skin's surface.

AKA Boosts collagen at the source and that's what I need in my late 30s.

I have been using the CurrentBody LED mask religiously since March 2023. I don't use it every day but I would say I'm on average using it 3-4x a week. Sometimes I will wear it while I'm making the kids breakfast in the morning and sometimes I wear it before bed. It just depends on when I can squeeze in the time. I'm so consistent with the mask because it's so easy!
Let's talk about the less scientific reasons why I love the mask and its benefits.
It gives you a little glow right after you wear it.

That's reason enough for me to want to wear it for 10 minutes for I want to look positively stunning!

My skin tone looks more even.

Look, skin has texture. We do not have filters in real life. As you can see in the before and after, I have pores! And texture! And bumps! And discoloration! But anything that can even out my skin tone, even slightly, wins in my book.

It's easy to throw on your neck and chest.

Yes, there's a separate one for your neck and chest but it's also easy to lay it on your neck and chest in bed….which I do every single time I use it and I swear it's slightly softening my neck lines (which I'm super self conscious about).

You can travel with it.

And I do! It's flat and flexible. I definitely take it on trips. It's totally portable and I wear it while making lunch for the kids, cleaning, etc.

It couldn't be easier.

I have stuck with the CurrentBody LED mask for so long because it's easy and I see results. The cycle is 10 minutes and it's so simple.
I have a 15% off code ANNAJANE. Use it! Love it! Let me know what you think.
*This post was sponsored by CurrentBody after I reached out to them about working together since buying the mask in winter 2023. The mask was not gifted and all thoughts and experiences are my own.