Fall 2023 Capsule Wardrobe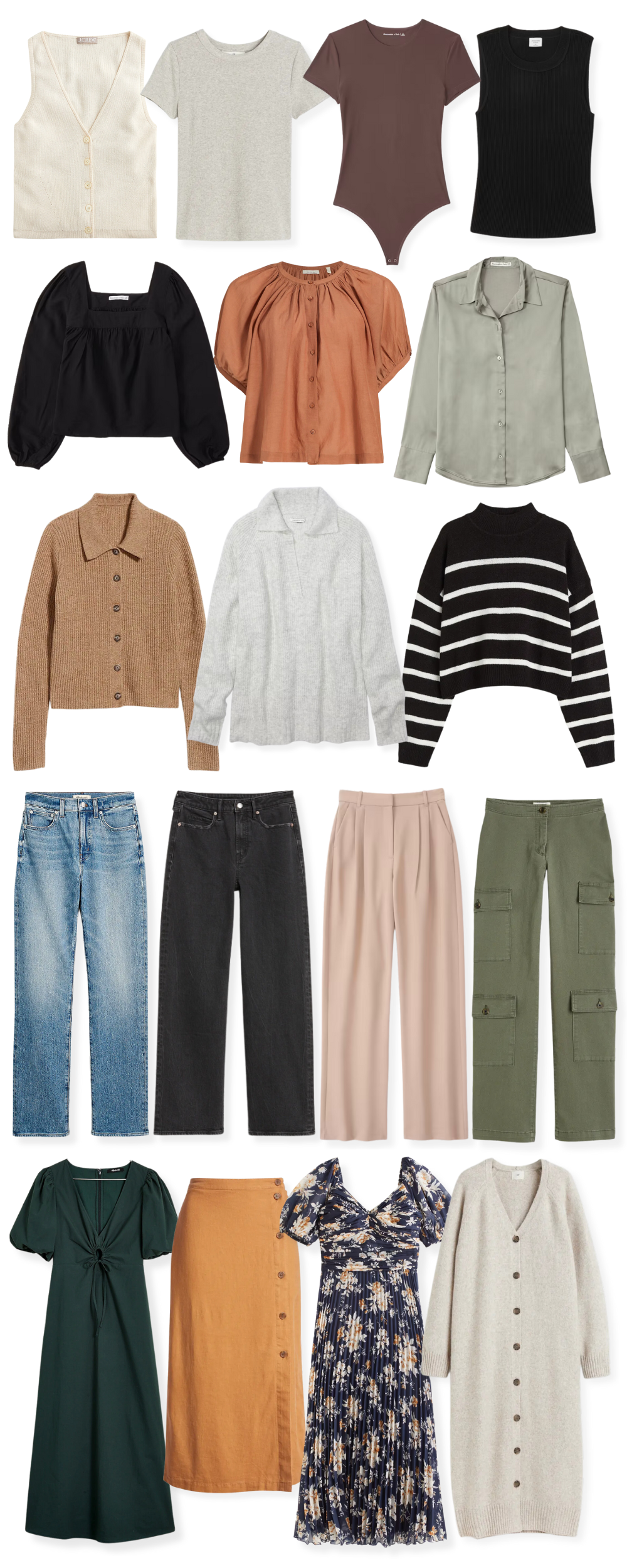 Sweater vest / Grey tee / Chocolate bodysuit / Ottoman sweater tank / Collared cardigan / Oversized v-neck sweater / Striped sweater / Straight leg jeans / Black wide jeans / Tan trousers / Utility pants (similar here) / Poplin midi dress / Linen midi skirt / Floral pleated dress / Sweater dress
Picture a closet where every piece not only aligns with your unique taste but also seamlessly pairs with the rest. That's what we call a capsule wardrobe.
I recently shared a reel (check it out here) explaining why you have many clothes but still feel like you have nothing to wear. With a new season comes new clothing and of course, more struggles on how to style each piece. Lucky for you, capsule wardrobes are a "trend" that help us all with that problem.
Capsule wardrobes are a revolutionary approach that embrace minimalism without compromising on style. No more second guessing your outfit or trying to find a top in your closet to go with your new trousers. If you're a true minimalist, you'll probably keep the same pair of trousers in each season's capsule wardrobe. Capsule wardrobes are great for people who enjoy trying new styles as well! They help me get more use out of my recent purchases.
Since capsule wardrobes are personalized by you, there's no correct or incorrect way to create one. My capsule wardrobe will look different from your capsule wardrobe. Why? Because we have different pattern and color preferences, different events going on in our daily lives, etc. My capsule wardrobe from 5 years ago would even look different from my capsule wardrobe today. There's a few pieces that will never go out of style and are a necessity for mixing and matching that you can see from this blog post I shared 2 years ago.
Tips for creating a capsule wardrobe
Discover your personal style: Do you like bohemian vibes, simple yet elevated pieces (also known as "quiet luxury"), edgy style, or something else? Capsule wardrobes work best when you stick to 1-2 different styles. Defining your personal is crucial in curating a capsule wardrobe that truly resonates with you and allows the most mixing & matching.
Consider your lifestyle: What is your daily schedule like? Are you going to soccer practice and games for your kids a few times a week? Do you dress up for the office? Prioritize pieces that suit your routine and maximize comfort.
Choose a color palette: Pick colors that go well with your skin, match the season, or are your personal favorites. Neutral colors are the most versatile choices but you can always choose more bold colors if that's more "you"!
Invest in quality basics: Build your capsule wardrobe essentials around timeless and well-made basics. Think of items like a well-fitted blazer, high-quality classic jeans, everyday tees and tanks, a little black dress, etc. The same goes for shoes and accessories like ballet flats, satchels, etc but I'll cover those items in next week's post!
Plan your outfits: This may seem like a given, but take it one step further. When you're traveling and have limited space in your suitcase, you might review the schedule and plan your outfits accordingly. Do the same with your capsule wardrobe. Have multiple work outfits for different situations, as your original outfit may not be suitable for a presentation.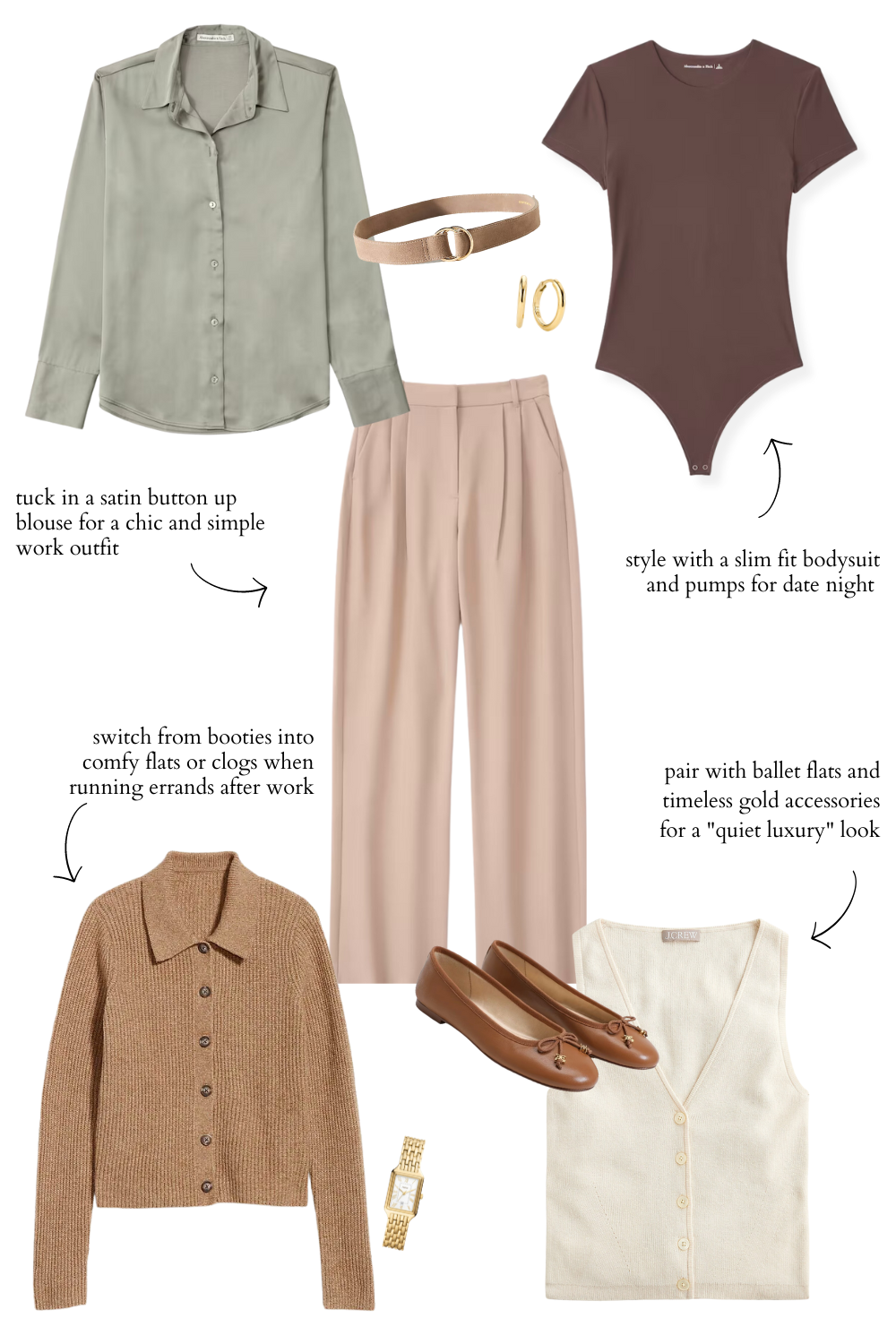 For a fall capsule wardrobe, focus on cozy knits and classic pieces that can easily mix and match. The sweater dress can be styled with sneakers or boots. The trousers above come in 19 colors (!!!) and can be worn with a bodysuit and a trench coat layered on top. The black ottoman crew tank pairs well with jean and a leather jacket. The outfit ideas with fall fashion are endless.
When creating your fall 2023 capsule wardrobe, stay true to your style by including your preferred colors and patterns. Remember that it's not a one size fit all solution but a personalized approach to simplifying your wardrobe. Shoes and accessories are important for a collection too. Check back next week for my favorite investment pieces for capsule wardrobes 🙂