Your Non-Tourist Chicago Summer Guide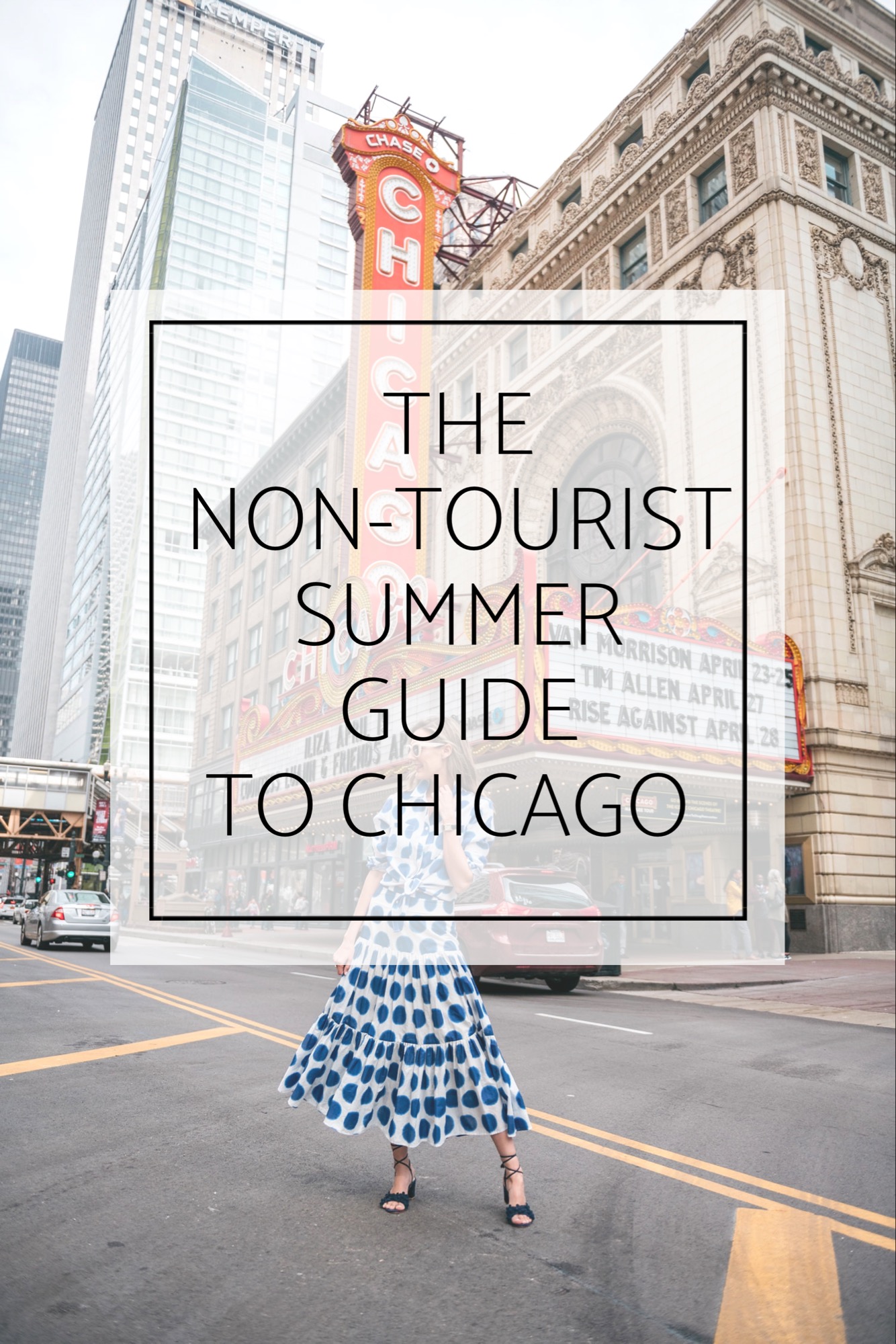 I write a Chicago guide every few years and thought it was high time I wrote another: here's the Official Non-Tourist Chicago Summer Guide–lots of patios included because, well, we gotta be outside. Yes, I moved to the suburbs (read why and also read more about how it's going here), but I'm still in the city several times a week. Plus, when I meet friends or go out with Eric, we usually venture into the city. You can take the gal out of the city….but she will still venture down for food and fun. I broke our my list by neighborhood because there's so much goodness in each different area! I don't want to overwhelm so I'm including my all-time favorites–namely food that I've eaten many, many times (many that have great patios for summer weather) and fun things to do that I also can personally vouch for. Screen shot, print, keep this list–it's great for when you're visiting or if you're in Chicago, maybe this list will inspire you to try a new 'hood! And yes, I know it's not EVERY neighborhood but as you can see, I was a loyal west-sider for years seeing as I lived in Wicker Park. Hope you enjoy!
Wrigleyville
Go to a Cubs game! Seriously, on a nice afternoon or evening, there is NOTHING better than Wrigley Stadium. I DO recommend taking kids there, too. We've been taking the kids since Teddy was 9 months and we always have an awesome time. And obviously, it's an amazing time if you don't have kids, too. This is all I will recommend in Wrigley because I really haven't spent a ton of time at the bars and restaurants there since I was about 23. I still love going for games and then popping into a bar, but there's so much goodness on my list below.
Logan Square
Lula Cafe has been a long-time favorite for brunch (but it's not worth the 2+ hour wait on the weekends, but I personally won't wait that long for breakfast…mama's gotta eat! Go on a weekday or head there for dinner).
Logan Square Farmer's Market is one of my favorite summer activities – food, flowers, and produce! I swear, we used to go every single weekend, meet my siblings, and Harry now requests to visit all farmer's markets.
Parson's has one of the best patios and fried chicken in the city. Get a negroni slush and the pimento cheese, too.
FELT is a super cute boutique that carries brands like Tibi, L'Agence, and other emerging designers.
Ipsento is my favorite latte in the city–get the ipsento latte to go and walk along the 606.
Lonesome Rose has the best tex-mex queso in Chicago–and a great outdoor patio!
Wicker Park/Ukranian Village
Kai Zan is easily my favorite Japanese/sushi in the city. Everything is delicious and trust the wait staff to guide your ordering.
Parlor is definitely a place where day drinking happens but it's also family-friendly, somehow. I lived in Wicker Park so I prefer this location to its West Loop counterpart. The pizza is good but those nacho bites and the antipasti chopped salad are my favorites.
Piece – I've been devoted to this pizza since 2007. I probably miss this pizza the most now that we're in the suburbs. Love the sausage and giardinaira on a red pie.
Penelope's is the cutest little shop on Division that reminds me of an in-person Need Supply.
All Together Now was previously called Brothers & Sisters but it's a quaint restaurant with an insanely delicious breakfast sandwich and a cute sidewalk patio for warm weather. I hear the dinner is pretty good, too.
Mott Street has a delicious burger (everyone loves Au Cheval but this one is more my speed–must eat!); plus, it's casual and you can sit by the open window.
Etta has been many things since I lived in Chicago (seriously, the restaurant is such a great building and location is prime but it's been like four different places–cursed?) but I have a feeling this one will stick. The food is delicious (Italian small plates–it reminds me of Siena Tavern) and the scene is lively (and yes, there's a rooftop).
West Loop
Monteverde is one of my favorite restaurants in the city – the arribiata shrimp pasta, cacio whey pepe, pork sugo, and pesto gnocchi….I am salivating as I type this. (If you can't get a reservation, put your name in, wait the 2 hours, and grab a drink at the Soho House around the corner for fun people watching.)
Maude's Liquor Bar was one of the first mainstays of the West Loop and while there's constantly new places popping up, it's French-inspired cuisine is still solid (and it's sexy inside). My go-tos are a crisp glass of Chablis with the seafood tower, the beef tartare, and the Lyonnaise salad.
Roister is from the folks over at Alinea and the music choices are hilariously interesting (they play 90s hip hop so loudly). Get the chicken three ways while listening to Gangsta's Paradise!
Duck Duck Goat is worth the hype. I could eat the soup dumplings and beef slap noodles all day long (and they have dim sum for brunch!) I've never had a bad dish here.
For a casual and easy bite, walk over the highway to the French Market. The vietnamese bahn mi, Montreal Montreal-style pastrami sandwiches and pommes frites are my favorites.
Go to Pitchfork Music Festival if you're in town July 19-21! It's always been one of my favorite music festivals in the city–there's only three stages and it's more chill than Lollapalooza.
Lincoln Park
Chicago Bagel Authority is the best when you're hungover but also, it's a quick, cheap lunch that both adults and kids can agree on (especially if you want something in a hurry). I love the 20/20 with honey mustard (something about their honey mustard–it's next level) and the Crunch a Munch.
New Elephant Resale Shop is not to be confused with Brown Elephant which is nearby; I stumbled upon this place and it's a treasure trove for old paintings and home decor.
Floriole Cafe is a French coffee shop with light bites and the best almond croissant in the city (in my humble opinion). Can't go wrong with the quiche and a cup of coffee, either.
Armitage Avenue is what I now call the "'Direct to Consumer With a Brick & Mortar Presence' Row" because it houses ALL the online shops physical locations. From Outdoor Voices to Parachute to Interior Define to Bonobos to Koio to Clare V to Serena and Lily (I'm honestly probably missing a few–there's so much!). You'll definitely have a fun afternoon of shopping on this street.
Athenian Room is a must-stop if you love gyros and tzatziki sauce (I happen to love both and would love to be eating one on their sidewalk right now…). And get the Greek fries.
Homeslice is one of those restaurants where the post-college crew hangs out a lot but I seem to always take my kids there. It's loud, they love it, and the pizza is tasty.
Lincoln Square*
*Lincoln Square/Ravenswood is one of those northern neighborhoods you probably won't venture to unless you're visiting someone. I have family that lives nearby so I make it there quite often and it's worth the jaunt if you're down to explore!
Gather has the best pancakes I have ever tasted in my life–and the breakfast skillet is reeeeeal good. The patio is also lovely during the summer. I have yet to visit for dinner but I hear it's delicious, as is its sister restaurant The Warbler.
Cho Sun Ok – Be prepared to wait in line for this insanely delicious Korean BBQ but it's worth it for the kim chi fried rice alone. DOn't expect warm and fuzzies from the wait staff, but it's all part of its charm.
Baker Miller isn't where I take my kids just because it's so tiny and the brunch is a little more grown-up (I have taken them there several times, but recently made this decision after they moved locations and it's much smaller and quieter). But I do love meeting my sister-in-law there to enjoy their Ploughman's Plate with a delicious cup of coffee.
Le Sud is a little more Roscoe Village than LS, but it's close enough. I went in the fall after having a very bad week and fell in love with it's French Mediterranean cuisine (it's heavy on the seafood). I hear the outdoor space is killer, too.
Chinatown
Take the Chicago water taxi from River North down to Chinatown on a nice evening–it's the best way to travel!.
Lao Sze Chaun is a staple (easy menu, delicious food) and SO FUN for groups because the tables have a lazy susan.
Ming Hin is delicious for dim sum–honestly, I've never met a dumpling I haven't liked.
Joy Yee has delicious, fruity drinks and boba tea – grab one and walk around and pop into the gift shops to support the Chinatown economy!
River North
Grab a cookie (salted butterscotch is my favorite) and coffee from Beatrix for a pick-me-up.
The architecture boat tour is well-worth it; I still like to go on it every few years and you always learn something new about the city of Chicago.
Bavette's has consistently been favorite restaurant in Chicago for years. Reservations are very tough to get unless you make them 3 months in advance, so if you can snag a spot at the bar, it's perfect for dinner (especially the downstairs!). The seafood is all amazing (I'm a king crab or seafood tower kind of gal) and if you like steak, this will be your jam. I love every single side they offer, the wedge salad, and the garlic shrimp is so delicious that I use the house bread to soak up the sauce.
Restoration Hardware 3 Arts Club Cafe is like furniture shopping on steroids. The space is spectacular and it's a Sodikoff restaurant which means the burger is basically from Au Cheval.
Places I Still Haven't Been (But Are On My Summer List!):
Aba – I love its sister restaurant Ema and the rooftop looks insane.
Beatnik on the River – I have been to the West Town location but the river location looks dreamy.
Cabra – I've been to the Hoxton for drinks but haven't been up to Stephanie Izard's new Peruvian restaurant – on my summer bucket list!
If You Have Kids With You:
Maggie Daley Park and the surrounding areas are so fun for kids. The fountain with the big face, Millenium Park, the Bean! A must-see for little ones.
The Lincoln Park Zoo is always something I recommend for those visiting, especially if you have kids. Even if you don't want to see the animals, it's a huge, sprawling park with gorgeous city views (and it's free).
Oak Street Beach is the quieter version of North Ave Beach. Kids love the sand and water, and you'll love the atmosphere–you have to take advantage of the nice weather, after all. Visit all of Chicago's museums when it's cold outside; when it's summer, you've gotta take advantage of the lake.
Phew! I'm sure I have more up my sleeve so if there's a neighborhood you want updated on this list, please let me know! I think this should keep you busy for now, though–wink.
Also see:
2014 favorite restaurants (Five years old and I still stand behind these places!)