Cape Cod + Nantucket Family Vacation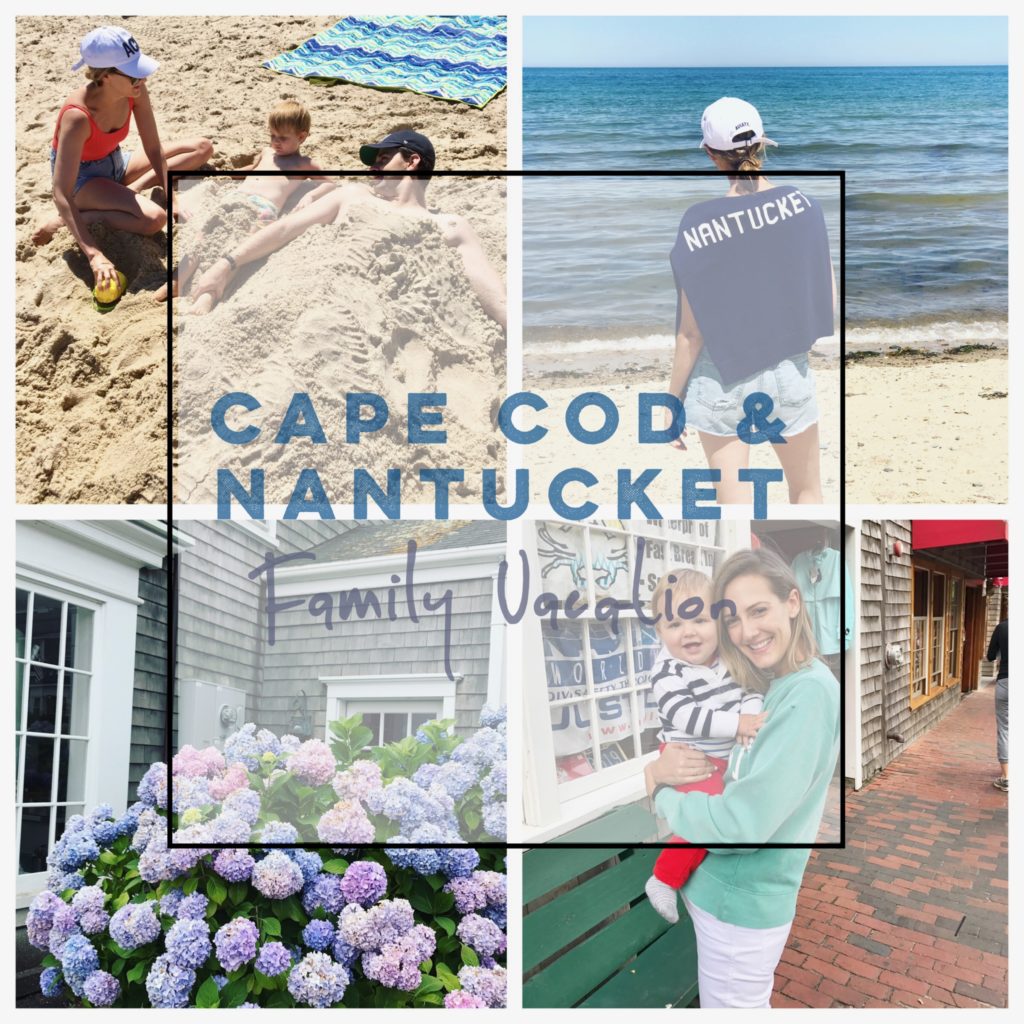 Greetings from the Cape! We're currently on a week long family vacation in Cape Cod and were also able to visit Nantucket.  Eric and I brought the whole family, including his parents, sister and her husband along for the week.  Eric and I had such a great time last year (on a mini babymoon, pre-Teddy…read about it here) that we knew the trip would be worth repeating.  The weather was unseasonably terrible the first few days but today has been perfect, so here's hoping the rest of the week holds out for us.  Here's a glimpse into why I love the Cape (and now Nantucket – but I'm a newbie and have only been once):
Things I Love About Cape Cod + Nantucket
Time stands still in Cape Cod.  I can't quite articulate it, but it's like a time capsule or the best part of nostalgia, wrapped up in one beautiful place.  It's a slower pace of life, the people are friendly, and life seems simple here…even if it's just for a week.  Today I ate greasy french fries on the beach with Harry and it reminded me of my childhood.  I need more times like that.
Lobster, scallops, clams.  Every day calls for a lobster roll.  Fried clams and homemade tartar sauce?  I eat them like popcorn.  Oysters on the half shell with mignonette for every dinner – and they're like $2 each.  And what is it about the onion rings here?  They're delectable.
The history, architecture and scenery are like no other.  Remember the Pilgrims?  They actually landed in Provincetown before settling in Plymouth.  I'm in awe that so many of the homes here were built in the 1600 and 1700s – and they're just gorgeous, traditional Cape Cod homes with that familiar cedar siding.  And don't get me started on the pink and purple hydrangeas – they're plentiful around here and it's every instagrammers' paradise.
The beaches: Mayflower Beach + Coast Guard Beach are my favorites.
The food.  Again.  It's delicious and unpretentious.  The ice cream is amazing, too (Sundae School is my favorite on Cape Cod and Juice Bar on Nantucket is awesome.  I get the Grapenut ice cream because I'm actually an 85 year old at heart.) . Ocean House in Dennisport was the best meal I've had in awhile and Sesuit Harbor Cafe is a fun, casual hot spot.  Oysters on the half shell are everywhere and they're caught locally – do yourself a favor and drown them in mignonette and a little hot sauce before you throw one back…they taste like the sea.
It's a slow road to Provincetown (tip of the cape) but it's worth the trek.  This cute town (where the Pilgrims actually landed) has amazing shopping, a fun and lively culture and the cutest downtown you will ever see .  Be sure to check out Canteen for a warm lobster roll and brussel sprouts and get ice cream next door at Happy Camper.  Then bar hop all down Commercial Street.
Nantucket wins on shopping; the stores are so adorable and you can walk into just about any souvenir shop and get the cutest sweatshirt for $30.  (Also check out SkinnyDip and Vineyard Vines.) . For shopping on the Cape, head out to Chatham's Main Street, Provincetown's Commercial Street, Salt in Wellfleet, and Main Street in Hyannis.
Have you been to either?  Share your favorites!