2023 Fall Family Photos Outfit Ideas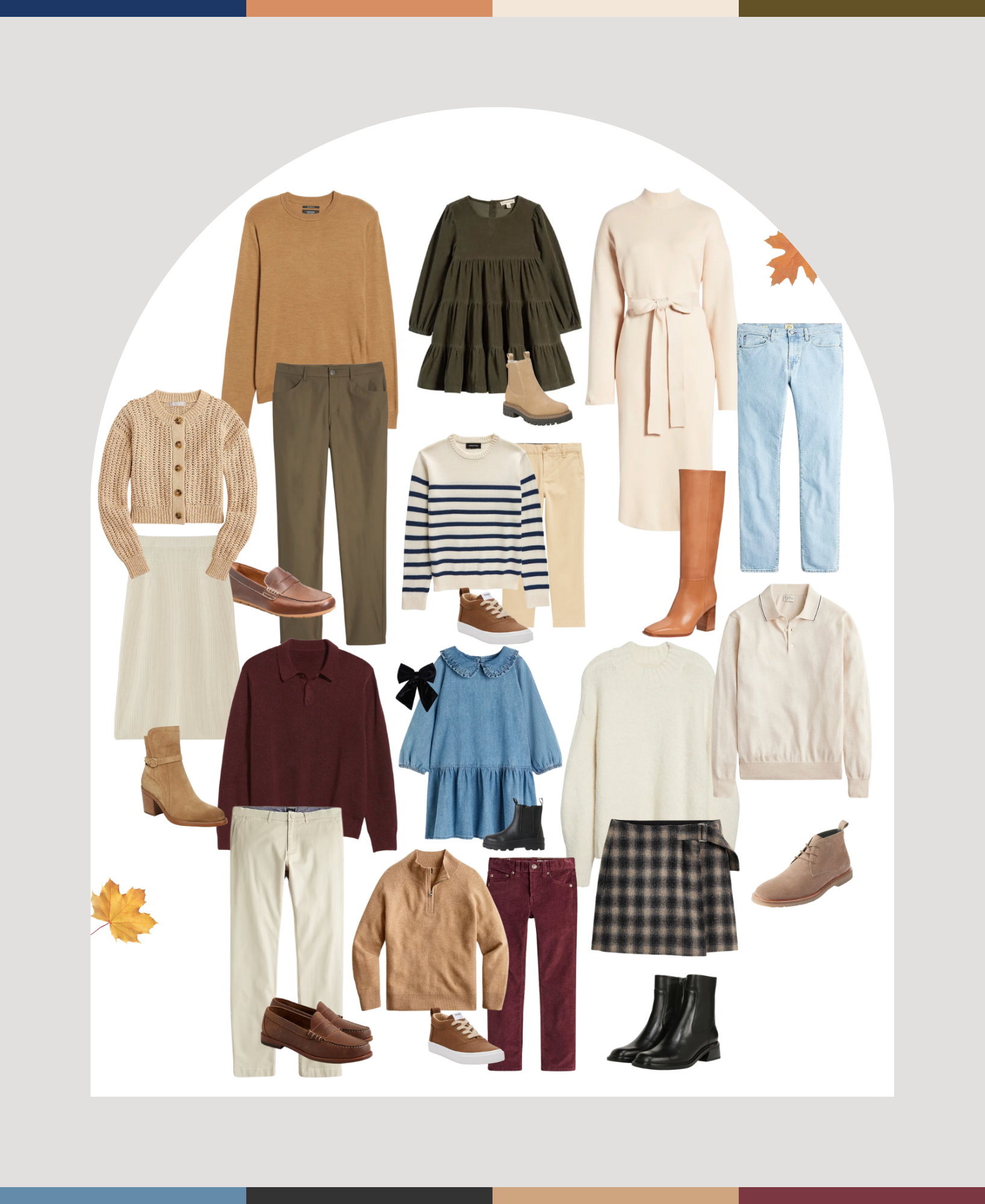 Fall is the most popular time of the year to schedule family photos, and it's for a good reason. Everyone is prepping for their Christmas card photos but it's also the best time for kids. Summer can be too hot and anywhere outdoor in the winter is brutal (unless you want photos in a parka coat)!
Gone are the days of perfectly posed studio sessions where everyone is wearing denim and white. We want Pinterest-worthy, candid outdoor family photos. We want coordinated outfits that aren't too "matchy". So each year comes the same question: What do we wear for family photos?
Tips for choosing what to wear for family photos
Search your closet for items you already own.
Family pictures are an investment, so save money where you can. You might already have staples for the guys like khaki pants from school uniforms or work.
Moms, put yourself first.
Many of us struggle with body image after having children so picking our outfits last would make things much more difficult. First, find something you feel confident in. Then decide what color palette and style your entire family will have based on your outfit. Moms already don't have enough photos with our kids!
Consider the elements and location.
Dress your younger children who might get frustrated standing out in the cold in layers. If you want a dressier vibe for your photos, look for sweater dresses and peacoats. Don't forget the tights! For the guys, try layering a sweater over a button up or a quarter zip.
If you're doing portraits with a winter set up (maybe near a fireplace or at a tree farm), opt for neutral colors. You can also choose textures and prints that remind you of Christmas (plaid, velvet, corduroy, cable knit, etc). Pastels and linen would look better at the beach than at a tree farm.
Imagine these photos in your home.
Your main reason for family photos might be for Christmas cards, but imagine how these will look when placed on a wall or in a picture frame on a shelf. Will the colors be too bold and clash with your decor? Does your family dress up often? If you don't, does it feel unauthentic to have photos of you in formal attire on your walls?
Fall Family Photo Outfit Ideas
Because everyone has different styles, I included three outfit ideas for your fall family photoshoot. If you're on a budget, look for the inspiration that you can easily recreate with items you already own. If you're not a fan of warm, fall colors on your skin tone, go for the light and airy color palette. These suggestions will ensure your family photo outfits are intentional and have coordinating colors without feeling too "matchy".⁠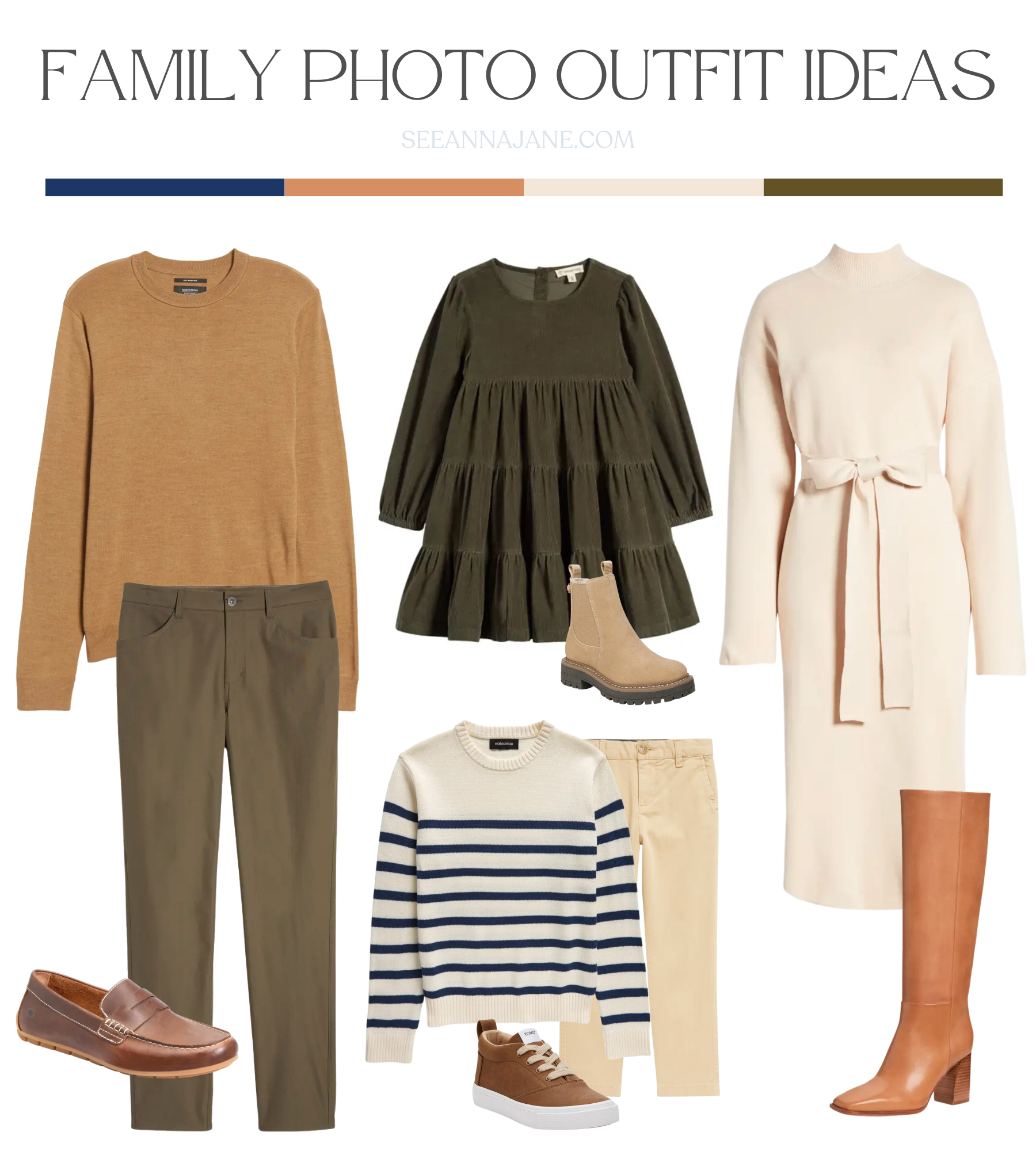 Men's tan sweater / Men's olive chinos / Men's brown loafers / Girl's corduroy dress / Girl's chelsea booties / Boy's stripe sweater / Boy's khaki chinos / Boy's leather sneakers / Women's sweater dress / Women's brown tall boots
This color palette is by far the most traditional when it comes to fall family outfit ideas. You're embracing the autumn color scheme without jewel tones or bold colors. The sweaters, corduroy dress and leather offer a mix of texture and brings in warmth. You probably own a pair of boots (or a short bootie like this) and khakis for your boys.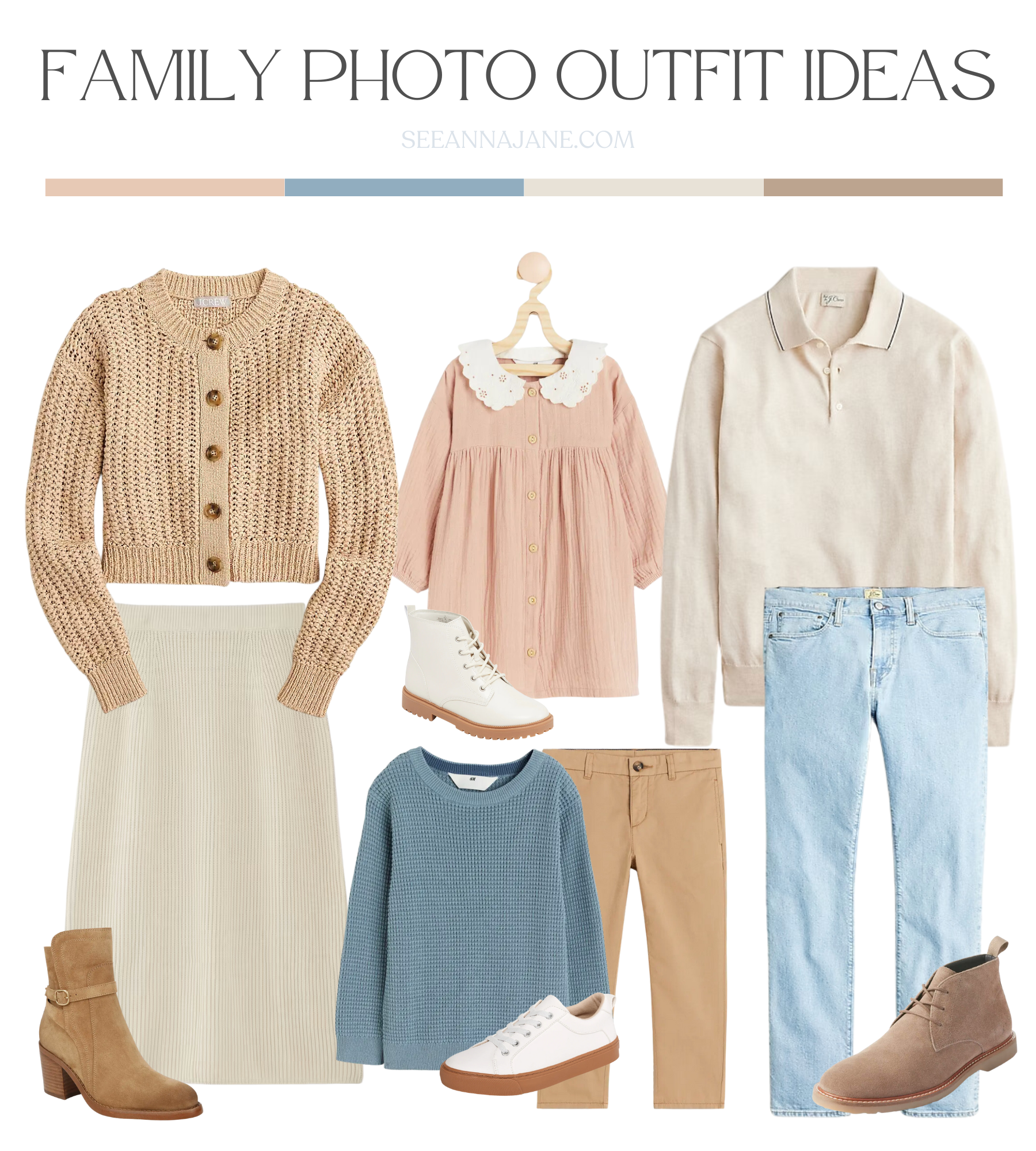 Women's tan cardigan / Women's sweater skirt / Women's booties / Girl's gauze dress / Girl's combat boots / Boy's blue sweater / Boy's chino pants / Boy's white sneakers / Men's polo sweater / Men's light wash jeans / Men's chukka boots
While this is a non-traditional color palette for fall photos, it's perfect for the moms who have a light and airy aesthetic. This color scheme (in more breathable materials, of course) is great for summer family photos. The suede and knit materials make this look feel warm and cozy while staying true to your own style. Swapping out the blue pieces for a sage green (like this sweater) or charcoal grey would look great too!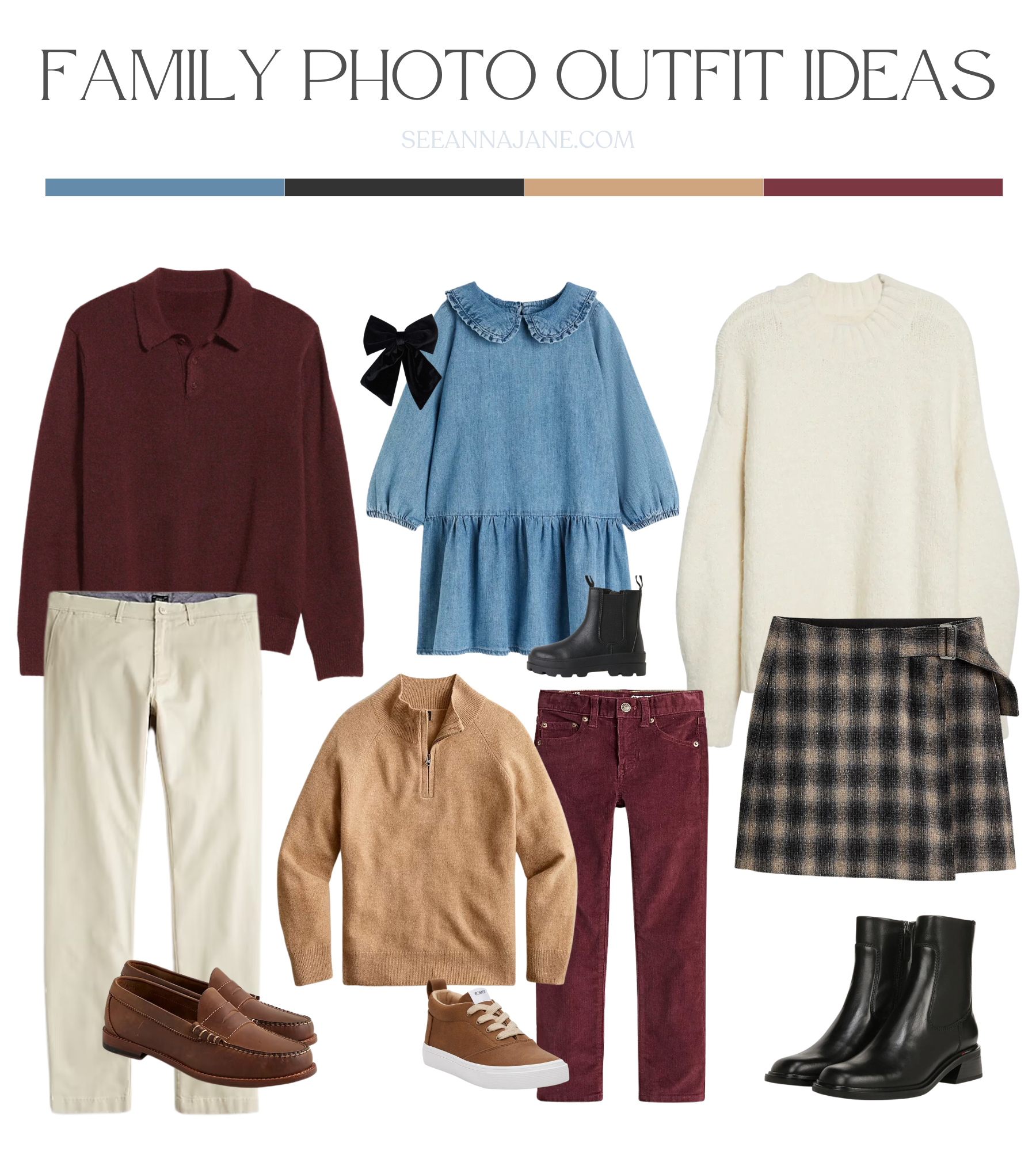 Men's burgundy sweater / Men's pants / Men's loafers / Girl's denim dress / Girl's velvet bow / Girl's black booties / Boy's quarter zip sweater / Boy's corduroy pants / Boy's leather sneakers / Women's mockneck sweater / Women's plaid mini skirt / Women's booties
If you're looking for colors that would look great for Christmas cards, this is the color palette for you! If you're not a big fan of burgundy, swap out the corduroy pants and collared sweater for olive green pieces instead. You can also change out the plaid mini skirt if you already own a solid colored one and wear a tartan plaid scarf too.
Go with the flow
I'm sure you've been there before… The kids are running around, making silly faces, hangry, etc. Getting everyone dressed and out the door on time just to end up asking them to smile 100 times is stressful. Remember that no matter how poorly you think your photoshoot went, you'll search through the gallery and find a handful of photos you absolutely love. Like I mentioned before, gone are the days of with perfect poses. Years from now, you might even be thankful they captured a photo of your kid's silly face.
P.S. Even if you don't get one photo of everyone looking in the same direction, there's always Christmas card templates with collages 😉