What I Wore in Punta Mita Mexico (and why it's so special to me)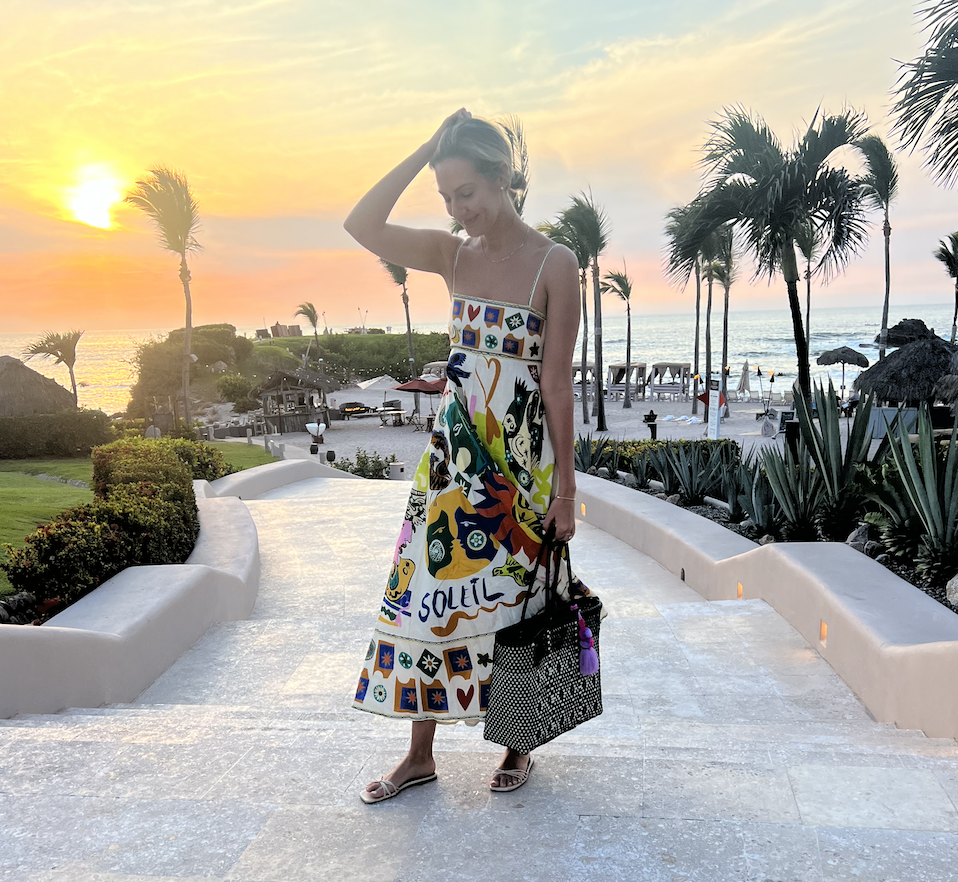 Ah! Mexico was such a whirlwind! We jetted off to Punta Mita Mexico. It's about an hour north of the Puerto Vallarta Airport. It has a direct flight from Chicago, which is KEY when traveling with kids and adults, who are we kidding. When we were looking at spring break locations, we knew Mexico was on the top of our list–great weather, delicious food; Eric and I love Mexico from the bottom of our heart.
What I Wore in Punta Mita Mexico (and why it's so special to me)
When I was in consulting (my first job out of college), I traveled for work 100% of the time and really racked up those airline and hotel points. Eric was in investment banking and basically working all the time, so we never saw each other during the week while we were dating. I think at the end of year 1 of my crazy travel schedule, I told Eric we should go to this place called Punta Mita because St Regis was offering a super low points deal on their newest hotel that had just opened. (It was also 2008 or 2009 and the world was in an economic breakdown so deals were to be had.) Never one to deny a trip, we went and we fell in love with the area.
We went back to Punta Mita a few times and when we got engaged in 2010, we were like "we should get married here!" Since we were newly engaged 25 year olds, getting married at the St. Regis Punta Mita sounded like a grand idea but we quickly realized that we probably couldn't afford it, nor could our guests. I had seen some weddings on Style Me Pretty in Sayulita, which is a cute beach town 15 minutes away, so we ran with that and the rest is history. (My Style Me Pretty Sayulita Wedding feature is here--we got married at Villa Del Oso)
We had not been back to the area since we got married–2011!
Life, children, and other travels all got in the way. We stayed at the Four Seasons Punta Mita (I love a Four Seasons and they're amazingly kid-friendly) and it was just wonderful. Our kids had fun, we had fun, and we got some sun, relaxations, and cocktails in, too.
This trip made us realize we need to get back to the area on a more regular basis and that maybe a retirement in Sayulita is up our alley.
And the most important part–here's what I wore!
Alemais dress – I wear an 8 (UK sizing?) and it's the perfect beachy dress! It's 100% linen, too.
J Crew bathing suit – J Crew continues to be my go-to affordable swimwear brand (and it always goes on sale!)
Farm Rio dress – One of my most clicked on items – it's comfy and chic!
Ulla Johnson swim – Not affordable but fits well and I like how I look in it–plus, classic enough to have for years.
AGOLDE jean shorts – A true closet staple for me. My favorite jean shorts ever.
Janessa Leone packable hat – It really IS packable. I fold it long-wise and put it in between my packing cubes and then let it air out (a little steaming perfects it).
Ulla Johnson dress – Cute (runs big) and chic. Ulla always draws me in.
Summersalt coverup – A dress or a coverup? You decide. (Coverup for me)
Zara patterned pants – Not Zimmermann? Could've fooled me.
Abercrombie tank – One of my most worn and flattering tanks.
Birkenstock big buckle sandals – My go-to summer shoe. Can walk miles in them.
Johanna Ortiz dress (old but similar–a great look for less) – A Saks OFF 5TH find!
Blair Eadie x Lake Pajamas – My LAKE pjs always travel with me.
Amazon sunglasses – Amazon sunglasses or BUST. I always wear this pair, too.