The Best Veggie Sandwich Ever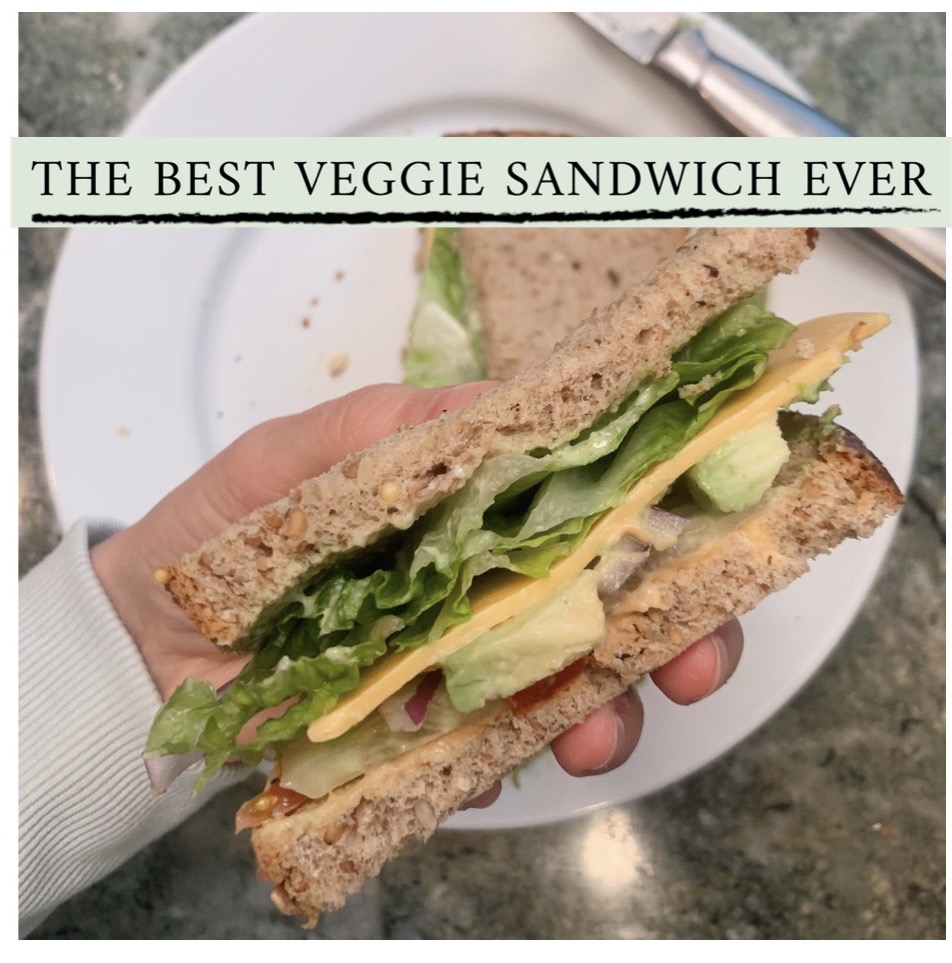 If you've been around these parts for awhile, you might bee thinking, wait what, are you posting recipes again? And the answer is, no not officially, but during quarantine you might see some more home-related posts. You know that I love to cook but it's something I keep on instagram stories almost exclusively. Speaking of, did you catch my IG stories last week showing you how I made the best veggie sandwich EVER?

I know that's a bold statement…I KNOW. But you have to believe me. I went to college at Miami University in Ohio (it was a college before Florida was a state, just saying) and one of my favorite places to eat uptown was La Bodega. It was a teeny tiny deli on our main brick road that sold delicious deli sandwiches, along with salads, soups, and sides like pasta salad. Mmmm, I am salivating just thinking about it.
It's not just the food but all the memories associated with it.
I used to walk up there with my girlfriends for a sandwich with a side of gossip. My dad used to pop into Oxford sometimes to visit me if he was on a sales call nearby (he owned an industrial supply company before he passed), we'd always pop into La Bodega as we shared a love for delis. So, yes, the memories make me think very fondly of this place, but I decided to recreate their vegetarian club sandwich (and confirmed it on their website) and it's just as tasty as I remember…maybe even better because I added some secret ingredients.
Also, I sometimes receive questions asking if I'm a vegetarian and I'm not, but I was for a brief time in my 20s. I don't consider myself a huge meat eater and I try to make a lot of veggie alternatives, if possible. The truth is that I've never been a huge meat lover but sometimes I crave some grilled chicken in my pasta or a delicious burger or bacon with my brunch. I just go with how my body feels; I've always thought of myself more of an omnivore more than anything. Enough about me–onto the sandwich!
The Best Veggie Sandwich Ever
Start with a good bread. I love a good white or nutty wheat with this sandwich. I used Dave's Killer Good Seed bread.
Add a layer of basil mayo (I made my own by mixing a teaspoon of pesto I had in the fridge with a dollop of mayo). This is a game changer, trust me.
On the other side of bread, add a layer of hummus. Again, trust me–it's not too much condiment mixing.
Add your favorite cheese! Thee original calls for cheddar and monterey jack but I feel that too much cheese can overpower the veggies, so I stuck with a slice of cheddar, which is what we had on hand. Any cheese works–pick your poison!
Pile on the veggies: crisp romaine, red onion, sliced cucumber, fresh tomato, and avocado. If you have sprouts, the original calls for it, and they're always a wonderful addition.
My last extra ingredient: sprinkle some everything bagel seasoning on the avocado. Again, it's only complements the sandwich.
Enjoy! This is a great way to eat your veggies while feeling like you're eating at a deli when you're actually quarantining. Stay safe, folks!