The Last Three Books I Read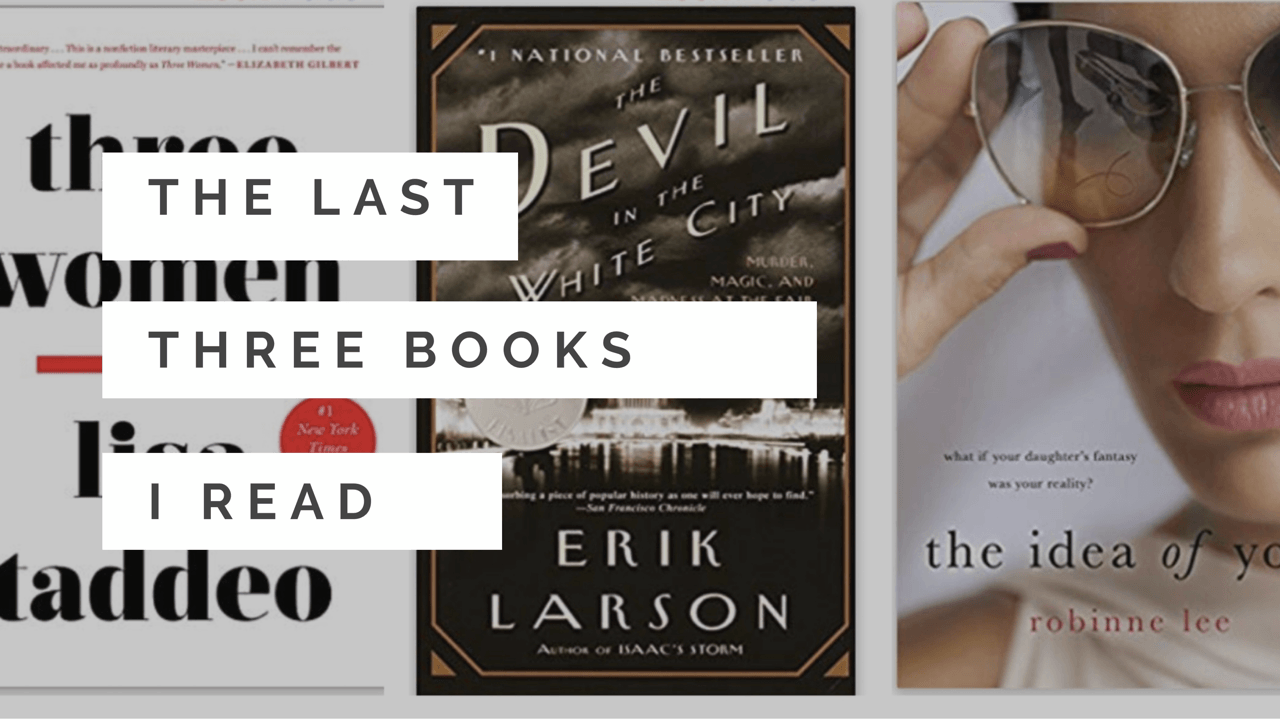 I go in waves with reading; sometimes I can't read enough, other times months may pass without me flipping a page. That's my current season of life–sometimes I'm just too whipped at night to do anything except for half-watch a show on Netflix and fade into my pillow. But since I was recently on vacation without the kiddos, I DEVOURED two books in mere days. So, today I'm sharing the last three books I read and whether or not I would recommend them! They're all pretty different, so hopefully one of these will resonate with you.
The Last Three Books I Read
I loved this book. I realize that I'm about 16 years too late for all the hype; also, I felt like I was the only Chicagoan who had yet to read it. It was one of those books I kept meaning to read but never got around to it. Ten years ago, my friends couldn't stop talking about it. I think in the back of my mind, too, I was like, 'is it REALLY going to be that good?' Well, yes it is. The beginning can be a little slow, especially as the world fair concept builds up, but that context is necessary for understanding the bigger picture. Of course, the serial killer aspect is extremely interesting and riveting (you know I love a good true crime, based on my podcast recommendations). This guy was a complete sociopath–and he got away with so much! Anyway, it's historical non-fiction, so if you like reading about scary serial killers, learning more about the end of the Victorian era, the industrialization period, or anything Chicago-related, you will love this book.
This book is the definition of a beach read, however, it sticks with you. You really become invested in the characters (or is that just me?) and trust me, you'll want the author to write another book about them. It's the realistic story (heh) of a 20 year old year British boy band member who falls in love with a nearly 40 year old mom of a teenage girl at a meet & greet for the band. See? Realistic. But it's just so good–and the sex scenes are pretty hot, so use your discretion on when and where you're reading it. It's total fiction and incredibly fun.
Oof. Even reading the epilogue of this book was tough. This book is incredibly well-written and the stories of the three women are very powerful. However, that doesn't make this book any easier to digest. I found a lot of it to be depressing and sad; the trials and tribulations these women have been through are intense. The exploitation, the heartbreak, the unfulfilling relationships–good Lord. But don't let that deter you from reading this; sometimes we learn the most from the tough stuff, you know? (Just note that there are some pretty graphic sex scenes in this book.) . Also, the book is marketed as the true story of female desire, but I'm not sure I agree. I do think it's a larger conversation than desire–it's more so about how our early sexuality adolescence can define so many aspects of our lives beyond the bedroom.
What are YOU reading? I need recommendations for my next book!
Check out my last book post here!