Sweater Dress Round-Up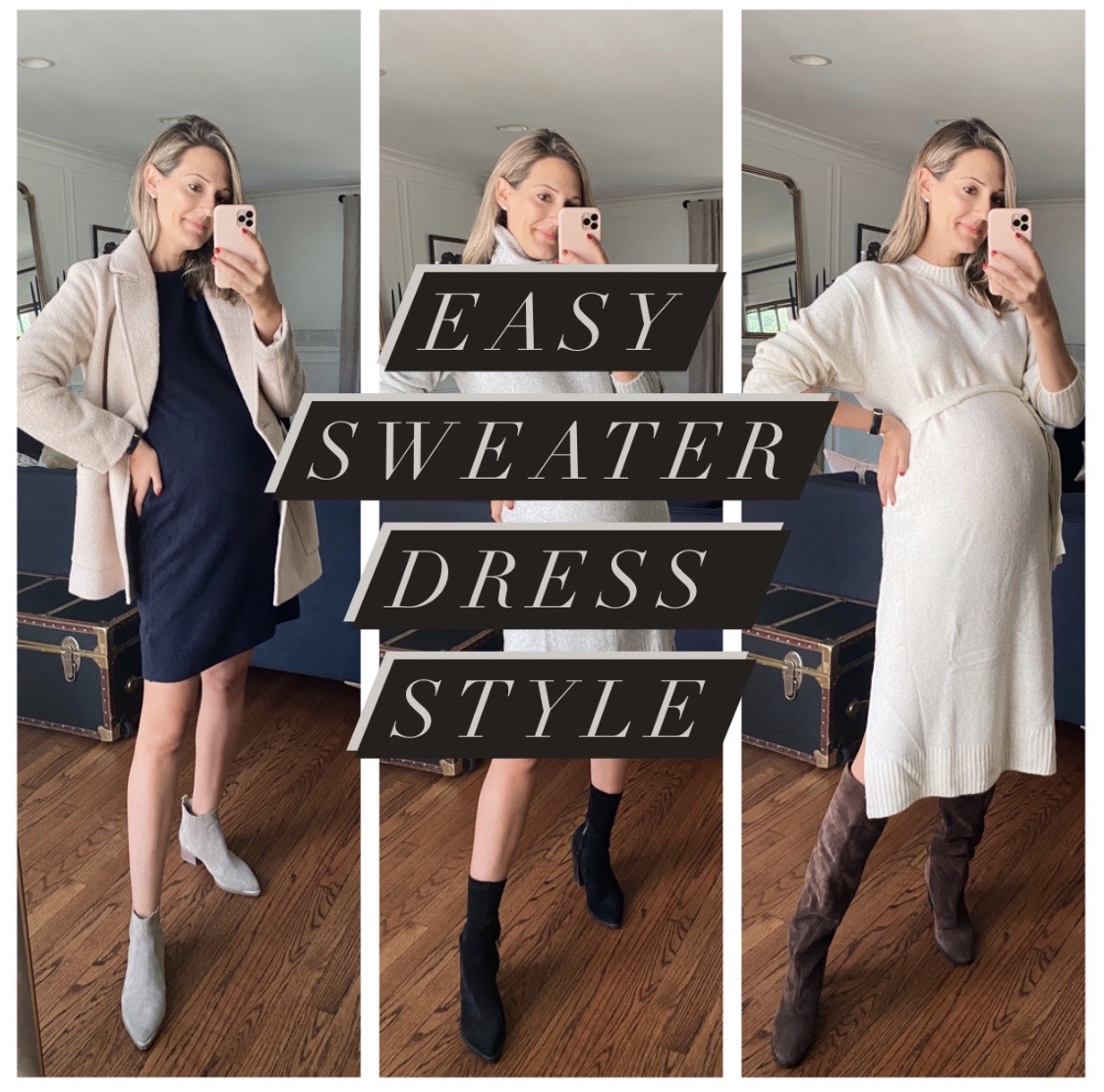 Raise your hand if you love a good sweater dress. *raises hand*. Raise your hand if you'd love a round up of sweater dress outfit ideas. *raises hand* Raise your hand if sweater dresses are all that fit you right now. *raises hand*
Perfect, we're all on the same page! Sweater dresses are my JAM in the fall and winter. They can be cozy, chic, and everything in between. You can belt them if necessary or wear them oversized and loose (I also prefer long sleeve but I do have a sleeveless midi sweater dress from long ago). You can wear with sneakers in the warmer months or knee-high boots in colder temps. I'm just excited that these fit my bump and will continue to look cute postpartum and beyond. Plus, there's a ton of different styles: turtleneck, mock neck, slim fit, chunky, sleek merino wool, and oversized sweater dress, just to name a few. Wear your sweater dress with pride–and wear it all fall/winter long.
Here's a roundup of the sweater dresses I'm featuring:
Long
Sweater

Dress

Outfit Idea

Longer sweater dresses are just the best and they look SO COOL with knee high boots. This one is a knit dress from H&M (they have a million of 'em, as I will highlight here) and you can use the belt it comes with or even your own.
Midi
Sweater

Dress

Outfit Idea

Give me a midi dress length all day long, just like this grey number. It's my sweet spot. Add on a turtleneck and I may never wear anything else for the rest of time.
Turtleneck Sweater Dress Outfit Idea
I'll never tire of a good turtleneck so it's natural that I'd want my sweater dress in this silhouette, too. (Check out this navy one I have from last winter, too). This dress from Amazon is a little bit lighter weight, which I can appreciate during the fall. It would also look great with sneakers.
Black
Sweater

Dress

Outfit Idea

This Amazon sweater dress is about as basic as you can get, but that's why I like it. It literally cost $10 and can be worn tunic style with leggings or you can show a little leg. (By the way, right above the knee is about as "mini sweater dress" as I'll get.). The possibilities are endless!
Sweater

Dress

With Ankle Boots

I love love love the chunky hand of this pale pink H&M knitted sweater dress; it feels a lot more expensive than it is, which is always the goal–to buy pieces that are a great value and you'll be able to wear for a long time.