Recipes to Try During Quarantine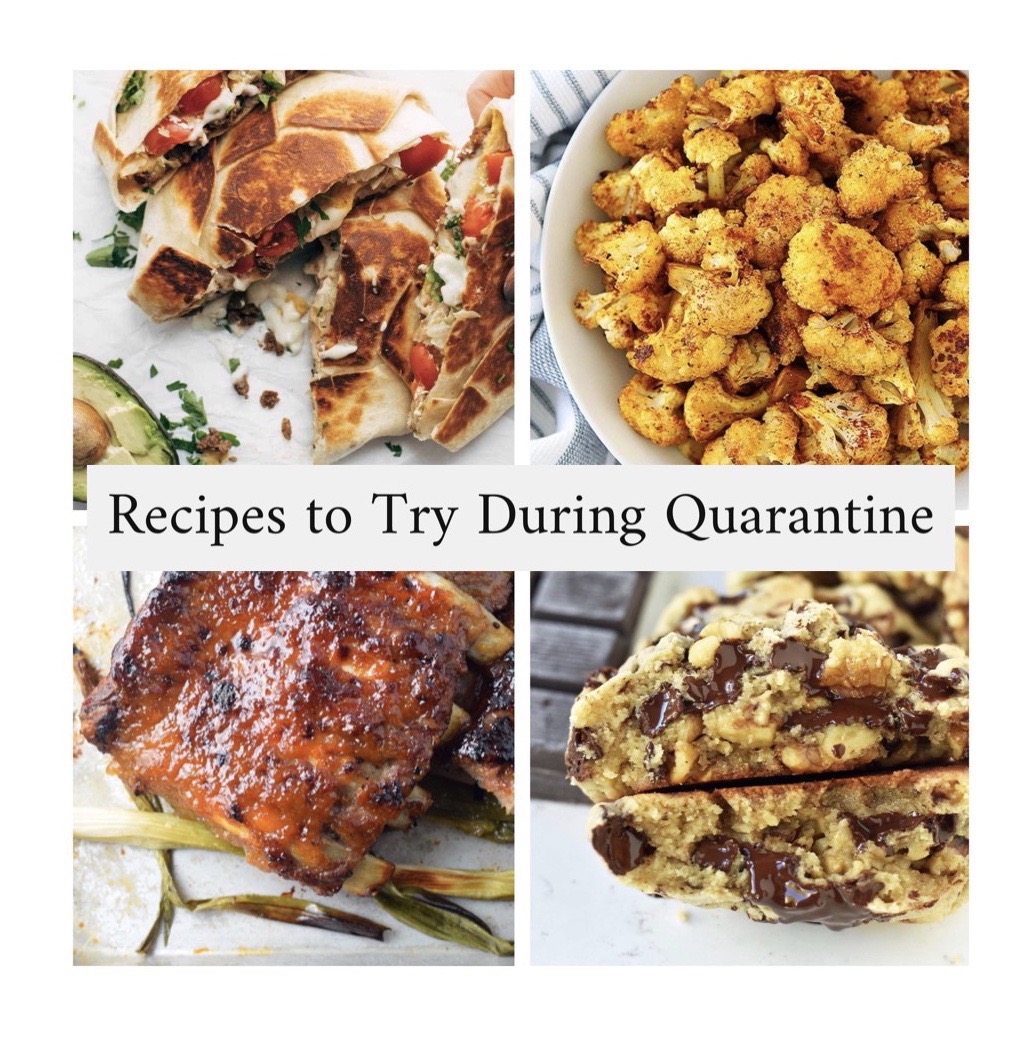 Phew! What.a.list. When I asked you all for the best thing you've made during quarantine, you all really delivered. Now, I received hundreds upon hundreds of responses AND also hundred of DMs in response to this question. (I love how you all have been cooking/baking up a storm, too!) And I truly tried my best to parse through them all. I pulled out the recipes that were mentioned multiple times and ones that really stood out to me as delicious mealtime inspo. So if I didn't include your recipe, please don't be upset. Leave it in the comments so we can continue to spread the wealth! I also included who recommended the recipe (if applicable–I know I missed a few).
By the way, how many of you received the "email chain letter" of quarantine recipes? I did and I actually forwarded it on but I only received ONE recipe. Boo. But also, who still does chain letters? So in lieu of the archaic chain letter, here's a compilation of awesome recipes that YOU love from our favorite chefs and food bloggers. The best part? I included the link for each recipe, so you can bookmark them. And I, for one, could use the inspiration right now. I sorted the recipes by categories, so be sure to print, bookmark, whatever you need to do. This will live on my blog so you can always come back for it. Bon Appétit!
Entrees
Bulgogi via @kobikobina
Chicken piccata from Giada de Laurentiis via @mimssjcamps
Cilantro lime honey salmon from Julia's Album (made this last night!)
Coconut milk braised chicken with sweet potatoes and rice from Half Baked Harvest via @cammcl77
Creamy chicken orzo skillet from Half Baked Harvest (@meghandono's fav) via @osmanemily
Crispy orzo with artichoke and lemon from How Sweet Eats via @em_palmier
Fast & easy potstickers from NYT via @kclark2488
Fish taco bowls from What's Gaby Cooking via @idine4u
Fusilli alla vodka from Bon Appetit via @alyssa.mosc
Green goddess roast chicken from NYT cooking via @ehazuka
Grilled cheese with apple and onions (reader @alliemplatt also suggests Everything Bagel seasoning!)
Homemade crunchwrap supreme from Pinch of Yum via @hashtonn
Khao soi from Bon Appetit via @j.begs
Mongolian Chicken from Defined Dish via @danar29
Meatball Shop's famous meatballs via @melbeats
Miso maple ribs from smitten kitchen via @sarahtanham
Sheet pan beef & broccoli from Damn Delicious via @cltvann
Weeknight bolognese from the Barefoot Contessa via @sarahma7777
Carbs
Fox in the Snow biscuits via @purcellmolly10
Jean Wang's garlic noodles (I made a version of this and sautéed green onions with the garlic, added soy sauce, hoisin sauce, then peanut butter. Omitted the oyster sauce as I didn't have any…they were amazing)- @openandclothes
Leon's scalloped potatoes from Charleston magazine via @anneruder
Monkey bread from Sally's Baking Addiction @juliajab
No-knead focaccia from Bon Apetit @_laurawilks_
Pizza bagels – everyone
Sides
Kung Pao brussel sprouts from Cookie + Kate
Loaded baked potatoes from Delish
Roasted carrots with harrissa yogurt sauce from Natalie at DBDD
Steamed sweet potatoes with tahini butter from NYT Cooking – @coabi
Turmeric cauliflower from Two Peas in Their Pod via @ginnacortese
Sweets
Cinnamon rolls from Ambitious Kitchen via @loncyloncy
Doubletree Chocolate Chip cookies via @currysj
Lemon sheet cake with buttercream frosting from NYT Cooking via @joannahussey
Levain Bakery chocolate chip walnut cookies via @dollopodaisy
Magnolia Table Banana Bread via @carolyntrooke
Peanut butter miso cookies from NYT Cooking via @tessadaire
Perfect blueberry muffins from smitten kitchen via @madelgib
Salted brown butter rice krispie treats from smitten kitchen via @fleminkt
Sour cream coffee cake from Barefoot Contessa via @woolsocksandoatmeal