My Top 10 Trader Joe's Staples in 2018 (+ 5 Staple Snacks For My Kids)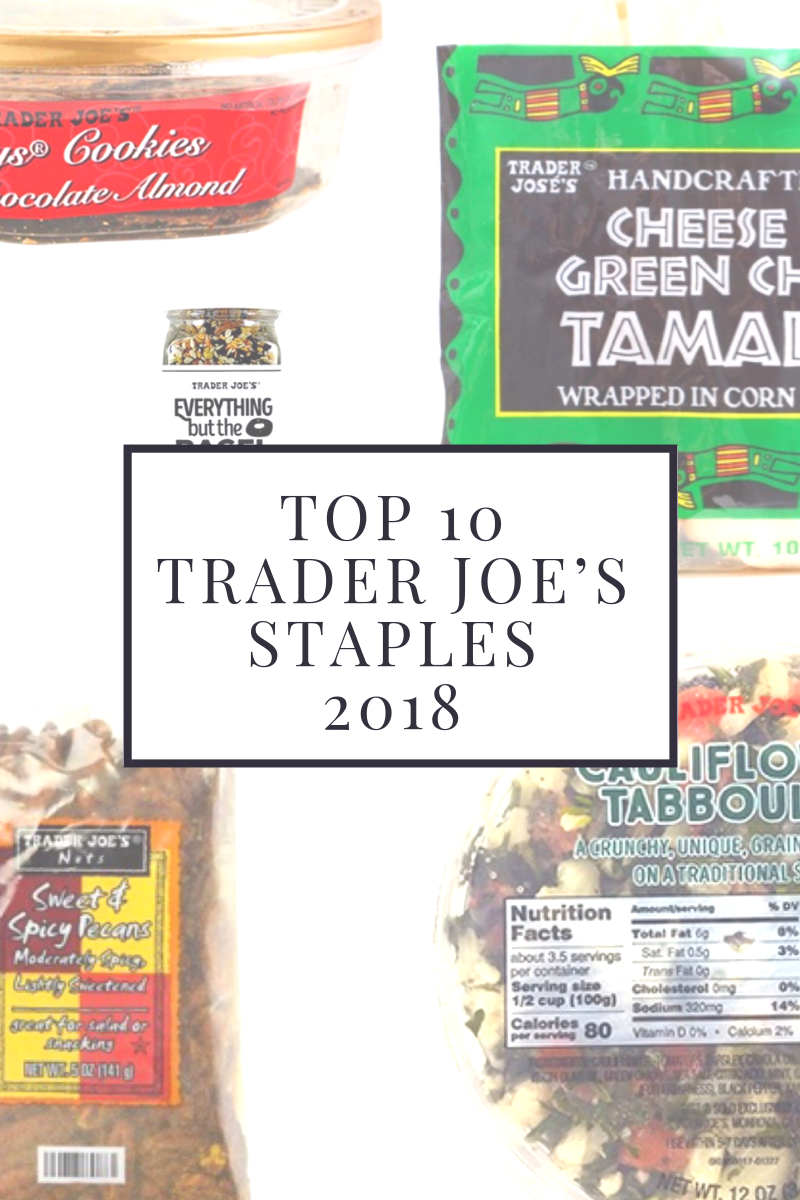 Over the weekend, I asked for your help on IG stories.  I was feeling in a rut with Trader Joe's and told you all to spam me with your favorites.  It was an awesome exercise as I made the ask right before I went to the store and the responses came pouring in; I was able to to find out real time what everyone loved and there were some clear winners that I was able to share on stories.  Anyway, it also made me evaluate WHY I was feeling in a rut with TJs and revisit my own staples.  And for context, Trader Joe's is like a once a month (maybe two) grocery store for me so it's not like I'm there every week.  So here's what I keep buying over and over again…and more importantly, WHY:
Everything but the bagel seasoning – I know, I know, it seems overdone…BUT it lives up to the the hype.  Sure, it's good on eggs, avocado toast but have you ever tried it on a sandwich?!  Game changer.  It's my favorite atop egg salad and a good ol' turkey sandwich with mayo and mustard.
Mixed nut butter – Holy hell, it's so perfectly salty and smooth, I would eat it with cardboard.  The mix of nuts is sooo tasty and I eat it almost every day with an apple, toast, or those TJ "flax crackers."  Tip: keep it in the fridge to keep it from separating.
Riced cauliflower stir-fry – Basically the only cauliflower rice worth eating, in my humble opinion.  This is amazing on it's own but often times I mix it with TJ's veggie fried rice (also a staple, but I won't give it its own number…just try it), add a fried egg and tons of Sriracha.
Cauliflower tabbouleh – While we're on the topic of cauliflower, the tabbouleh version is tangy, middle-eastern perfection.  I'm a HUGE fan of Lebanese food from growing up (my siblings all worked at a local restaurant at some point of their young adult life, Byblos in Toledo if you're ever there, and we still go there when I'm in town–best hummus I've had in my life).  I eat this with pita chips and hummus or sprinkle it on a Greek salad.  I don't buy it because it's low on carbs, I buy it for the crunch!
Rosemary raisin crisps – Mouth is salivating just thinking about these.  This cracker is the most important part of any cheese plate I make–it's a savory/sweet thing for me and these crackers go especially well with soft cheeses, but I'll also eat them with dips, of course.
Sweet potato gnocchi with butter & sage – Alright, so I've only had this once and it came from YOUR recommendations.  And OMG, I have bee missing out.  Talk about an easy but decadent meal.  It was so flavorful – I added organic spicy chicken sausage, frozen peas and a handful of arugula while it cooked and it was incredible.  I know the cauliflower gnocchi is all the rage but I'll take this any day over the cauli-version (probably because this one is cooked in butter….?)
Cowboy Quinoa Veggie Burger – Fact: as much as I love bread and rolls, I've never made a veggie burger only to put it on a bun.  I'll eat it alone with a little sauce or put it on a salad, but boy, this crunchy veggie patty takes the cake.  I used to eat SO MANY Boca Burgers in college that the thought of them grosses me out; veggie burgers have come light years in the past decade and this one if one of my favorite.  I also make these for my kids and they dip them in ketchup…even Eric, who is a proud carnivore, has said these are solid.  PS I'm not a vegetarian but I've never been a huge meat lover and I stopped eating it completely for a couple years in my 20s.  I love a good vegetarian meal and often have meatless meals during the week for the fam.
Green cheese and chile tamales – I've been buying these forever.  I think they're always in my freezer and it's my quick go-to lunch when I'm craving something warm and Mexican.  I douse them in salsa, add a little sour cream, avocado and some green onions if I have them on hand.  They definitely give me my tamale fix.
Sweet and spicy pecans – I could easily eat the whole bag while standing next to my counter, working on my computer.  I LOVE them on salad (arugula, feta, these pecans + vinaigrette is the best and easiest salad out there) . They also are perfect on a cheese plate.
Laceys cookies – dark chocolate and almond– I'm not a huge sweets gal but sometimes the craving hits; one of these cookies always hits the spot.  I love dark chocolate and nuts so there's something magical about the super crunchy cookies aspect to it.  My love for everything crunchy is also probably why I need to get a crown at the dentist next week.
Top 5 staple snacks for my kids:
Organic silver dollar pancakes – perfect for a quick breakfast (I microwave them)
PB&J bars – Basically cereal bars and my kids' afternoon snack of choice.
Quinoa and black bean tortilla chips – Eaten hummus, mostly.
Hold the cone – The perfect SMALL size (for little hands) if you want to give the kids a sweet treat.  They work great as bribery!
Organic apple sauce – The boys love the cinnamon variety!
Alright – now it's your turn to share your staples and favorites…