My Self-Tanner Routine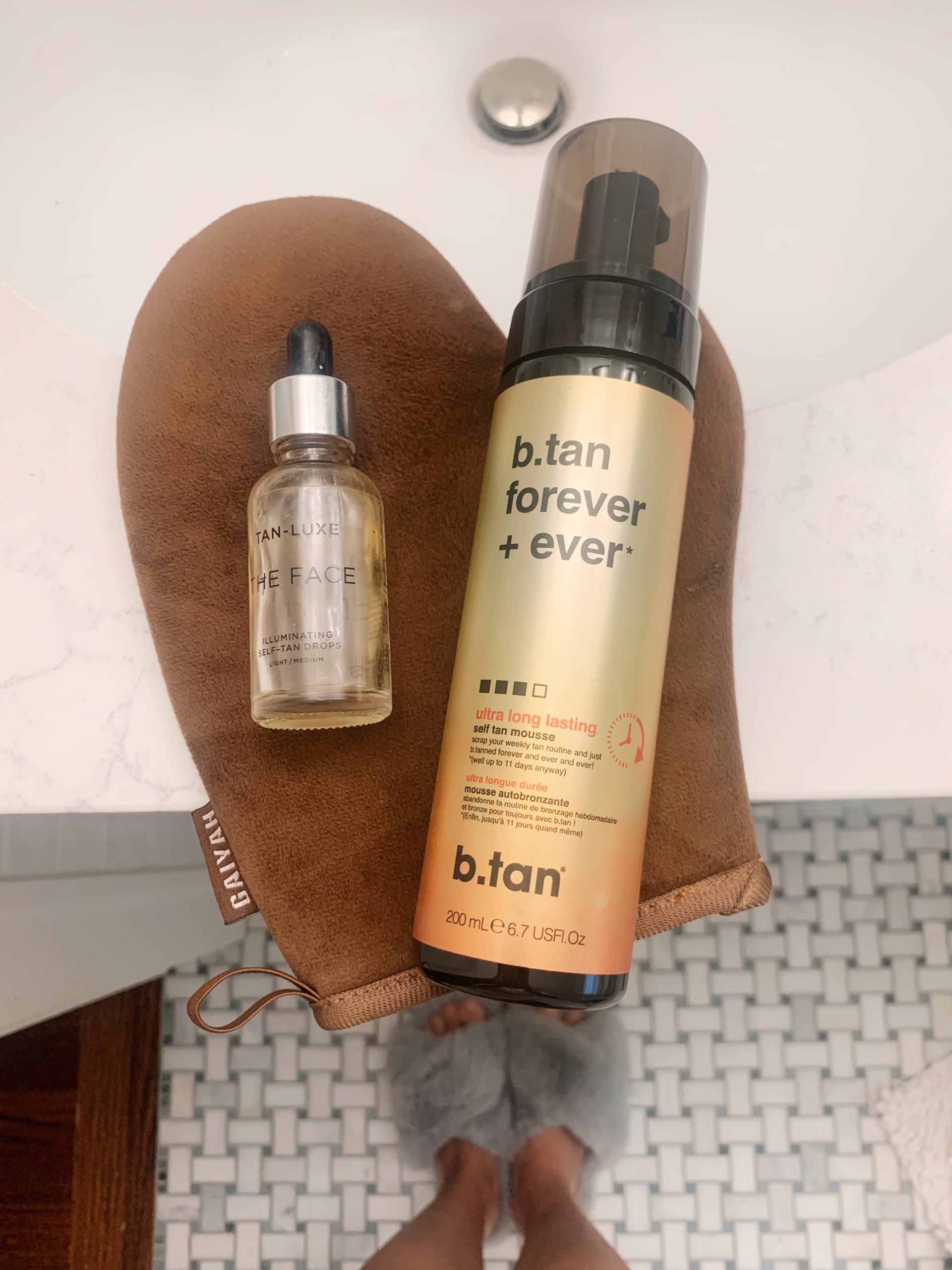 Even though summer is different this year with minimal gatherings, parties, date nights, trips, I still want that bronzed glow. I wear lots of sunscreen but still enjoy a slight tan when I'm able to get outside (but I'm no longer a sun worshipper like I was in my teens). But because I'm not lounging at the pool like I did in my youth, my glow needs a little jumpstart so I rely on self-tanners. And let me tell you, my self-tanner routine has come leaps and bounds since the mimd-2000s. There's a lot less orange, a lot less smell, a lot less streaking, and it smells a whole lot better.
My Self-Tanner Routine
These tanning drops (for the face only) are a little pricey but they're worth it. A bottle lasts a YEAR for me (and in the dead of winter, I don't really use self-tanner unless I'm going on a trip to the beach). You only need a few drops in your moisturizer once or twice a week–don't forget to wash your hands after! I tan pretty easily and have slight olive undertones and use the light/medium. I have heard good things about the Isle of Paradise drops but these have worked so well for me that I have yet to try. (Have you tried both? Which is better??). I also have Tan-Luxe The Gradual in my cart–buying it for my limbs!
Bought this off Amazon before Memorial Day because the brand had pretty good reviews and I am impressed! I like the fact that the color shows up right away so you don't miss any spots. It's a natural bronze, not streaky, doesn't smell bad, and I'd purchase again. I applied mine with a mitt (see below), which I'd highly recommend.
This $7 tanning mitt is worth the purchase. Keeps your hands clean and evenly distributes the tanning mousse–that's worth the $7 alone! I chose this one because it was highly rated on amazon and cheap (2600 ratings, 5 stars!).
Hope you enjoyed my self-tanner routine–don't forget to exfoliate beforehand! (I just bought this Luv Scrub exfoliator, which is a black-owned Brooklyn-based business).