Mudroom Makeover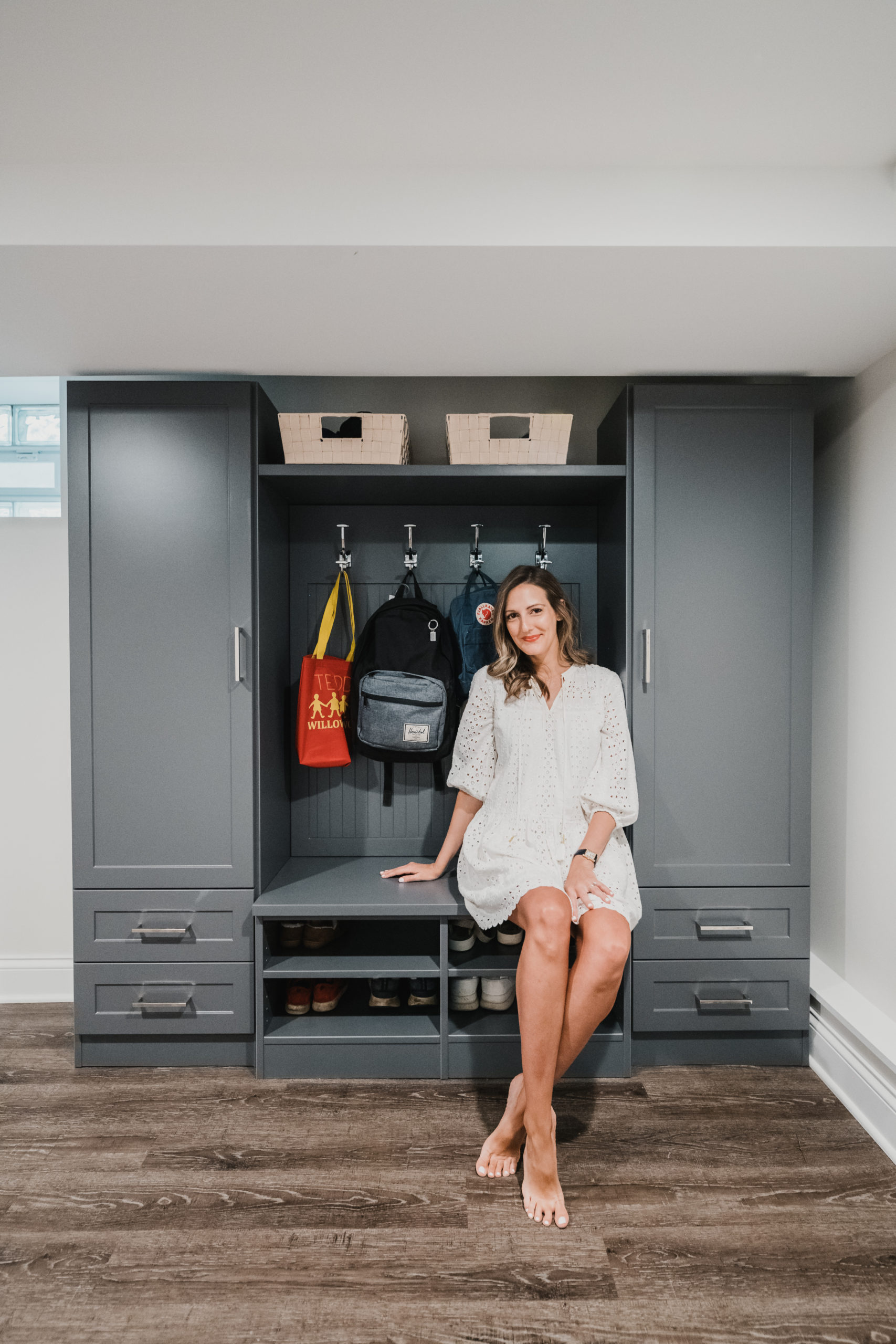 Mudroom Makeover
Two weeks ago, I shared our basement renovation (check it out here) and today I'm excited to reveal a portion of our basement that we turned into a mudroom area. It was all done by my friends over at Inspired Closets, who also helped me create a dream walk-in closet situation last year (see that post here). So, let's get into the details, shall we?
What did Inspired Closets do?
Mike Carson and his team helped me design and create a mudroom area at the base of our basement stairs. We have a very tiny mudroom area off our garage (I had some new bead board and hooks installed there!), but it didn't allow for much storage. You get creative! When you come into our house from both the garage and back door, the basement is right there. I felt like the bottom of the stairs was the perfect spot for a mudroom area. The kids can run down and keep all their shoes, snow gear, coats, backpacks there and still be right by the door.
Why did I work with Inspired Closets?
If you have a vision, Inspired Closets will help it come to life and they carry the whole process start to finish. In 2018, I was searching for a closet company to help create a mid-size walk-in closet. I reached out to several companies for quotes and designs and Inspired Closets blew me away. They listened to my needs, utilized every inch of space possible (I have a lot of clothes, ok?) and were priced VERY fairly. (I'm talking half the price of another famous closet design company–and I liked Inspired Closets design MUCH more!)
They reached out to me about working together after they saw my Walk-In Closet renovation; they had no idea I was a blogger as I was just another paying customer and they received referrals from me. I've since had other friends use them and love them. When we decided to work together, I told them I desperately needed some sort of built-in/mudroom and they came over and helped me create my vision. Everything is customized to fit your exact space and they're amazing at design. You won't be surprised at a thing as they provide a 3D rendering of what the design will look like in your space. Inspired Closets is truly full service and I have recommended them to everyone I know. I didn't have to worry about a thing–they took care of everything start to finish.
How are the built-ins?
I absolutely love them. I am the type of person who likes cabinets and things behind closed doors. And I love that each kid has a locker and we have plenty of room for shoes, backpacks–everything! And the shelves in the large closet doors are adjustable–I could even take them out if I wanted to. It's a super smart design because it has a ton of SPACE. And that's what you need when you have kids–room for all their stuff.
Do you have a discount code?
I always ask my partners if they'll give a discount code for my readers. I'm happy to say Inspired Closets Chicago is offering 20% off for my readers until August 31, 2020. Just mention you saw it on my blog when talking to your consultant. Summer is a great time to take on home projects (and honestly, I feel like this fall/winter we might be home a lot again so might as well take on those projects, right?).
Any other questions you have? Drop them in the comments below!
*Thanks to Inspired Closets for being an awesome partner and sponsoring this post. I love when a company that I love wants to work together!