Master Walk-In Closet Renovation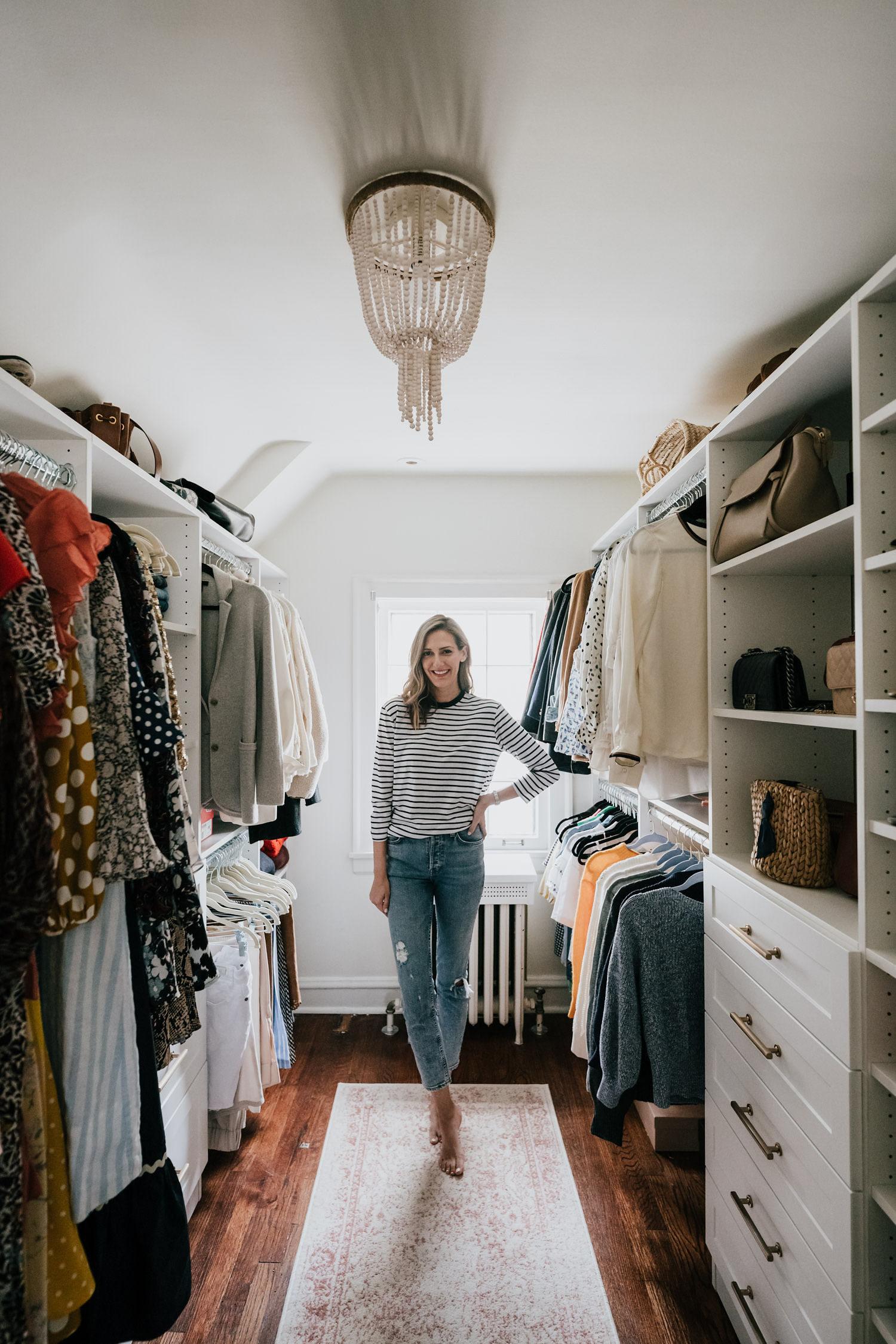 Finally!  I'm so excited to share my master closet with you post-renovation.  I'm excited to share the details with you like, why I even took on this project, sources of products, how I organized it and why this was a tough space to design.
Why did you build a closet?
We knew the first big project we'd take on would be the master bathroom.  It was original to the home (1920s) and while charming, it needed a face-lift.  The (not original) vanity was TEENY and there was dead space from the entrance of the closet area into the bathroom.  We decided that we'd take square footage from the large bedroom and dedicated it to the master closet and bathroom.  We probably could've used this closet space to make a big, gorgeous bathroom, but I really needed a closet.  Also, I don't think a huge, sprawling bathroom would make sense in this house (that reveal will come next week!).  The good thing about our master bedroom was it had two, fairly large reach-in closets.  There is still one in the bedroom…and that is all for Eric.  As I've said before, I'm a bit of a clothes hoarder, so this closet is solely mine.
Who designed it?
I researched a bunch of local and national closet companies and got designs/quotes from all of them.  As much as I loved the design and people at California Closets, I just couldn't justify the cost.  This isn't one of those walk-in closets that's bigger than a NYC apartment–it's a pretty standard sized walk-in closet and I didn't want to overspend if I didn't have to.  (No knock to CC, though–their work product is amazing and I had a great experience chatting with the rep who worked with me.) . I also met with Inspired Closets, which is located in the western Chicago suburbs, and I liked their design the best.  I felt like it was a really thoughtful design and the price point was one I was totally comfortable with (it was about half of CC).
Was the space challenging?
YEP.  This space isn't your typical walk-in closet; there's a radiator, a window, and there's actually a DOOR that leads out to a 2nd-level patio.  I knew this space would be a challenge but I wanted to use every inch of real estate I could.  So what we did was design a hang bar for all my mid-long dresses OVER the door.  That way, when we sell the house, we didn't close up a door to the patio that someone might want to use.  I personally never use the patio because I'd rather go outside on our first level.  But, I can still open that door, if need be.  Windows, doors, slanted Tudor roofs, and radiators make it challenging for sure.
Organization tips?
First, I just have to disclose that I am not an organized person by nature.  It does not come naturally to me but since we had the closet installed in late January, it's really helped my organization!  I used the Marie Kondo method of folding and that was really helpful for all the drawers.  Basically, my big tip is to put everything where you can SEE it–that way you'll actually wear it.  I also like to organize things by color, when possible.  It helps me know what I'm looking for when I have an item pop into my mind.
What's next for this space?
I want to put in a new roman shade over the window, get a different radiator cover or cap it completely (do I really need radiator heat in this small space when my bedroom is perfectly heated?), and maybe play around with more organizing!  Would love your suggestions below!
Was this sponsored..?
Nope!  I would disclose it if it were sponsored.  I just had a great experience and also wanted to share a little perspective on some of the prices and designs I saw.
Sources:
Closet design and installation: Inspired Closets (Oak Brook)
Runner ($23!)
Crystal knobs for french doors
….and check out more home renovation content here!