Before + After: Our Basement Renovation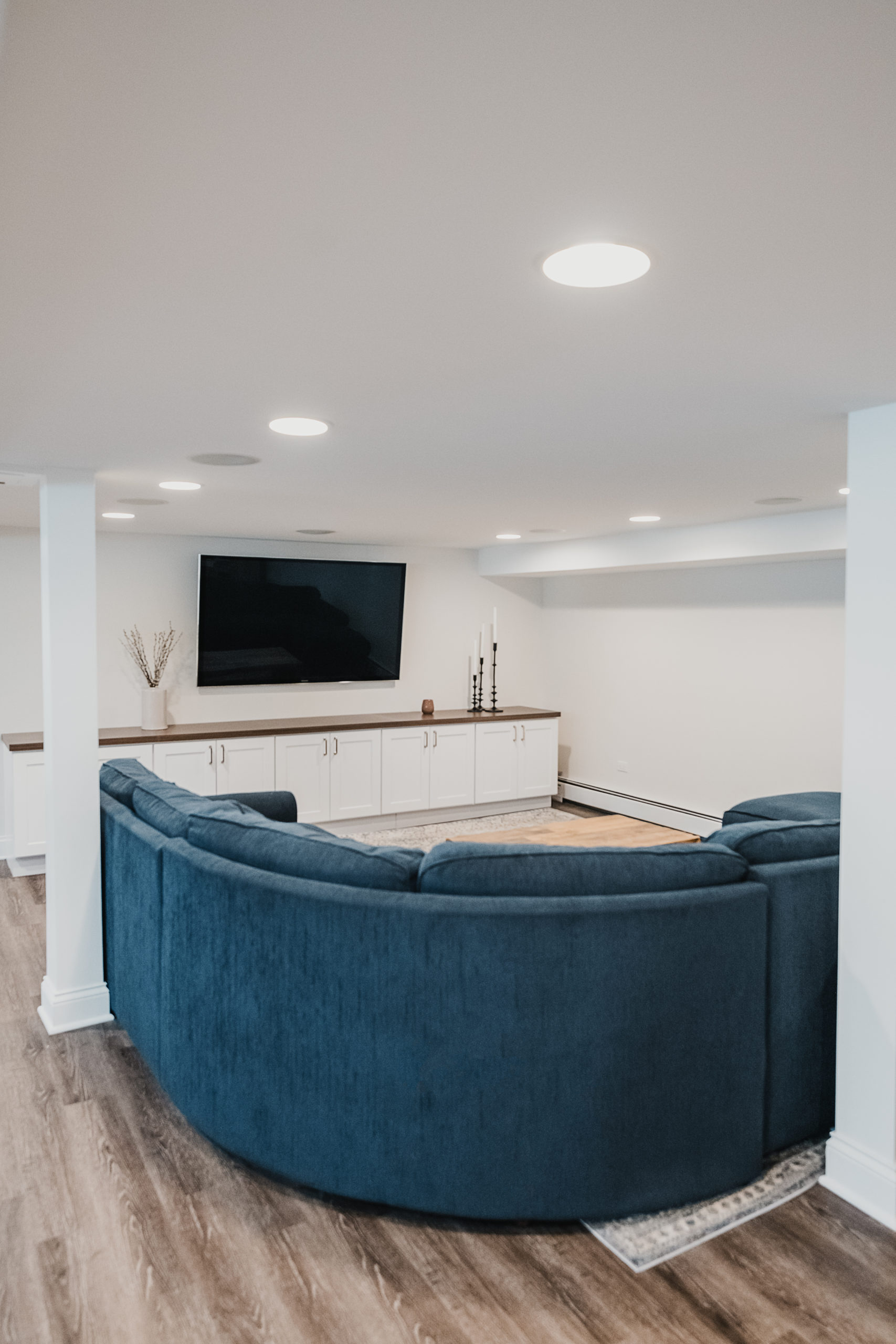 Our Basement Renovation
I'm so excited to finally share our basement renovation with you! The work started about nine months ago, but we had a few other projects we completed–related to the basement–that were delayed (sharing those next week!) due to the pandemic but they're done now and I can finally share the AFTER.
Why did you renovate your basement?
We always knew we wanted to update it a bit, but I don't think we ever thought a full out gut job was in the picture. As you can see from the listing photos, it oozed with retro charm. Wood paneling galore! And a big, ol' wet bar (I feel like ragers were had down here). The basement is huge living space and we wanted to take advantage of it. But ultimately, what pushed us into the decision was the fact that the basement was taking on water. It was seeping in every time it rained and we knew if we put off waterproofing, we'd come home to full-on standing water eventually.
When you waterproof, they rip out the perimeter of the basement floor and the walls. So, because we knew waterproofing was happening and if we were tearing it all up, ew might as well renovate it, too.
What did you do exactly?
Waterproofing costs a pretty penny (yay) but on the plus side it left us with a pretty blank canvas. Here's what we did:
We tore up the tile floor in the main living area (note: we have two OTHER rooms in the basement in addition to this living area–a storage room that also has our washer/dryer and another refrigerator AND an additional storage room)
Installed vinyl flooring that looks like wood (God forbid water seeps in again), replaced the wood paneling with dry wall
Added custom built-ins for storage/media
Took advantage of the plumbing that was in from the wet bar and added our own!
How long did it take?
Our contractor's team (the same contractor that refinished our hardwood floors, painted our house, replaced our mantel, and renovated our master bath!) started in late September and we finished in early December. Took about 10 weeks, I'd say.
Sources?
We bought the navy sectional from La-Z-Boy before we moved in spring of 2018.
Rug is Loloi (literally all rugs in my house are Loloi and I love them)
Coffee table is West Elm
Paint is Benjamin Moore 'Cloud Cover'
Would you have done anything differently?
The only thing I'd change is the ceiling height, but it just isn't possible. Our house is nearly 100 years old, though, and our contractor lifted it as much as he could. I didn't want to "dig" anymore for ceiling height, so 6.5-7′ ceilings (depending on where you stand, ha) it is. Our Peloton IS down there and I have bumped my head a few times but I really like having it down there so it stays.
Otherwise, it's perfect. All of our kids toys are down there, we have a very comfy TV area, and it's a great hangout space. While I would've loved to update our kitchen next, I'm glad we were able to renovate the basement.
The Before:
The Wet Bar