How to Style a Sleeveless Jumpsuit
Jumpsuits have become a real mainstay in women's wardrobe over the past decade. They used to be a "going out" look or something only seen on street style blogs and have since evolved into an everyday item that we can wear both casually and more dressed-up. You can wear a sleeveless jumpsuit so many different ways! There's so many different styles from wide-legged to tapered from printed jumpsuits to neutral. A casual jumpsuit can take you from the beach to dinner and a more formal one can even be your wedding attire.
They're comfortable, too. I have found myself reaching for cotton or linen blend jumpsuits while working from home lately (ok, I always work from home, but didn't leave the house for months). They made me feel like I was getting 'dressed up' for the day while providing loads of comfort. I have found that the jumpsuit has become just as much of a staple in my closet as a dress. I've been wearing them for years and can assure you that they're easy to style–you'll be reaching for it in no time.
And before we proceed, I feel like it's worth noting that when it comes to the bathroom situation, they don't have the simplicity of lifting up a dress, but honestly, they aren't worse than regular pants. I know that's an issue for some so I figured it was worth addressing; it would never stop me from wearing a jumpsuit outfit, though–even while pregnant when I'm constantly running to the restroom!
Let's start with a few jumpsuit style tips and then I'll show you some ways to wear them!
How to Style a Sleeveless Jumpsuit
Wear Heels
Serious question: will we ever wear heels again? I sincerely hope so (in moderation, of course). Heels are a great way to make a casual jumpsuit look a bit elevated; they don't have to be sky-high heels–think heeled booties, sandals, or sling backs! I wore a classic, black jumpsuit to a black tie wedding a few years ago and simple jewelry and heels were all I needed.
Wear Flats
I know we're all wearing flats these days; I've been living in my Amazon-version of rubber Birkenstocks. But in the same way some heels can class up a simple, black jumpsuit, flats can bring a dressier jumpsuit down a notch. Have a loud floral jumpsuit? Tone it down with nude, flat sandals. Personally, I love a pair of ballet flats or mules with a jumpsuit, but also give flat booties or sandals a chance, too! Even loafers would be a super chic option.
Try a Denim Jumpsuit
Sleeveless or no, a denim jumpsuit is one to try. It's kind of like the cousin to overalls (which I can't figure out how to wear–they just don't work on me). But don't make the mistake of thinking a denim jumpsuit needs to be thick and ready for workin' on the railroads; a lightweight chambray jumpsuit would be gorgeous and breathable (and great with a cardigan on top.
Layer, Layer
The best way to get the most mileage out of a jumpsuit is to add layers. It'll take you through the seasons and makes the jumpsuit a formidable force in your wardrobe. Cardigans, jackets, even turtlenecks layered underneath a sleeveless jumpsuit are easy layers to add on the layers.
Sleeveless Jumpsuit Outfit Ideas
Tailored
Doesn't Jess look amazing in this button-front jumpsuit?! Its tailored silhouette defines the waist but doesn't look stuffy. Also, that looks like linen, which makes me even more excited. Transition it to fall by throwing One/Third's jacket 02 on top!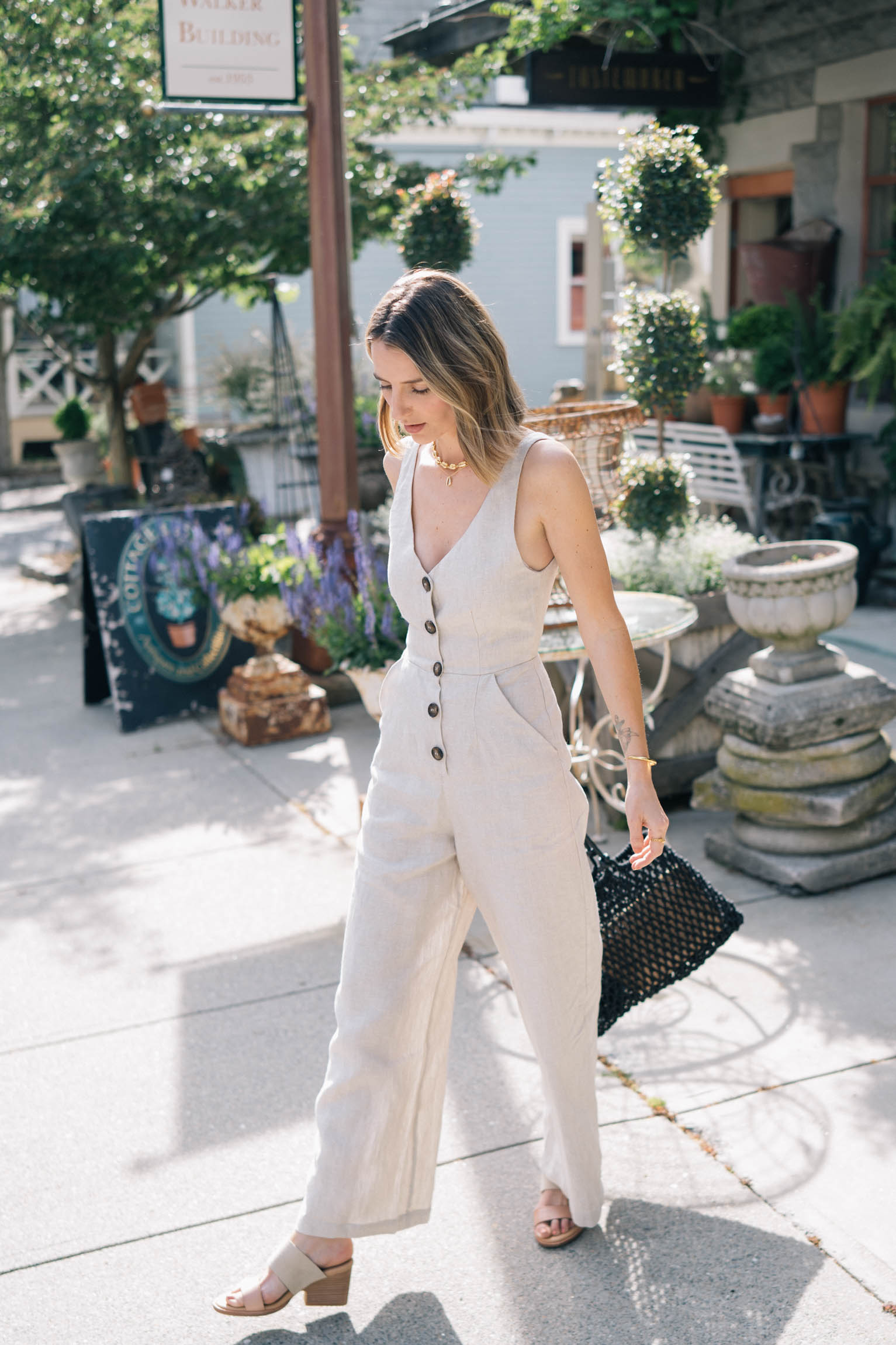 Black-Tie
It's me five years ago! I saw this wide-leg jumpsuit by Vince and knew I had to have it for a black-tie wedding–I love wearing it to more formal events and I even used to wear it to the office with a leather jacket on top! On a related note, how great would a white jumpsuit be for a bride?!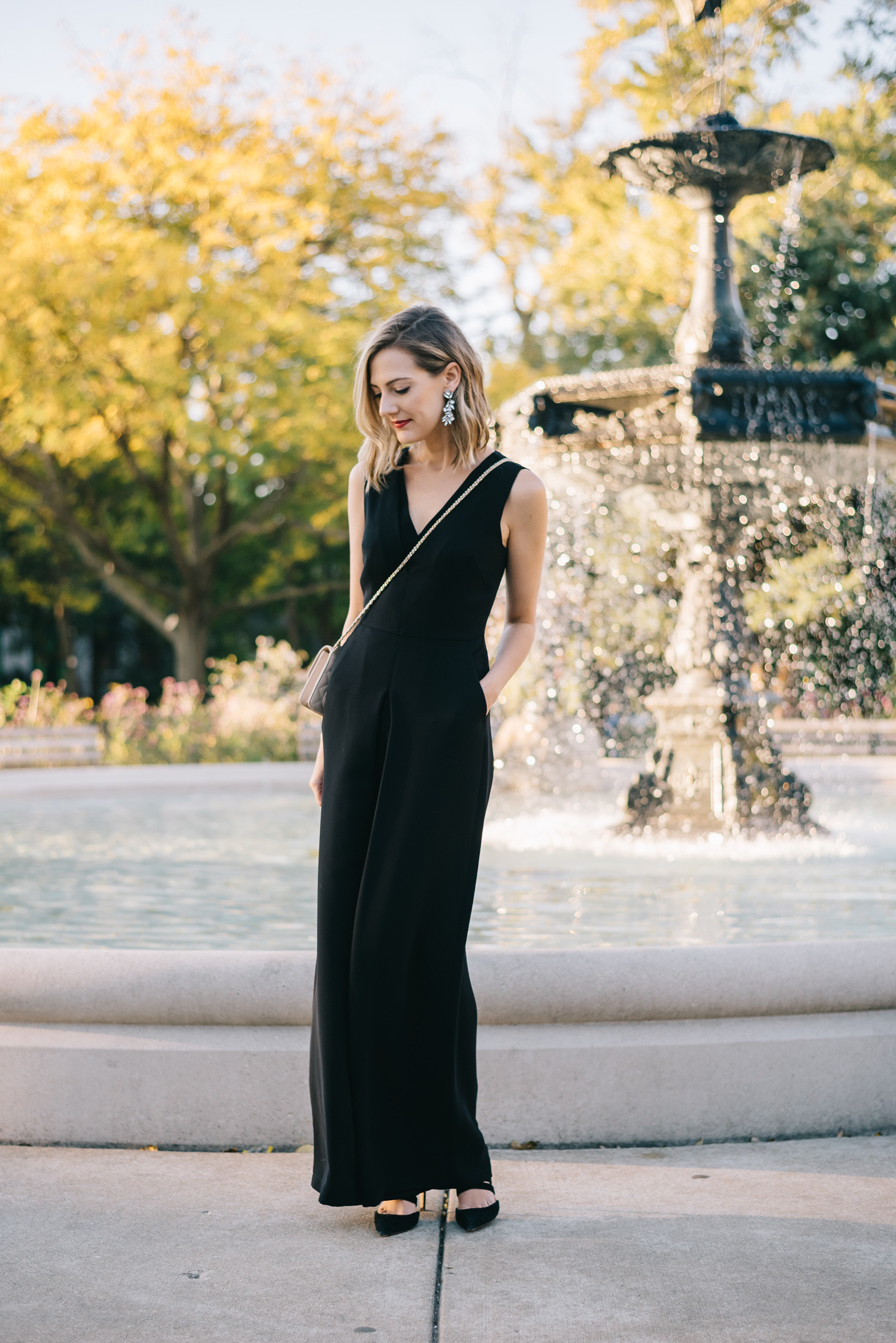 Work Appropriate
Jumpsuits just aren't the 'going-out' attire they used to be–they can totally look polished, as my friend Jess Keys shows here. She simply added a blazer (One/Third… 🙂 and sling backs! High heels and jumpsuits are so chic together.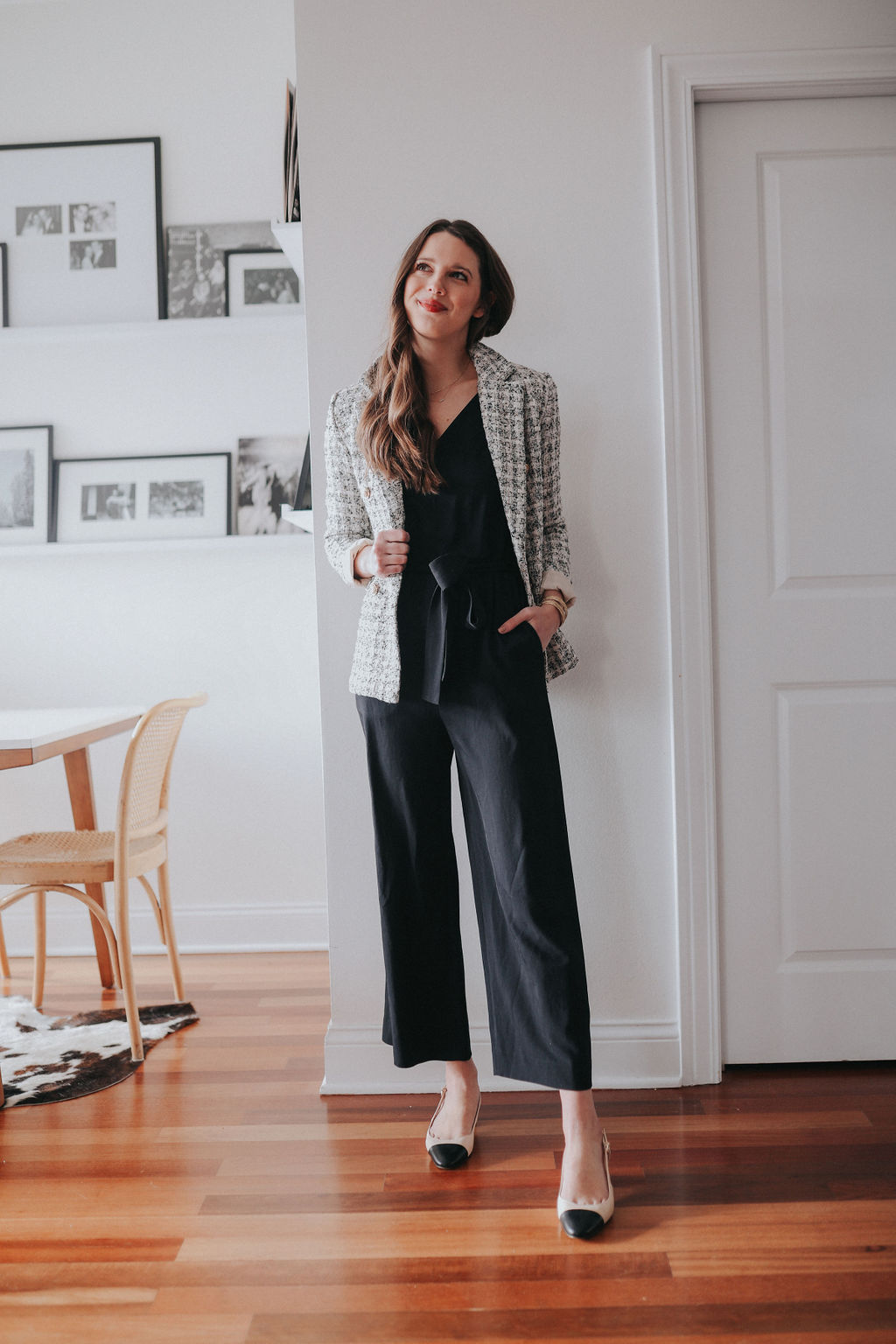 Make it Look Like a Non-Jumpsuit
Leave it to Natalie to make a jumpsuit look like pants and a sweater. Want to make your jumpsuit a long-sleeve outfit? She added a lightweight sweater with a front-tuck on top of a linen-blend jumpsuit along with beachy flats and she looks incredible head to toe. (She also wears a cute polka-dotted jumpsuit here!)