Holiday Gift Guide: Small Businesses
Small businesses make the world go round. It's so easy to support the convenience and ease that is Amazon but do you want to live in a world where only Amazon exists? (Sort of like in the movie WALL-E…) HECK NO, you definitely don't. Think about your local salon or your favorite pastry shop–all small businesses that need your support. With the pandemic and economic shut down this year, lots of small businesses are struggling in a big way. If you plan on buying gifts this year, consider buying small or local–every little bit helps and it won't go unnoticed.
Below are mall businesses I love and patronize myself–their "smallness" ranges but regardless, I'm sure they would love your support this holiday season. Plus, they make great products! Check them out and if you have any you'd care to share, please leave them in the comments. Bonus: all the businesses below are female-founded EXCEPT for Pura! And be sure to check out my Gift Guide: Under $30, too.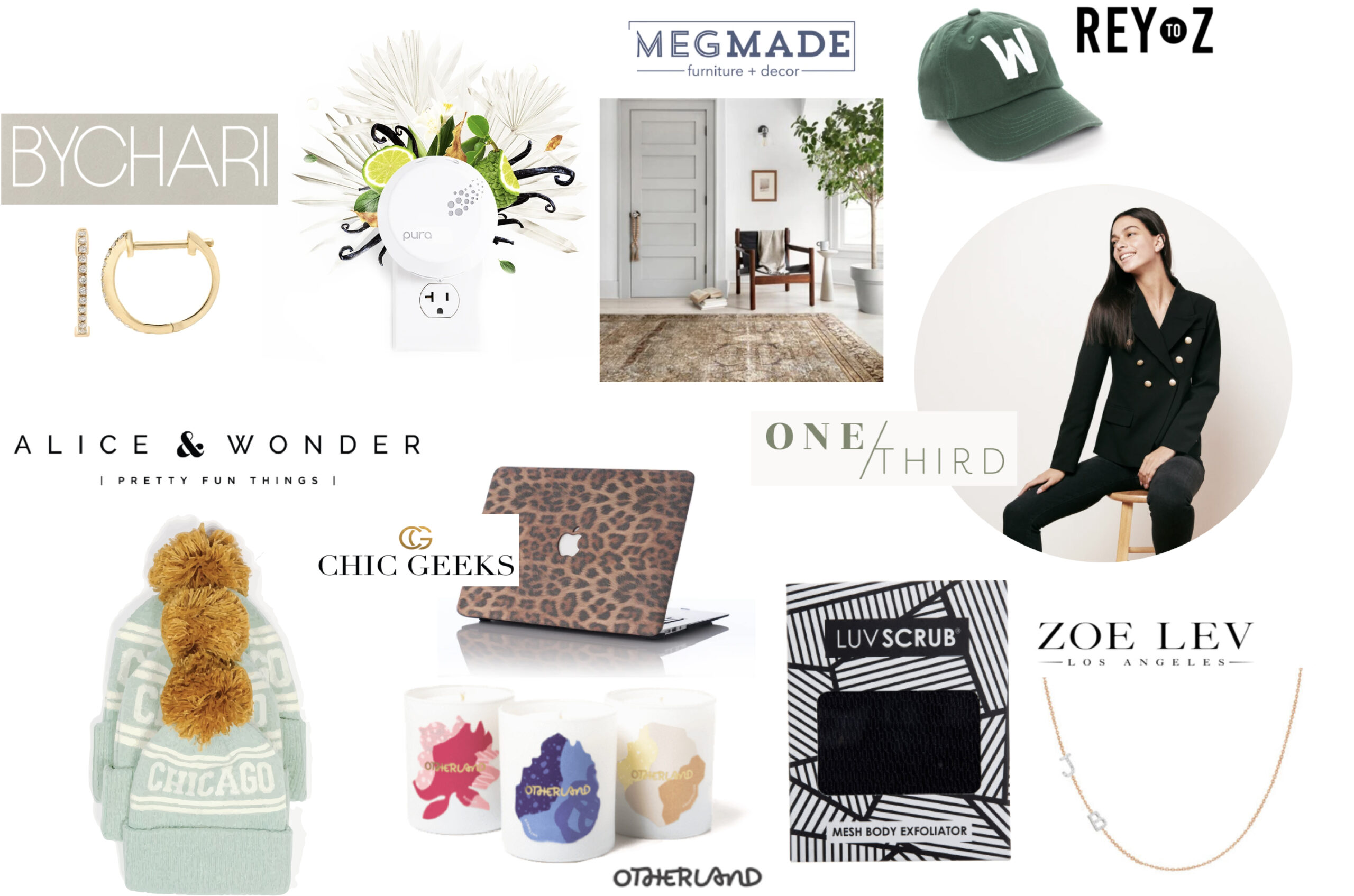 ByChari (Black-owned) – Simple, chic jewelry and Michelle Obama just catapulted them into fame with the "VOTE" necklace she wore. From diamonds to gold, it's all gorgeous at a fair price point.
Pura – Pura probably won't be a small business in a year or two because it's going to revolutionize home fragrance. I was served an ad and the rest is history–I'm OBSESSED and bought three for my home (and a gift set for my Mother-in-Law). I love the Nest and Brooklyn Candle fragrances! Use code SEEANNAJANE for 15% off your order.
MegMade – MegMade is building an empire; what started as a furniture refurbisher turned into a home style mecca here in Chicago where they now have their own paint line and home design team. I worked with Meg on our dining room and her taste is impeccable–and they're launching a TV SHOW soon! (For those not in Chicago, check out their pieces on Etsy!)
Rey to Z – Local Chicago company makes the CUTEST initial hats for the family – use code JOY for 20% off!
One/Third – Ok, fine it's MY company but we're still small! My co-founder Coabi and I are the only full-time employees and we're so proud of the company we launched in 2019. However, a pandemic that keeps people home makes it tough to sell women's jackets. We still have a great product and customer base but 2020 has been tough for a new business like us. And we have two more styles coming out this year so be sure to snag one for winter!
Alice + Wonder – Another local Chicago retail gem full of everything from pretty dresses to cute baby items to kitschy-perrfect-for-White Elephant gifts. I also LOVE her Chicago-centric apparel. Best part? It's all available online, too.
Chic Geeks (Black-owned) – I always get questions about my caramel-colored snakeskin computer case–and it protects my MacBook Pro; their Black Friday sale is on right now, too!
Otherland Candles – I discovered Otherland on Shopbop and have bought them for gifts several times. They are fun, pretty, and smell AMAZING. The candles are 'clean' and the glass container is intended to be reused. Build a holiday three-pack–you get three candles for under $30 each!
Luv Scrub (Black-owned) – I bought one for myself this summer and I'm obsessed with it. They're a small, female, black-owned business in Brooklyn and what's even cooler is that I just saw they're now available at Nordstrom. Yes, just because Nordstrom now carries them still means they're a small business–as a former Nordstrom-owned company employee, I'm here to share insight that Nordstrom loves testing cool new brands, even if they're tiny, so I'm really excited that they are carrying Luv Scrub this season!
Zoe + Lev – Every time I show my face on IG stories, I receive questions about my initial necklace. I found Zoe + Lev on Etsy and I can vouch for its quality. They make some gorgeous pieces!