Clean Beauty Pioneers: A Follain Skincare Review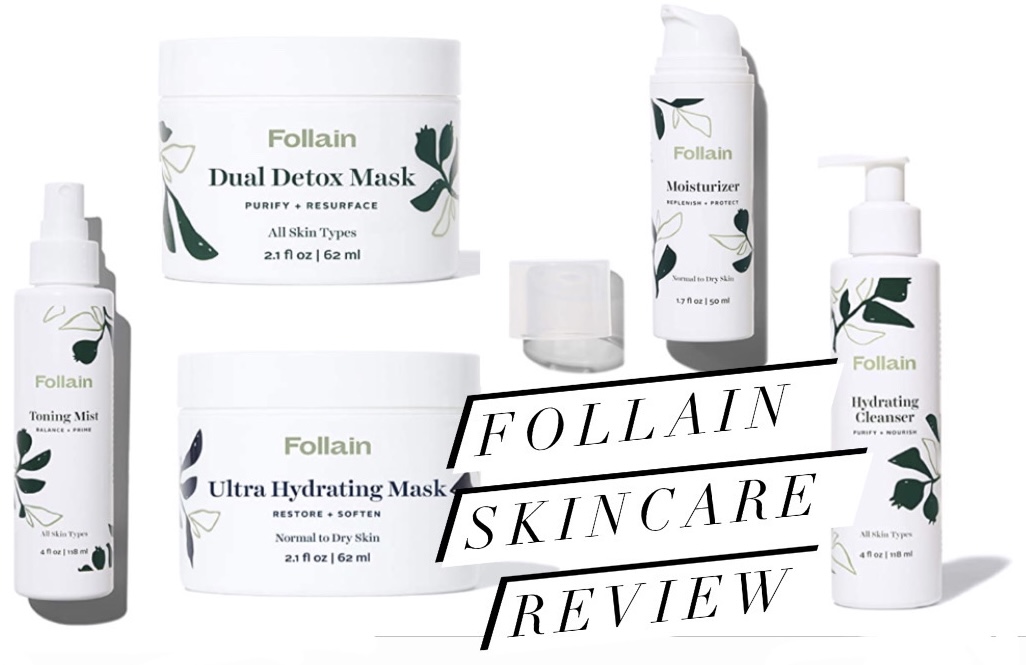 I had heard about Follain skincare where one hears about up new brands–on instagram, of course! Those who were savvy with clean beauty were always singing the brand's praises. Not only is Follain a brand that makes its own products, but it's an e-commerce site that sells a plethora of clean beauty products.
As we all know, skincare is super personal and it's not one size fits all, but I'm hoping my reviews will help guide you in the right direction. As for my skin, I've always had combination skin. It's clear now, but when I got off birth control in my early 20s due to an underlying health issue, I had the WORST adult onset acne and that's when my attention to skincare began–especially products without parabens and non-toxic ingredients, which seemed to be exacerbating the acne. Eventually I got my skin and hormones under control but my love for skincare products remained. I love reviewing new products and am always changing it up (even if I remain loyal to certain products). I'm excited to review some Follain skincare products for you!
The Follain branded products consist of great basics for your everyday skincare. Maybe you want to delve into the world of green beauty. Or maybe you want to simplify your skincare routine. Or perhaps you want to buy some basics that won't break the bank. These Follain products are perfect for that! The best part? You can get any of these items at Amazon (hello Prime shipping) and use my code 10SEEANNA for 10% off any of these products at checkout.
Follain Dual Detox Mask ($34) – Holy heck, I love this mask. It brightens, purifies, and tightens; it honestly reminds me of a Biologique Recherche VIP Mask I love and purchase and it's a fraction of the price (it's $150, which is a huge splurge, obviously). I leave it on longer than the directions say–usually an hour while I read or work in bed at night, then rinse with warm water and finish with a serum or an oil for overnight.
Follain Ultra Hydrating Mask ($34) – Where the Dual Detox mask is purifying and slightly exfoliating, this mask is on the other end of the spectrum. It's like a very rich face cream, but not greasy. Dare I say it's calming? You can wear for 30 minutes and rinse OR wear it overnight and rinse in the morning (I prefer doing that because you wake up with super soft skin).
Follain Toning Mist ($18) – Toners keep your skin ultra-hydrated so your it better absorbs product (think the opposite of alcohol toners like Sea Breeze…eek!). This one is refreshing and calms stressed out skin! I'm not used to a toner spray so I prefer to spray it onto a cotton round and press into my skin.
Follain Moisturizer ($34) – An awesome moisturizer at an awesome price, considering the ingredients. With ingredients like bakuchoil (a retinol alternative) and squalene oil (evens skin tone), it packs more of a bunch than your basic moisturizer–and you don't need much! I only wish it came in a bigger size.
Follain Hydrating Cleanser ($22) – Again, another great priced item from Follain. I've been using it in the shower and it's a great second step when you're double cleansing, too. The most important thing I look for in a cleanser is that it doesn't strip the skin and this fits the bill. I love that it has Morgina in it, which I take pills of to increase my breastmilk supply–ha!
*Thanks to Amazon + Follain for partnering on this post!