Farmacy Beauty Review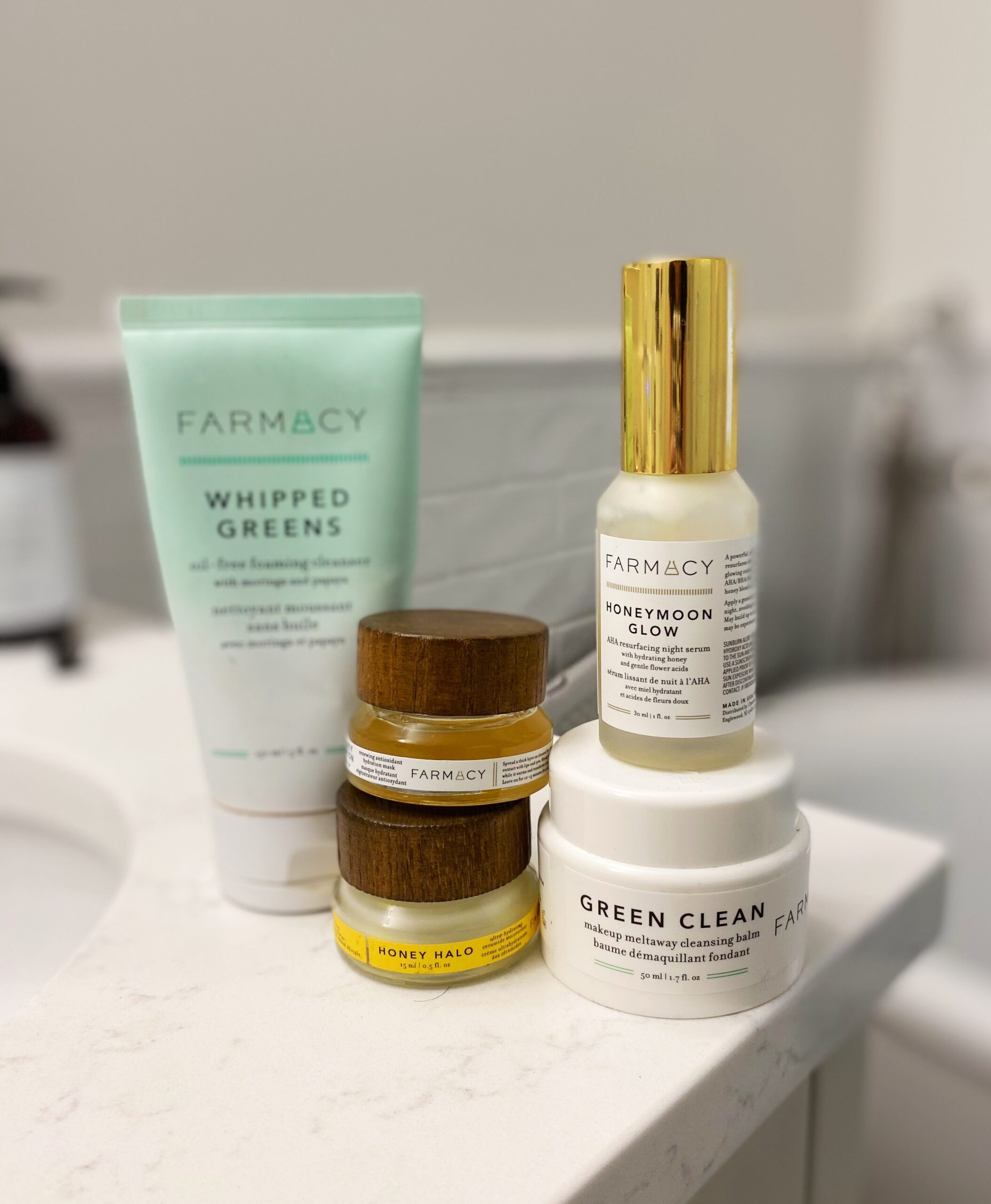 I love discovering new brands. Sometimes there are winners, sometimes I'm disappointed. But I love to try new products and share my thoughts–especially when it comes to clean and effective skincare products. And as always, what works (or doesn't) for me might not apply to you! I'm just here to share my thoughts and experiences with brands and products. (And if this was sponsored, I would clearly state that, but it's not.) With that disclaimer out of the way, today I'm talking about the clean brand Farmacy Beauty!
I saw several fellow bloggers mention Farmacy Beauty's Honey Potion Mask and it intrigued me enough to try it. I ordered it during a sale they ran and decided to throw in a few more items to try. (PS They're currently running a FF sale right now–20% with code FARMACYFAM)
Here's what I've tried from Farmacy Beauty along a mini Farmacy Beauty review:
I have tried and liked so many cleansing balms so I figured I would feel the same way about this one. However, this is a great one because there's no "melting' necessary. A lot of cleansing balms are solid and you have to let it melt a bit in your fingers as you apply it. This balm is totally soft and easy to apply. I like it, dammit! Maybe a little too much. The only caveat is that it's so easy to get out of the tub is that it doesn't last as long as my other balms.
This is a great acid for those who love an exfoliation overnight (I do, I do!). You know what it reminds me of? Sunday Riley Good Genes (that's a compliment–it was one of my first skincare loves)–but it's way cheaper. The gentle acids exfoliate overnight and you wake up with softer, clear skin. I love it!
Alright, this is what brought me to the brand and it's a great mask. I LOVE that when you rub it in, it warms your face; it truly feels like a spa treatment. My skin feels very, very soft afterwards, which I like. However, I wish it was a smidge more hydrating. I want to be super glowy after I take a mask off and while my skin looks good, I want a little more glow from it.
I did not expect much from this moisturizer but I really, really like it. This moisturizer is hydrating but not heavy. THIS gives you a nice, hydrated glow, especially before I put on my CC cream. Again, most moisturizers don't wow me but this one does. The scent is a bit strong (smells like honey) but it's not enough to deter me.
A great cleanser for my fellow oily-skinned ladies. I would've really loved this cleanser back in my greasier 20s (but it's not drying!). For now, I like it and it's a cleanser I keep in the shower. I also do use it as step two of my double-cleansing routine. And the best part? A little goes a LONG way.
Let me know if you've tried Farmacy Beauty and what you think! Be suer to snag something during their friends & family sale, too!