Fall Wedding Guest Dresses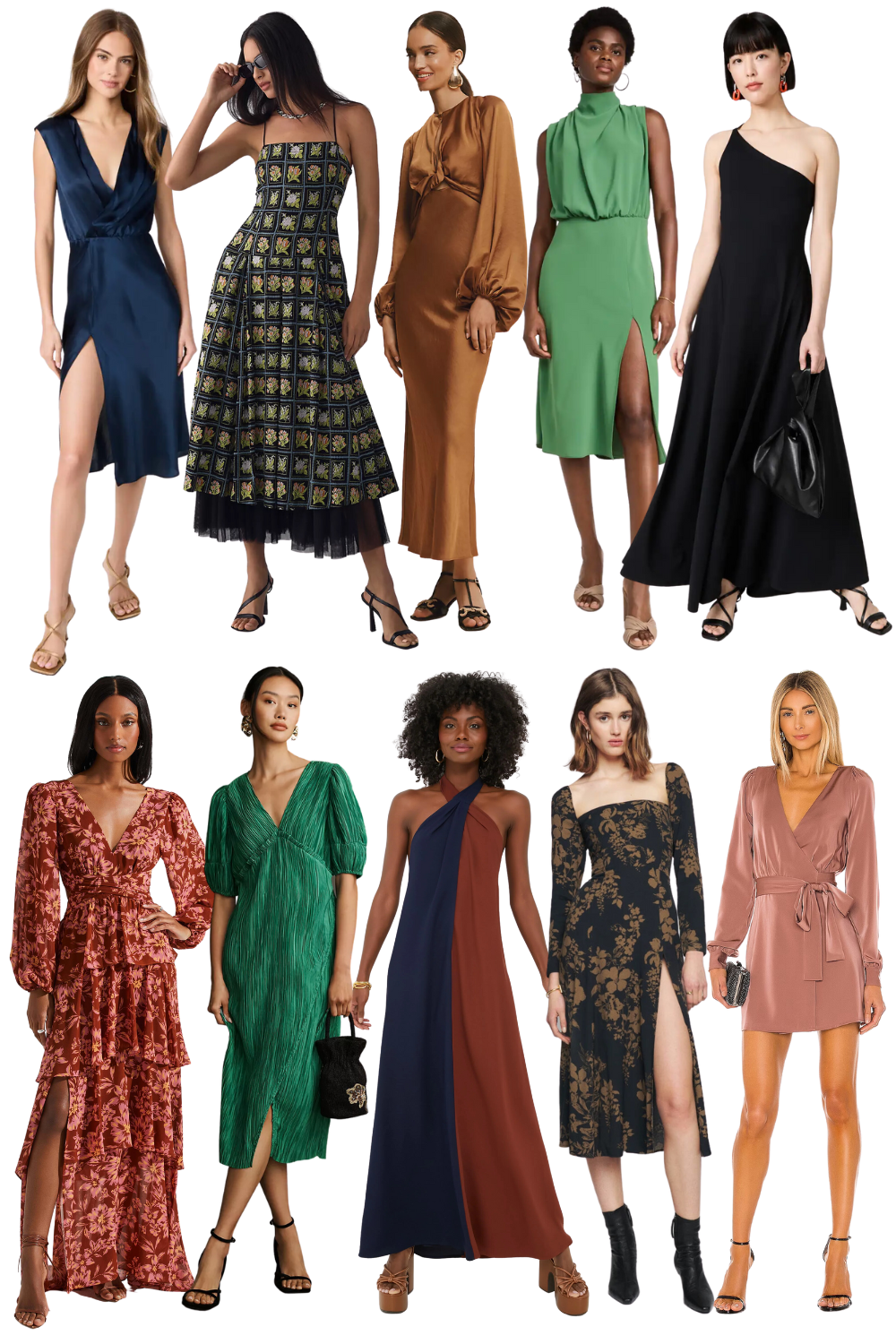 Fall Wedding Guest Dresses Under $300
Navy satin plunge dress / Embroidered tulle dress / Backless long sleeve maxi / Cactus green mockneck dress / Black one shoulder maxi / Floral tiered maxi / Green pleated midi dress / Two tone halter dress / Square neck floral dress / Mauve satin wrap mini dress
There's truly no better time to dress up than for a wedding! If you've received that cherished invitation to celebrate love amidst the changing seasons, you're likely wondering the same thing. What to wear to a fall wedding?
In my opinion, summer weddings are easier to shop for (and usually a little more casual). Fall weddings are a little trickier since we never know what the weather will be like in September and October. Outside of the weather, I've compiled a list of things to consider when choosing what to wear to a fall wedding!
Consider the Venue and Time: Check whether the wedding is indoors or outdoors and the time of day it's taking place. This will guide your outfit choice, with outdoor and evening weddings often requiring slightly different wedding attire. For example, this Anthro number would be a great daytime outdoor dress) while If you're worried about it getting cooler at night, try a dress with long sleeves where the sleeve is more sheer.
Opt for Seasonal Colors: Embrace the rich and warm hues of fall. Colors like jewel tones, rich reds, burnt oranges, forest greens, and elegant burgundy are perfect. You can never go wrong with a little black dress too! These colors complement the autumn scenery beautifully.
Dress Length: Midi dresses and maxi dresses are a great option for autumnal weddings, especially evening affairs. Shorter dresses can work for daytime ceremonies or casual weddings but always consider the formality of the event. Pro tip: Consider adding tights to a short dress to elevate your cocktail dress (like this one) depending on the dress code!
Fabric Matters: Choose fabrics that keep you comfortable in fluctuating temperatures. Options like velvet, silk, and heavier lace can provide warmth while still looking elegant (especially for a black tie wedding). Fall is the perfect time to wear satin and silk. A big concern in the summer is overheating and sweat showing through those fabrics (and no one wants that).
Weather-Appropriate Outerwear: Bring a coordinating coat, blazer or wrap for outdoor weddings. I recently shared my favorite wrap on Instagram stories. It's dressy enough to layer over dresses and this Amazon dupe is more affordable than mine!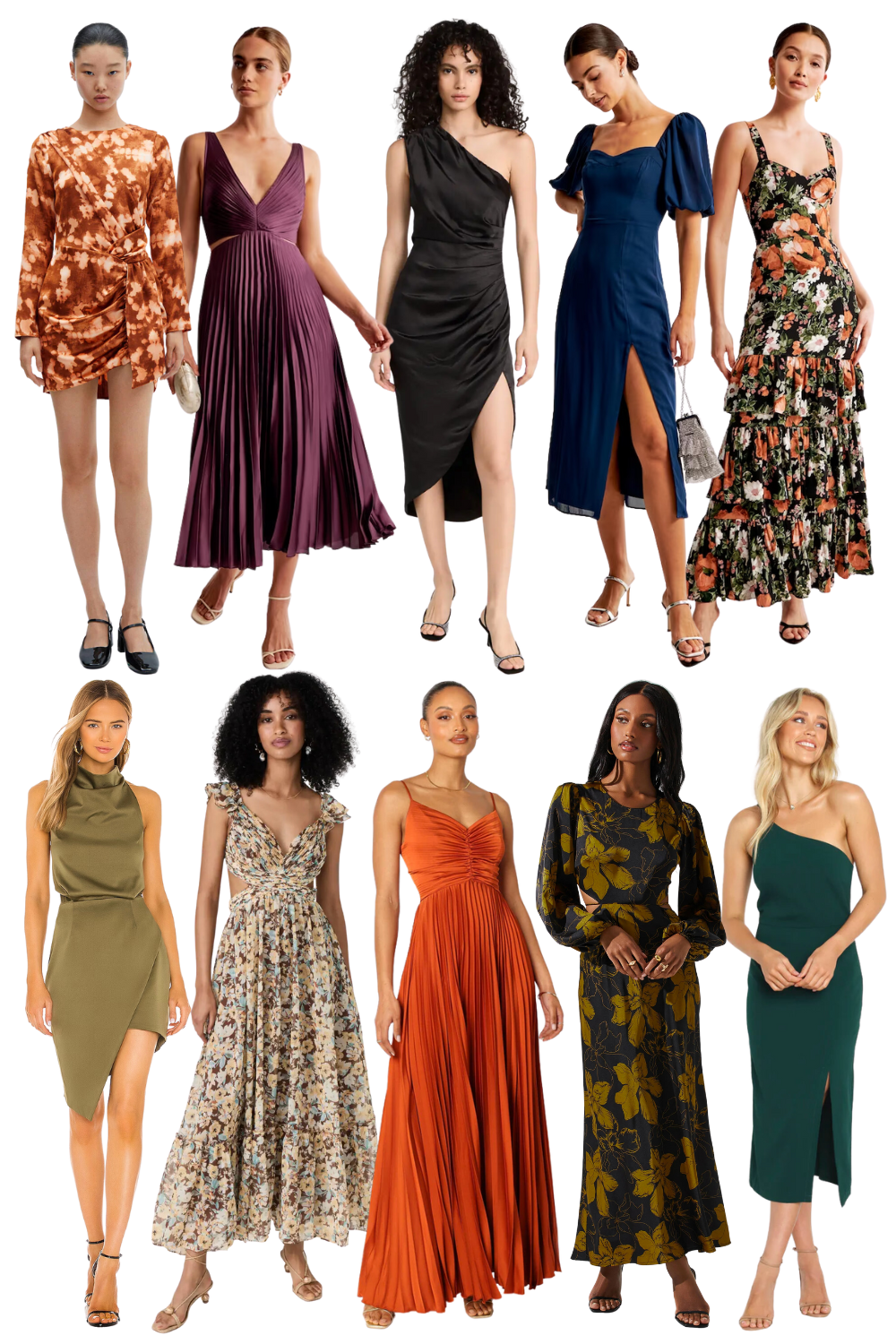 Fall Wedding Guest Dresses Under $150
Rust tie dye mini dress / Pleated cutout dress / Satin one shoulder dress / Puff sleeve midi dress / Ruffle tiered maxi dress / Asymmetric satin dress / Brown floral maxi / Orange pleated maxi / Floral cutout maxi / Emerald one shoulder dress
Lastly, if you're looking for a few shoe options to compliment your dress, check out the options below! Remember you can never go wrong with bringing an extra pair of shoes if you plan to dance the night away. Happy fall wedding season!