Date Night Looks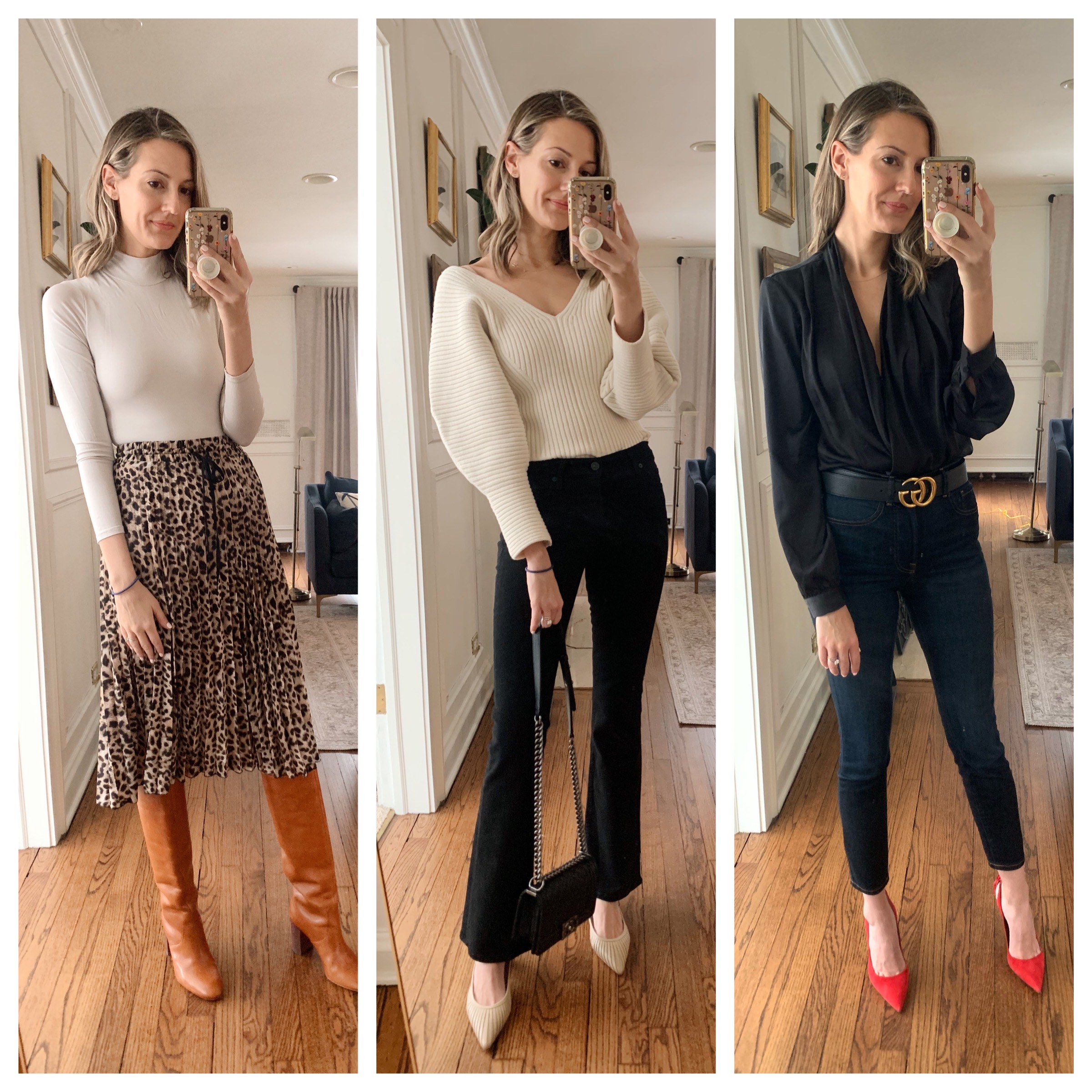 Ah, date night. A phrase that's become a trending topic over the few years, right? Doesn't matter who you're with or the occasion, there's something about a date night that makes you want to look and feel your best. I'm here to help with some date night looks, but I'll give you some insight into my own date night rituals. I've now been married almost nine (gulp) years and have two kids at home; I'm realizing the importance of making time for a date night. You need that time with your significant other to connect, check-in, turn off the world around you, and work on your relationship.

And if you've been with your "date" as long as I have (we met in high school and dated off and on), and, if you have kids, one of the best things you can do for them, is to show them an example of a good and healthy relationship–one that's full of love, understanding, communication, and compromise. All relationships take time and effort, whether you've been together one day or one thousand and date nights are a crucial component.

So now that I've convinced you to go on more dates (whether you're single, married, dating around), let's talk about where I'm actually an expert–the clothes. I may not be anything near a dating or relationship guru, but I can surely help you get dressed for that date! There are so many different TYPES of dates (AND date night looks), from a formal dinner to a movie to the nerve-racking first date the date outfit possibilities are truly endless. I'll break down what to wear and where and hopefully you'll take away from new date night outfits to try for yourself. Also note that these are pretty winter-specific so we'll have to do another series come springtime! (And check out a fall date night look here.)
Date Night Looks
First Date Outfit
I'm thinking this Paige bodysuit with your favorite jeans, a statement belt, and a pop of red. Hopefully, you're wearing this to a nice dinner. It's comfortable yet memorable.
Movie Date Outfit
Pass the popcorn. This is an elevated, comfortable take on your favorite combo: jeans and a sweater. You're comfy in some bootcut stretch jeans and a comfortable, yet chic, sweater. Even if it's cold out, your feel won't be chilly because you're indoors.
Dinner Date Outfit
A little fancy leopard print always works on date night. I actually wore this to dinner with my husband a few weeks ago. The stretchy waist helps when you're filling up on good food and drinks.
Concert Date Outfit
Going to a concert? Bust out that vintage tee and comfy sneaks. I added jacket 01 on top because hey, I'm 35 and always like to add a little chic factor to all my looks.
Casual Date Outfit
Saturday coffee date and you want to keep it casual but knock their socks off. An approachable yet gorgeous sweater, high-waisted jeans, and comfortable booties. Nothing easier than that!
Date Night Outfit Tips
Where are you headed?
This alone will dictate your look. Casually meeting for a mid-day coffee date on a Saturday is much different than a prime Friday night reservation at the hottest new restaurant in town.
Keep it comfortable
Nothing is worse than feeling uncomfortable in your clothing. Yes, we all want to bust out something sexy once in a awhile to up the desirability factor, but if you hate stilettos and never wear them, I have news for you: you don't have to wear them. If you're comfortable, you'll have a good time AND your confidence will shine through.
Expressing your personality
Love color? Then show it with a bright top, fun colorful earrings, and skinny jeans! Prefer an androgynous look? Then wear your boyfriend blazer with cropped jeans and loafers. Cookie cutter looks need not apply–as Madonna sang, "express yourself."
How much skin to show
Hey, this is totally up to you, girlfriend. I think this goes back to what you're comfortable with. Me? I've never been a cleavage gal (uh, because I have none) but I do like my neckline so I'm totally comfortable wearing a low cut top. But I also love turtlenecks and would gladly wear one on a date. So it goes back to doing what's comfortable for you. But also, if you're playing broomball on your date, maybe don't wear a thigh high mini? Might be cold.