My 5-Minute Makeup Routine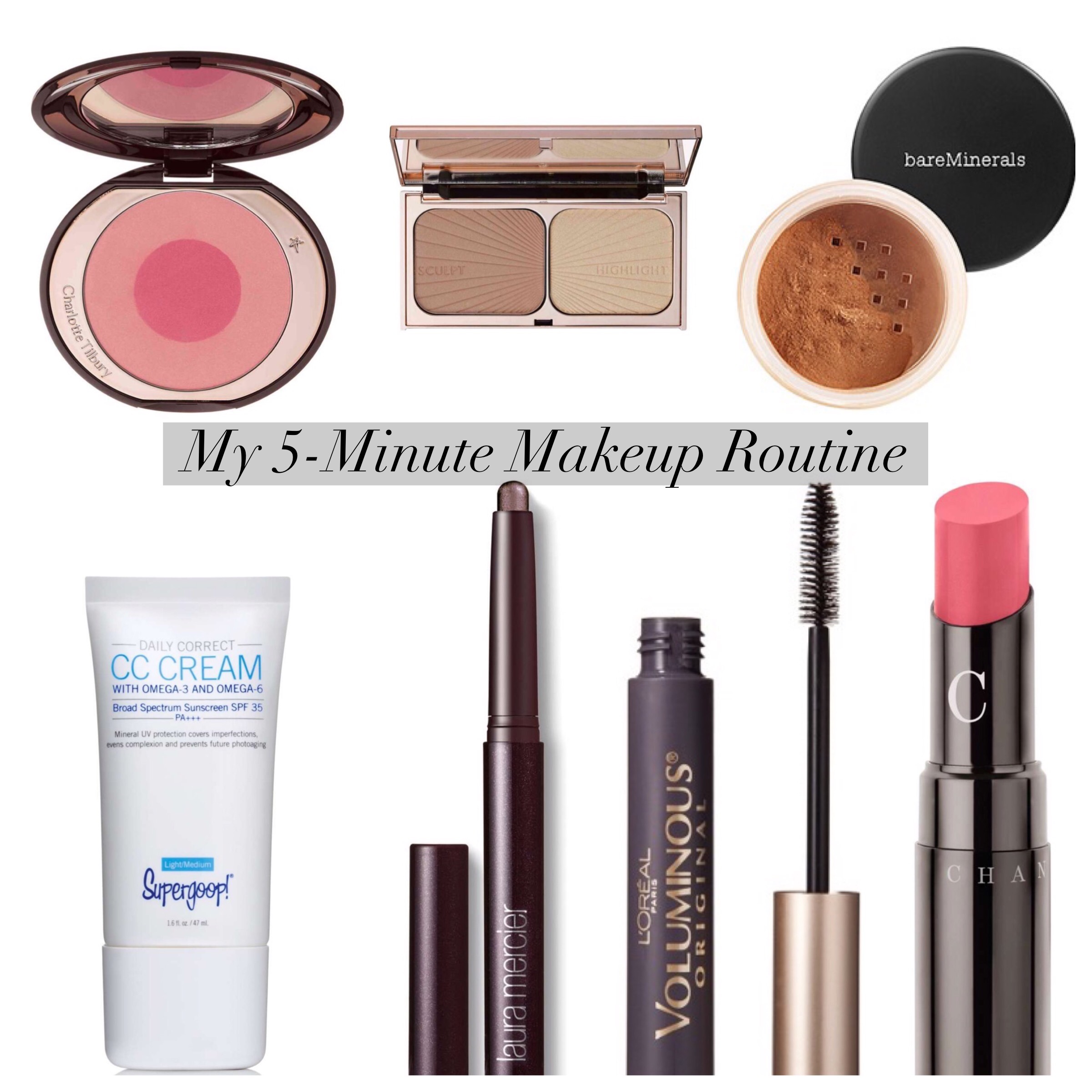 A reader recently asked what my easy makeup essentials were and I thought, I can really simplify that and let you know what I put on my face most days.  So here it is: my 5-minute makeup routine.  It's quick and actually five minutes (each step takes 30 seconds or less) and it's what's on my 'face' most days.  I have been using all these products for awhile–some for years, so they're tried and true.  If you have any beauty products you swear by, let me know in the comments below!  And be sure to find my skincare routine here.
 Supergoop CC cream – Super light coverage with broad spectrum sunscreen.  I love how it doesn't look like I'm wearing anything–it just makes me look like my skin is awesome!
NARS Radiant Concealer (vanilla) with this concealer brush (it's fluffy!) – I remember when I didn't use concealer…I didn't need it!  Ah, those were the days.  Now, people ask me if I'm sick when I'm not wearing it…ugh.
BareMinerals All Over Face Color in 'Warmth' – I look like the living dead without bronzer.  It's not overkill and gives me the slightest glow.
Charlotte Tilbury blush in 'Love is the Drug' on apples of cheeks
Charlotte Tilbury highlighter on cheekbones – I use a fan brush (like this) and swipe on a line on just my cheekbone towards my hairline (and I only use the highlighter portion for this).
Laura Mercier eyeshadow stick in 'Amethyst' – It's a total game-changer.  I only wear eyeliner on special occasions now (aka when I have time) so this stick gives me a subtle smokey eye…it's amazing!
Quick use of an eyelash curler + whatever mascara I have on hand (I am always trying new ones – currently using L'oreal Voluminous)
Chantecaille lipstick in 'Moroccan Rose' – slightly creamy, slightly glossy, slightly pink – it's one of my favorite lip colors of all times.