What's In My Cart: Recent Trader Joe's Finds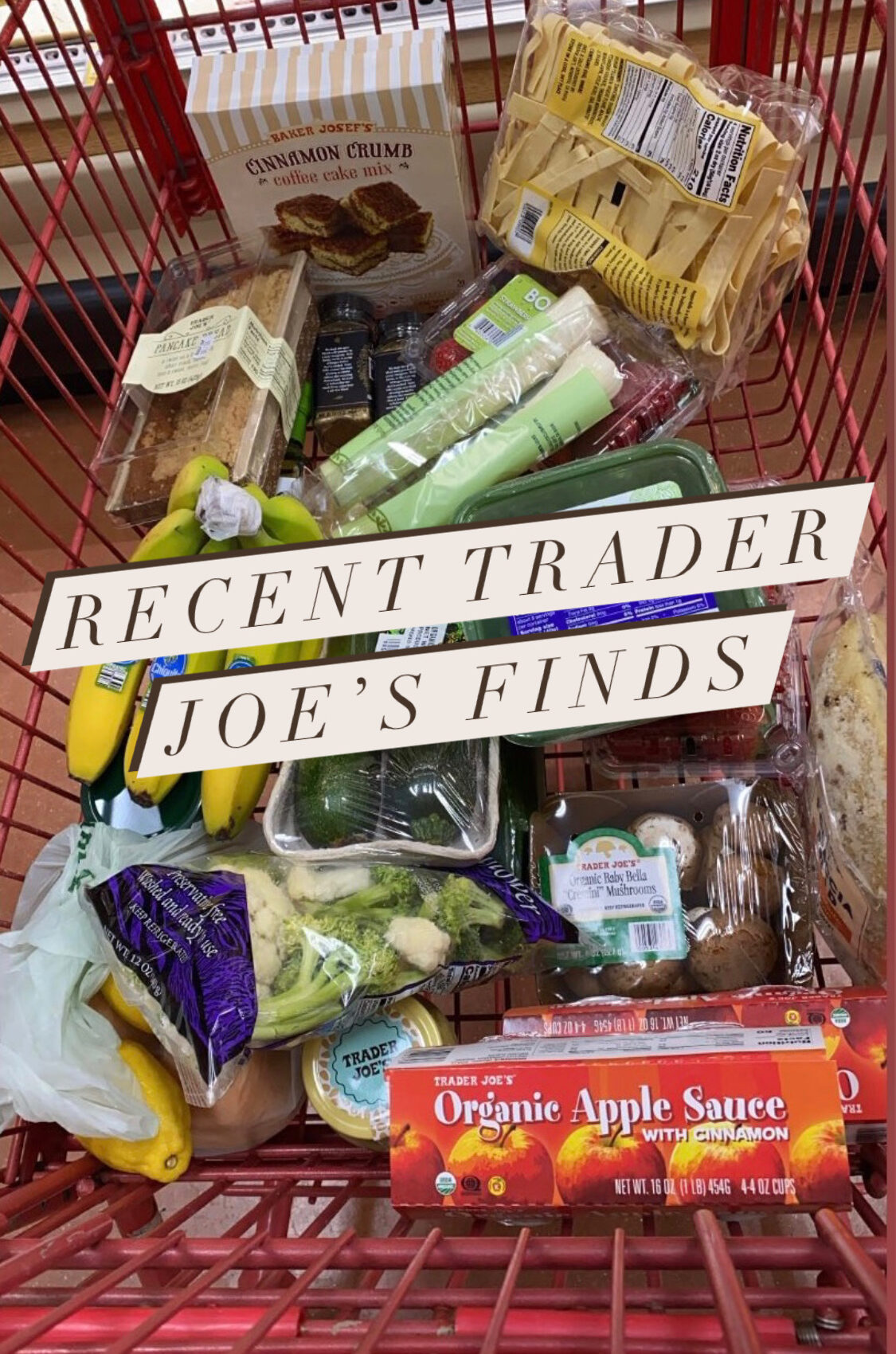 I don't think I've ever met anyone who dislikes Trader Joe's. Not everyone loves how busy it can get or maybe the parking lots (Lincoln Park TJ's parking lot is SO TIGHT) but you can't beat their innovative products and delightfully helpful staff. I love me some good Trader Joe's finds and am always adding to my ever-growing "must-have" list.
I stopped going to TJ's for months during the pandemic because I didn't want to go shopping while pregnant; I relied on grocery delivery to keep my risk at a minimum. Well, I'm back and I'm happy to report I feel super safe while shopping there.
Sadly, my tips for shopping at Trader Joe's aren't that revolutionary; when I go to TJ's I'm open to impulse buys because that's how you discover new products! A few of my TJ shopping tips are:
Don't shop while hungry unless you're ok with overbuying.
I can be iffy on their produce. Sometimes it's amazing and sometimes it can go bad quickly so always check expiration dates and inspect before buying. For example, the organic strawberries I just bought were AMAZING but the raspberries went squishy in a day.
Don't sleep on the frozen section. That's where all the snacks and delicious frozen meals live.
Recent Trader Joe's Finds:
Everything But the Bagel Almond Cashew mix – An awesome snack if you like EBB seasoning.
21 Seasoning Salute – My favorite seasoning for roasted vegetables–trust me!
Pancake Bread – Our family houses this in a day
Cinnamon Crumb Coffee Cake mix – Holy yum
Bulgolgi Fried Rice with Kimchi – Never met a fried rice I didn't like; I added extra kimchi and lots of. spicy gochujang…it was delicious!
Tahini – It's a staple in our household (for dressings/sauces) and it's a great price and consistency at TJ's
Parpadelle – A fancy noodle for stepping up your pastas.
Organic Medjool Dates – Love adding this to Brussel sprout salads!
Dijon Garlic Mustard Sauce – my favorite sandwich condiment.
Almond Croissant – SUCH A TREAT.
Xiao Long Bao – Soup dumplings! Really good for a frozen dumpling.
Trader Joe's Staples I Love:
Almond Butter Granola – I love snacking on this.
Peanut Butter Granola Bars – My boys' are bar aficionados and they love these, cereal bars, and Z bars.
Marcona Almonds with Rosemary – Amazing for snack plates! Such a treat.
Trimmed Leeks – Love buying these in the winter for soups!
Shredded Brussel Sprouts – I have never shaved a Brussel sprout and never will thanks to these–great for salads!
Cookie butter – Sometimes I give my kids cookie butter and jelly sandwiches…don't judge
Milk Chocolate Covered PB Pretzels – Maybe don't buy these because they're so addictive.
Raisin Rosemary Crackers – My favorite cracker of all time! Perfect with any cheese and makes a charcuterie board look fancy,
I love ALL the frozen Indian meals! Fiery chicken curry and paneer tikka masala are awesome.
Garlic dip – Addicting and makes your breath extra stink.y
The Organic Roasted Vegetable pizza and Uncured Pepperoni pizzas are my favorite.
Also be sure to check out my Trader Joe's staples in this post! The post dates back to 2018 but I still love everything.
Be sure to comment and share your recent Trader Joe's finds below!