How to Style Bike Shorts Four Different Ways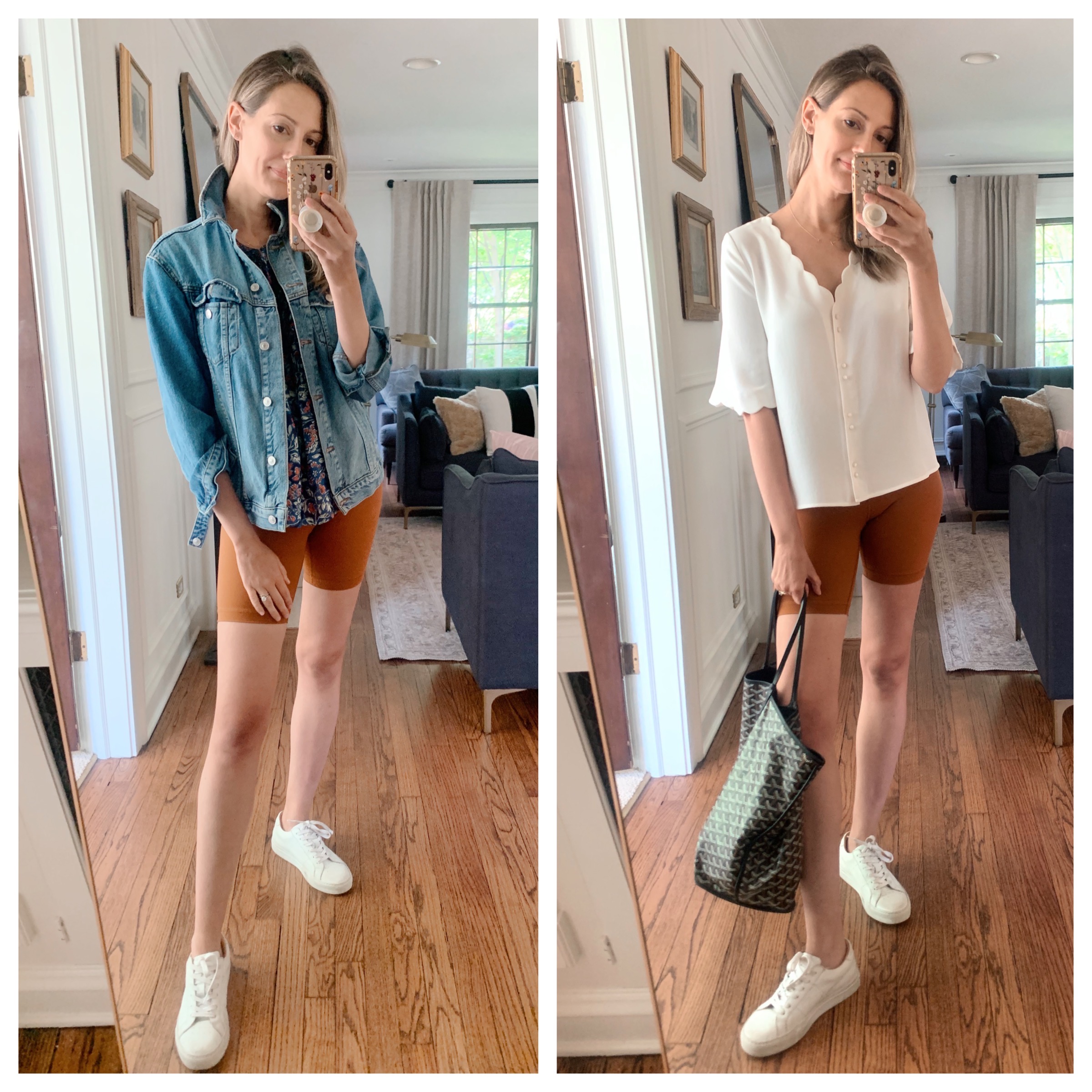 Don't @ me–bike shorts are basically leggings for summertime. In fact, I bought my first pair in summer of 2018 (insta-proof is here) and instantly got the hype. I don't wear them like a Hailey Beiber or Kim Kardashian, because I dress nothing like that. I can get down with the Princess Diana ensembles, though. But anyway, don't be intimidated by the bike short; wearing bike shorts is easy! They're comfortable, casual, and great for this weird, quaratine-ish world we're living in. You can dress them up, dress them down, get them cheap, get a quality pair–they're practically everywhere.
So, I'm here to show you a few foolproof ways to style bike shorts that aren't too sporty or too formal. If you're going casual, an oversized tee or sweatshirt is an easy way to wear them. But personally, jackets (like a denim jacket, oversized blazer, or military style) are an interesting way to add a little dimension or de-sportify the bike shorts. And if. you're new to this trend, go for black bike shorts–they're versatile and basic enough to wear with anything. Save the animal print or camo for your second pair. (PS. Big fan of the new Everlane bike shorts which are only $38!)
How to Style Bike Shorts Four Different Ways
Add a Denim Jacket
Wear a Blouse on Top
Feeling like you want to snazz up the bike shorts? I'm not quite ready to wear my bike shorts with fancy footwear but I do think there's something to be said about wearing them with an oversized blouse. This top is simple, scalloped, and just long enough that it looks like an outfit when paired with Everlane's new rust-colored bike shorts.
Add a Couple Layers
Light sweater over bike shorts? Do it. Light sweater and a light jacket over bike shorts? Now we've got ourselves an outfit, folks.
Go Basic
T-shirt and bike shorts–sounds obvious but it's for good reason. It's a combo that you probably wore in the early 90s (I did, I was a kindergartner) so maybe it's familiar. It's also fool proof.
Tips on Choosing Bike Shorts
Spandex is the most forgiving
There are so many different kinds of bike shorts out there–spandex, nylon, cotton, blends, etc! The nylon/spandex blends are my favorite because they're widely available, suck you in, and inevitably are the most flattering. I have some cotton-stretch bike shorts and while I like them, they kind of show every dimple, which I don't particularly love.
Solids rule
If you're new to bike shorts, pick out a solid color first. Prints are fun (I have camo print from Amazon) but like a good pair of leggings, you'll get more mileage out of a solid color. They pair easily with an array of tops and are easier to dress up (I use that term loosely as I'm not ready to wear my bike shorts with heels–they're a casual staple for me).
Keep it simple
Take the bike shorts trend for a test drive by pairing it with a slightly oversized t-shirt. Throw on some sandals and see how you feel. Once you get more comfortable, start changing up your tops and soon you'll be a bike shorts fanatic.