Dyson Corrale Straightener Review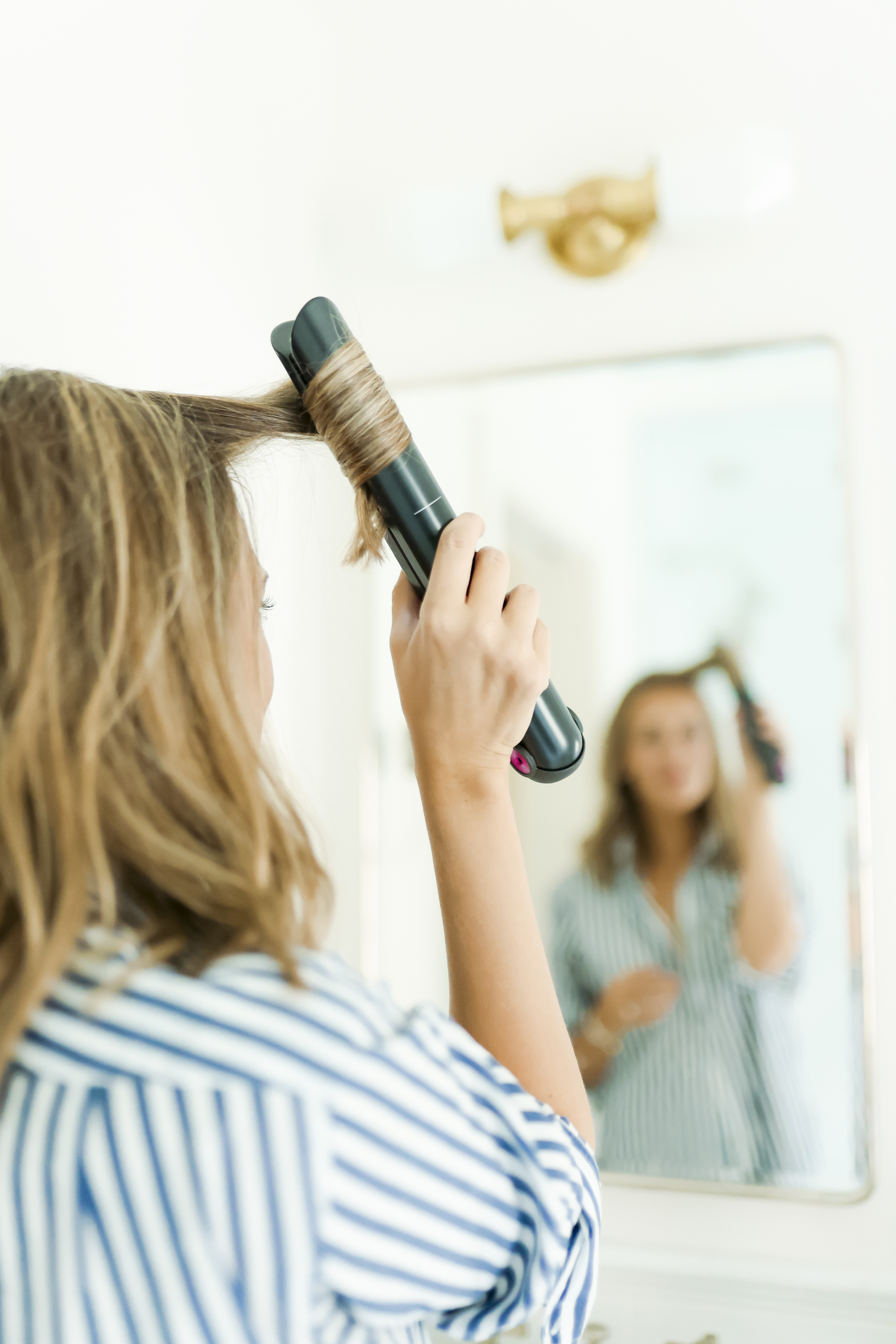 *Thank you to Dyson + Shopstyle for sponsoring this post!
We're a Dyson household. I've had two vacuums for several years and they're still amazing (this one and that one). I received a Dyson hair dryer for a Mother's Day gift a few years ago and am in awe of it every time I use it (review of the hair dyer here); every time I bring it on a trip, everyone wants to borrow it! I trust the Dyson brand implicitly and am always impressed by their products. Enter the new Dyson Corrale–their hair straightener.
Dyson Corrale Straightener
I have naturally straight hair–like, it's VERY straight but then I saw videos of people using it to curl and wave their hair seamlessly (and not burn myself!), I was intrigued. Let's chat about what makes the Dyson Corrale different:
Uses less heat than normal straighteners!

Flexing plates gather your hair for more control, so you can achieve the same style with less heat, less damage, and reduced frizz and flyaways. (Dyson recommends styling with a heat setting below what you normally use.)

Intelligent heat control:

Ladies and gentlemen, we have entered the future. Also, this is what I envisioned the Jetsons to be like–ha. Intelligent heat control responds to the thickness, texture and length of your hair and automatically controls the temperature for optimal styling results.

Cord-free versatility:

Yep—it can be used cord-free. So, you can use it corded or cord-free. Up to 30 minutes of cord-free run time that delivers the same thermal performance of a corded straightener.
Styling Tips
I have fine, straight hair, but even if I wear it straight, I need a little heat to make my hair look polished. I also like a little bend or curl, no matter what. Here are some Dyson Corrale styling tips (and check out my stories to see how I use it as a curling iron!):
Loosen grip

: Because the flexing plates shape to gather your hair, you can loosen your gripe when styling, letting the machine do the work for you.

Style speed: Flexing plates allow you to style hair in one, slow pass vs. multiple quick passes. To slow down your movements, try using one second per inch as a baseline. Speed may vary by hair type so be sure to experiment.
Tress size: The perfect tress size will depend on your hair type. Try a few different section sizes and see what works best for you. If you have coarse hair, begin with a smaller section. If you have fine hair, try larger sections for a smoother glide.
Flexing plates + Curved edges: the perfect combination for straightener waves and curls.
And best of all, it provides a lasting style. Again, I am a longtime Dyson customer and I've never not been blown away by their products. I loved my old curling iron, but I haven't used it since I got the Dyson Corrale–it's good.