Different Ways to Wear Leggings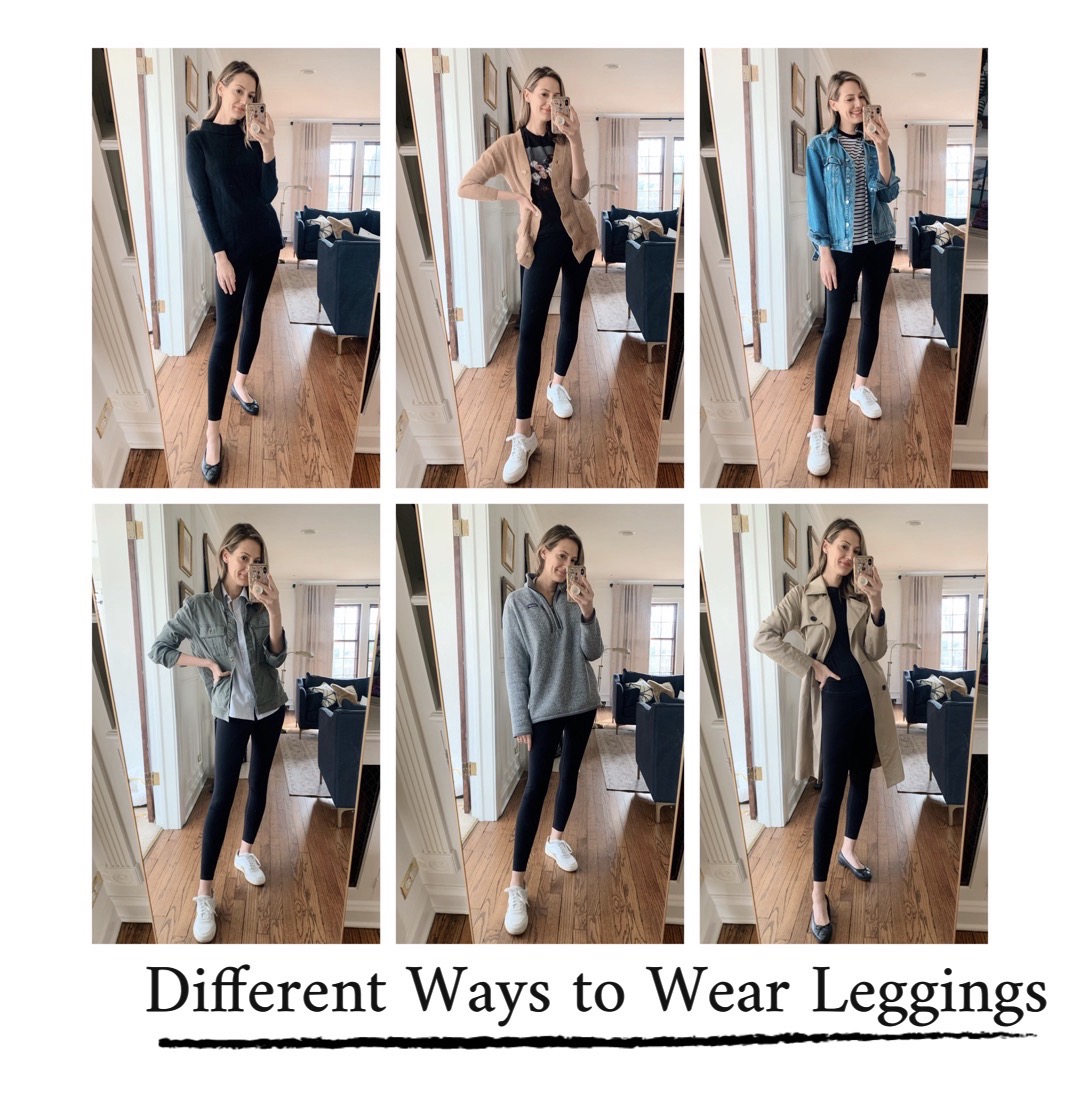 For a long time, I pushed away the notion of leggings. Coming from a more corporate work environment, I knew there was no way I'd ever be able to wear them to work. And while I thought they were cute, I felt like they were geared more towards workouts. When I was coming of age, yoga pants were a "new thing" and those were bootcut and spandex (remember Hardtail pants? Yeah you do). That was the extent of my experience with leggings, save for one pair of Lululemon leggings I bought, but since I didn't really work out back then, I never really wore them.

The the tides shifted after the 2008 market crash. Thus began the casualization of America. Athleisure was born. Lululemon became a huge phenomenon. We saw a major shift in fashion–it was becoming a lot more casual and soon more people started incorporating leggings into their everyday looks. Still, as someone who wasn't working out much five to seven years ago when leggings were hitting their stride, I was slow to adopt the trend. (Hey, I'm not always the first–I'll admit it.) And while I'll still choose jeans over leggings most days, I've realized that leggings do have their place in my wardrobe. The Spanx faux leather leggings were probably my tipping point–and I was a VERY late adopter with those. Once I realized how comfortable and chic they were at the same time, I was hooked and they got a LOT of wear this year. I love leggings! I'm now shouting it from the roof tops.

But this post revolves around a pair of plain, black leggings (mine are Everlane–I wear the size XS and regular length). My guess is you have a pair in your closet right now. Maybe you work out in them–maybe they're strictly daily wear. Whatever the case, I know you've got them. And because a lot of us might be working from home right now, I felt like it was an appropriate time to display several different ways to wear leggings. Sometimes wearing a robe around the house, as comfy as it can be, can make you feel like a sloth. I know I personally feel better when I change out of my pajamas, even if it is into a pair of leggings. On to the outfit ideas–let's style leggings!
Different Ways to Wear Leggings
Go monochromatic
When in doubt, wear black. And when you're wearing black leggings, it's easy to go monochromatic. Pair your black leggings with black, and well, you'll look chic. I threw on a funnel neck tunic (I prefer to cover my fanny when wearing leggings in a "regular" outfit) and my trusty Chanel ballet flats and felt like a fancy Audrey Hepburn for a day of working at home.
Throw on a tee and cardigan
A long sleeved, boyfriend cardigan and a vintage-esque tee makes leggings look cool and easy. I threw on my favorite sneakers and voilà! The easiest no-brainer, casual look. (Please note: I'm a huge proponet of hand-washing your sweaters whenever possible. but always check the labels and be sure to dry clean Everlane's alpaca sweaters–or else they could shrink!)
Add some stripes and denim
Stripes seem to make everything a little more elevated. And the natural choice to go atop that is my beloved oversized denim jacket. I'm convinced it makes every outfit look better and it goes perfectly with leggings.
Army jacket + cotton oxford
An army jacket or anorak *does* make everything look cooler but I paired it with a button-down oxford (you could wear a chambray shirt, too) because I wanted a bit of structure underneath–something a little different than your average t-shirt. It makes me feel pretty put-together (and you can definitely take a video call in this look!).
More Tips on How to Wear Leggings
Here are a few additional style tips on different ways to wear leggings, brought to you by fellow bloggers and/or celebrities. I mean, we *all* have leggings in our closet and like it or not, we all wear them outside the house. Sometimes it's captured on camera (on purpose, in the case of a blogger, and maybe not intentional, in the case of celebrities). So let's show you how some of our buddies are styling them!
An oversized knit is always a good idea
But really, when is it not? I feel like an oversized sweater goes with a pair of leggings like peanut butter goes with jelly. It's a perfect match and a tunic-ish length will never make you feel self-conscious. Jess Kirby shows us how to style a pair of basic leggings her with her fantastic New England style by wearing a chunky, button-up, funnel neck sweater.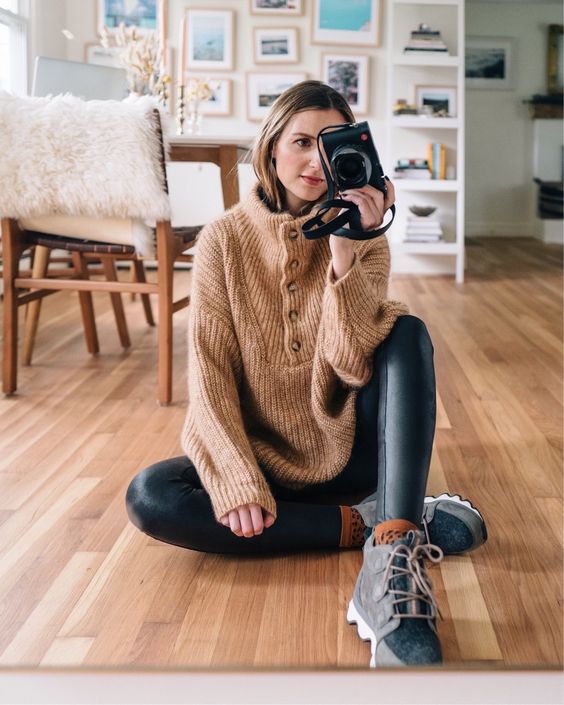 Don't rule out a boyfriend blazer
Boyfriend blazers are back in a big way and they're actually perfect to wear with black leggings. Also think about the shoes you wear–the boots, booties, sneakers, high heels, or the flats or loafers on your feet– they will complete the semi-fancy look, too! Yeah, I snuck myself in here but this is from that first post where I discovered the beauty of Spanx faux-leather leggings; obviously it was a big turning point for me–they just look (and are!) so high quality for a pair of leggings. (Original post here)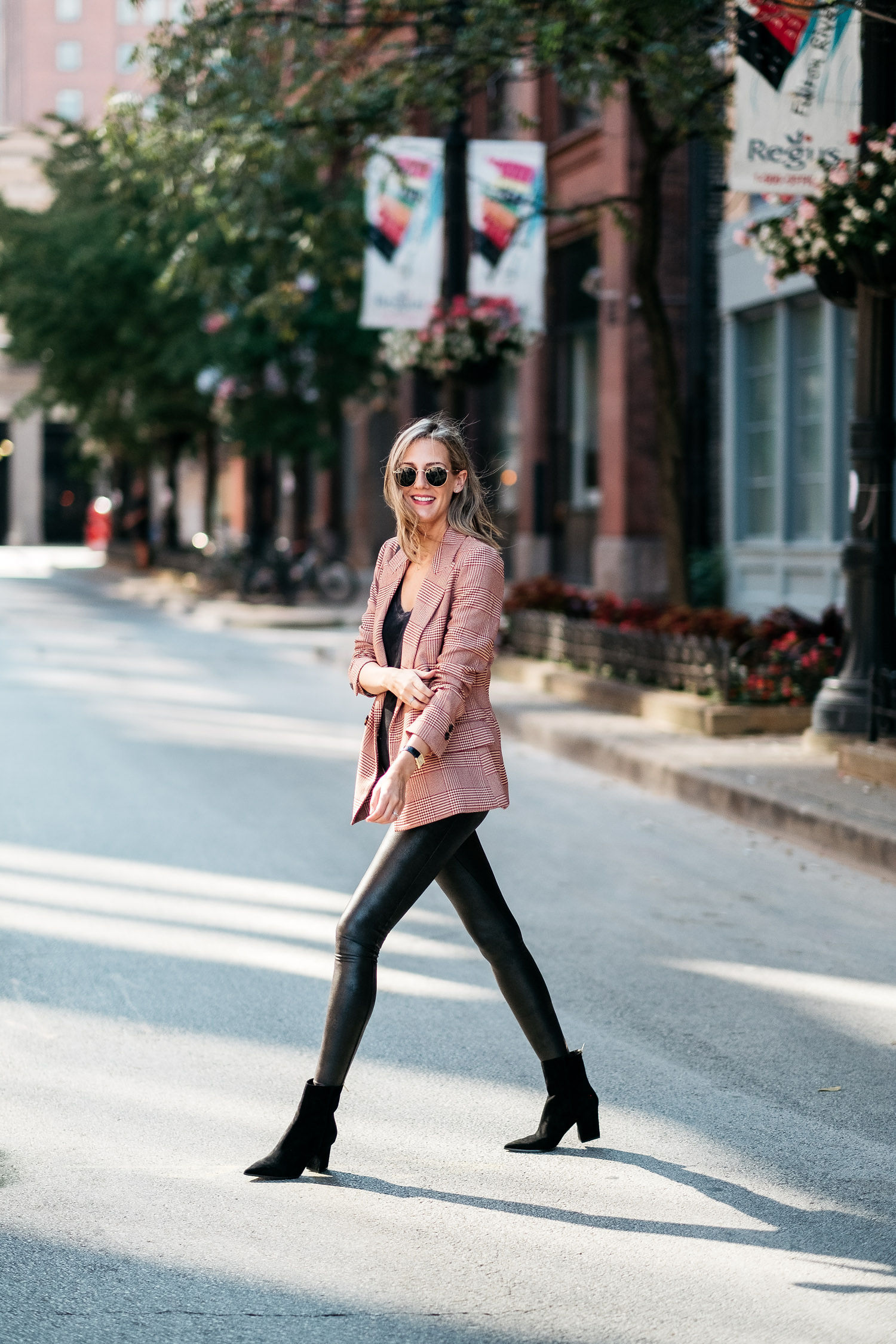 Keep it casual, then add something tailored
Love or hate Hailey Baldwin Beiber's style, she has the cool girl fashion look down. I like that she takes chances and she never appears to be trying that hard (let's face it, she probably has a pretty awesome stylist). I love how she kept it sporty with trainers and a black hooded sweatshirt. And then wait! A chic, camel coat is on top and man, it just works. She looks cool, casual, and ready to conquer the day. This is my "running errands" look for SURE.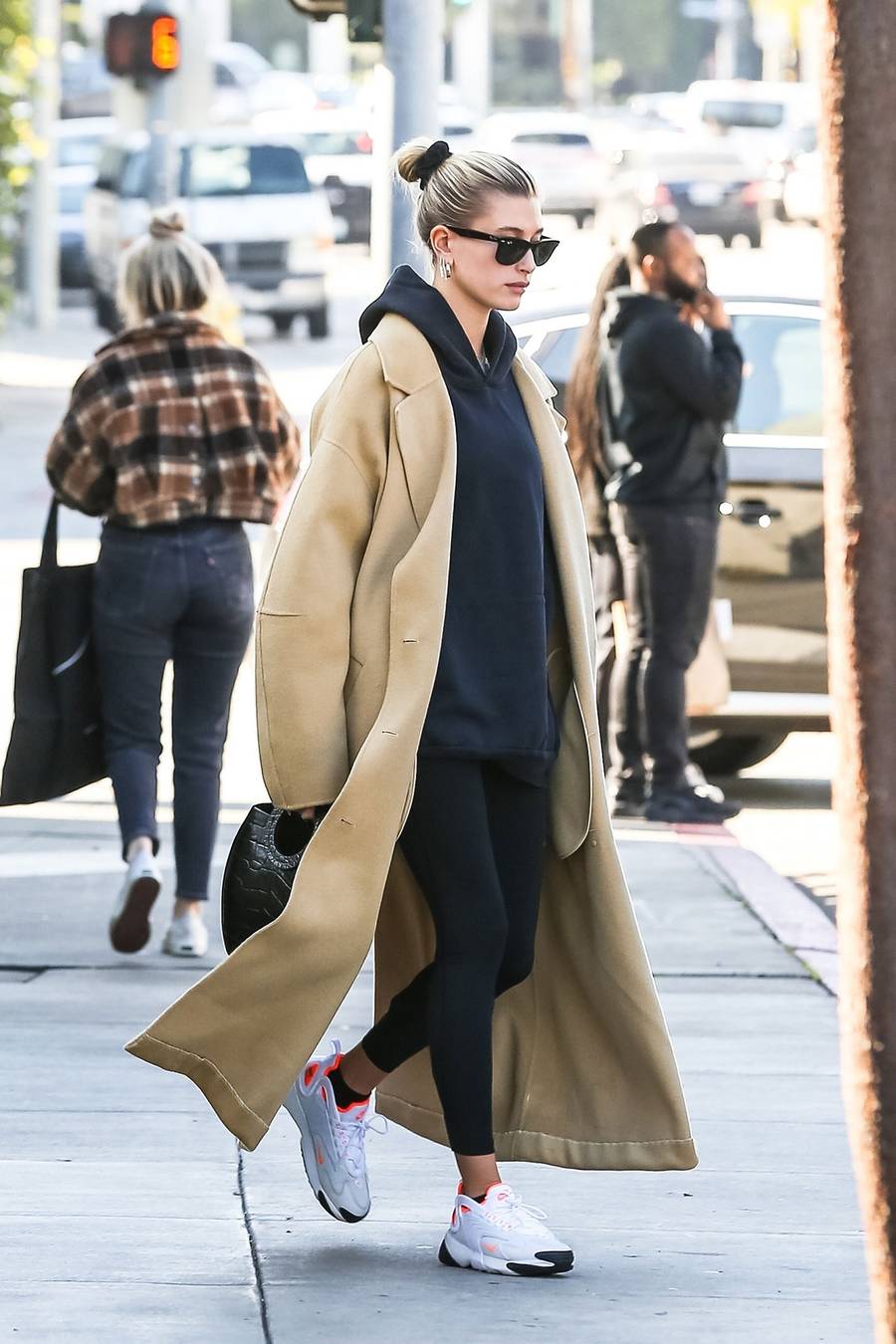 Go bold with pattern or color
Lots of both in this picture, but Sienna Miller pulls it off with ease (of course). She's rocking red, yellow, leopard patterned leggings, and Birkenstocks and somehow it looks natural. If you don't think you can go this bold, maybe take away one of these elements from this photo–maybe it's animal print, or perhaps it's colored leggings. Either way, prepare to pop!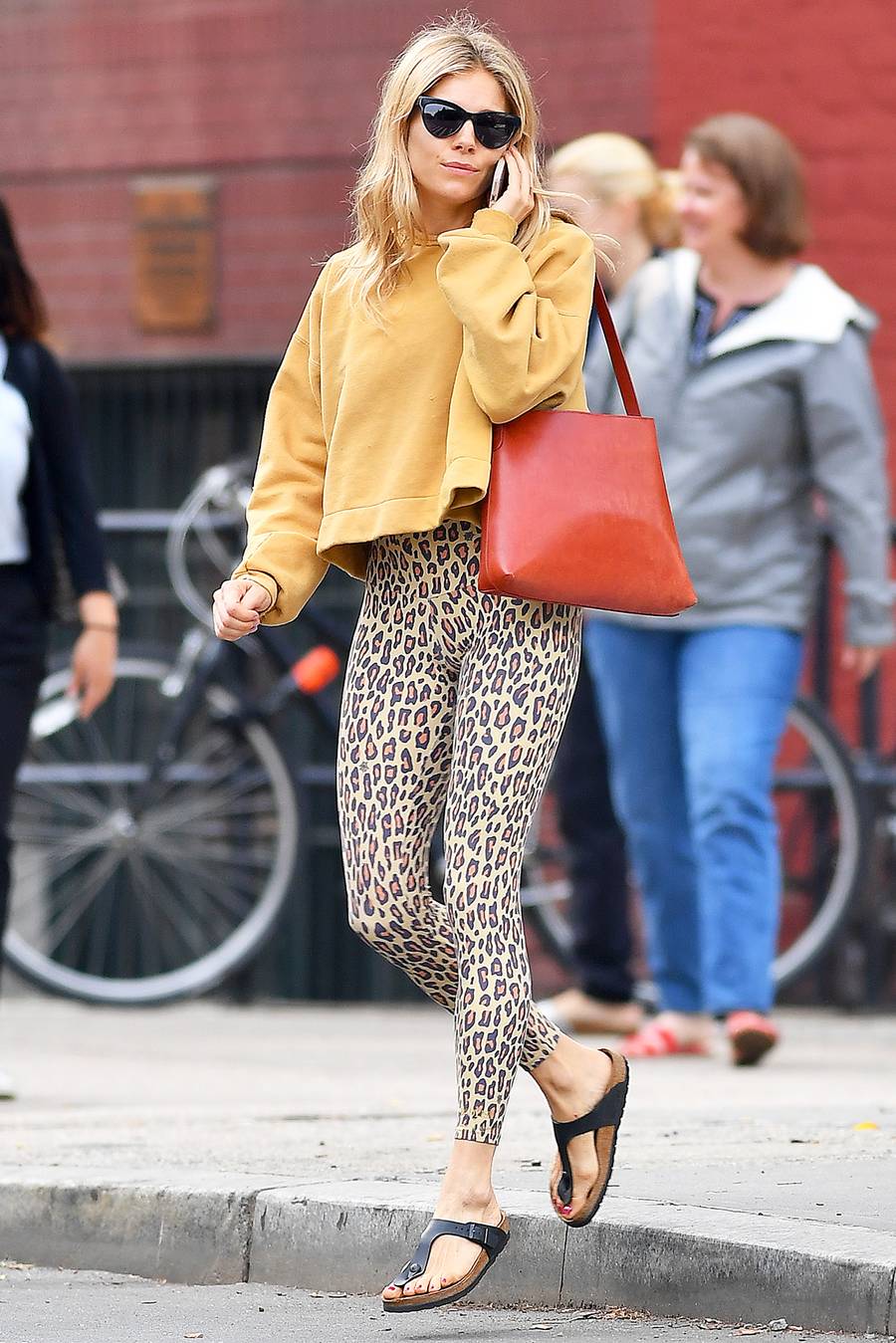 So how about it? In all honesty, you're probably like "uh, this is five years too late" but I'm not storing away my leggings. This is all new and fresh to me and I have a feeling that leggings will be a wardrobe staple for many years to come–I'm finally a believer.