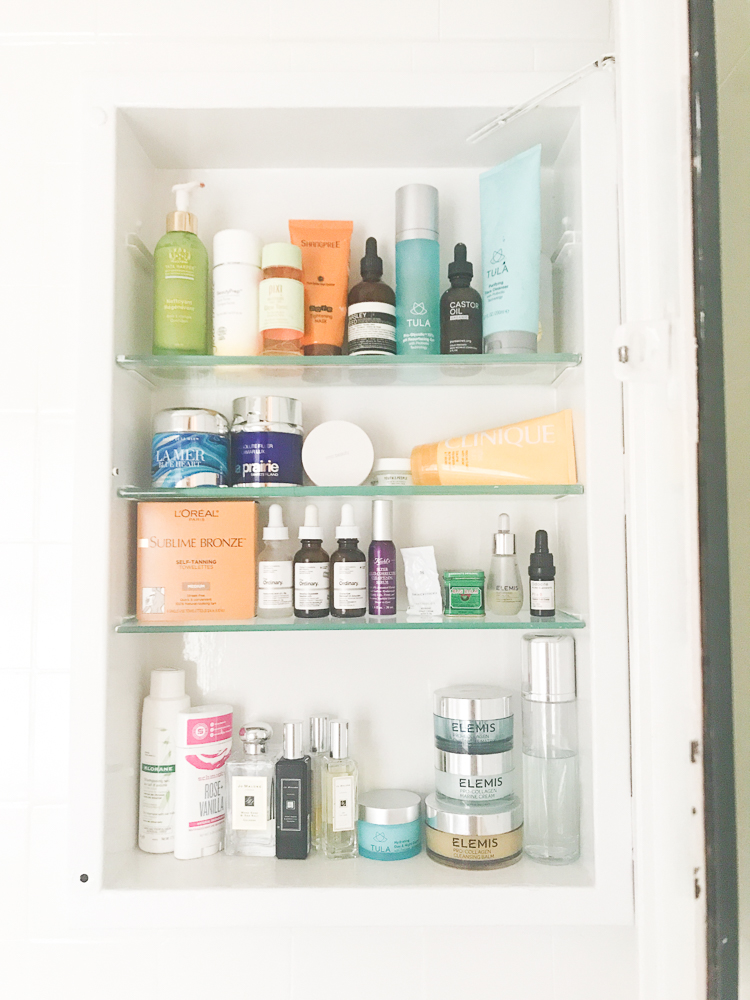 No BS here – this is my actual medicine cabinet reveal–a "shelfie," if you will.   Truth be told, I haven't lived in many places with a medicine cabinet so this is exciting to me.  However, it's tiny (as is the bathroom); luckily, Eric's hair pomade and deodorant fits in there, too, just fine.  These are all actual products in my skincare routine right now and as you can see, I like to change it up.  But it's been working for me and I love testing new products.  Not pictured is Sunday Riley (love their Good Genes (lactic acid…see more on my potential dupe below) and face wash.) . Any feedback on these products or amazing ones I'm missing?!  Happy to answer questions in the comments, too.
As always, you can shop anything I post on Instagram on my shop page--super easy and you can generally find products there.
Tula – (20% off with code ANNAJANE) – Been using Tula products religiously for the greater part of the year and I still love their moisturizer, illuminating serum and mask.
Jo Malone fragrances – I've been wearing them for a decade (and have tried a ton).  My favorites are Wood Sage & Sea Salt and Nectarine Blossom & Honey.
Elemis – Love their cleansing balm and Superfood oil right now (and check out this deal on their products, too!).
Klorane – Their dry shampoo is amazing (I prefer the loose powder form)!
Skinceuticals – The first retinol I tried— I'm a huge fan and will buy again (but am stepping up to the 1.0).
Aseop – In LOVE with their hand soap and also a fan of their face wash and facial oils (particularly the parsley serum).
The Ordinary (also available here) – Verdict's out on what I think of this brand–and I've been using it for months.  I love the price and that I"m not afraid to use an ample amount but I can't decide if it's DOING anything.  I probably won't buy the lactic acid (I so badly wanted this to replace Sunday Riley Good Genes) or retinol again (am I using it wrong?!  I did my homework!) but I do like the hyraulonic acid and vitamin c serum and want to try some other products.  My advice: do your homework on these products and how to use them…I'm going to try more.
Pixi – Their glow tonic may be my favorite toner of all time…and you can get it at Target!
Bag Balm – Old family secret…my mom used to slather this on our chapped lips and noses (if we had a cold) before bed.  Great for hands, too! (The original packaging used to showcase a cow's udders…hmm)
L'oreal self-tanner – In towel form!  Cheap and great in a pinch.
RMS Beauty – I only have a few products from the line but I LOVE the un-coverup (I use '11') and the magic luminizer.
Castor oil – I drink teaspoon before bed to clear the ol'….KIDDING.  Just wanted to see if you were paying attention.  If I remember, I'll rub it on my eyelashes and eyebrows before bed…it's supposed to keep them healthy but I probably don't do it enough to see real results.
Tata Harper – I'm using the exfoliator face wash and it's a little grainy so I only use it once a week in the shower (great for my neck and décolletage).
**I know Real Outfit Recap is reserved for Friday but honestly, I've been wearing the same sweatpants all week while I clean and unpack…it'll be back next week!