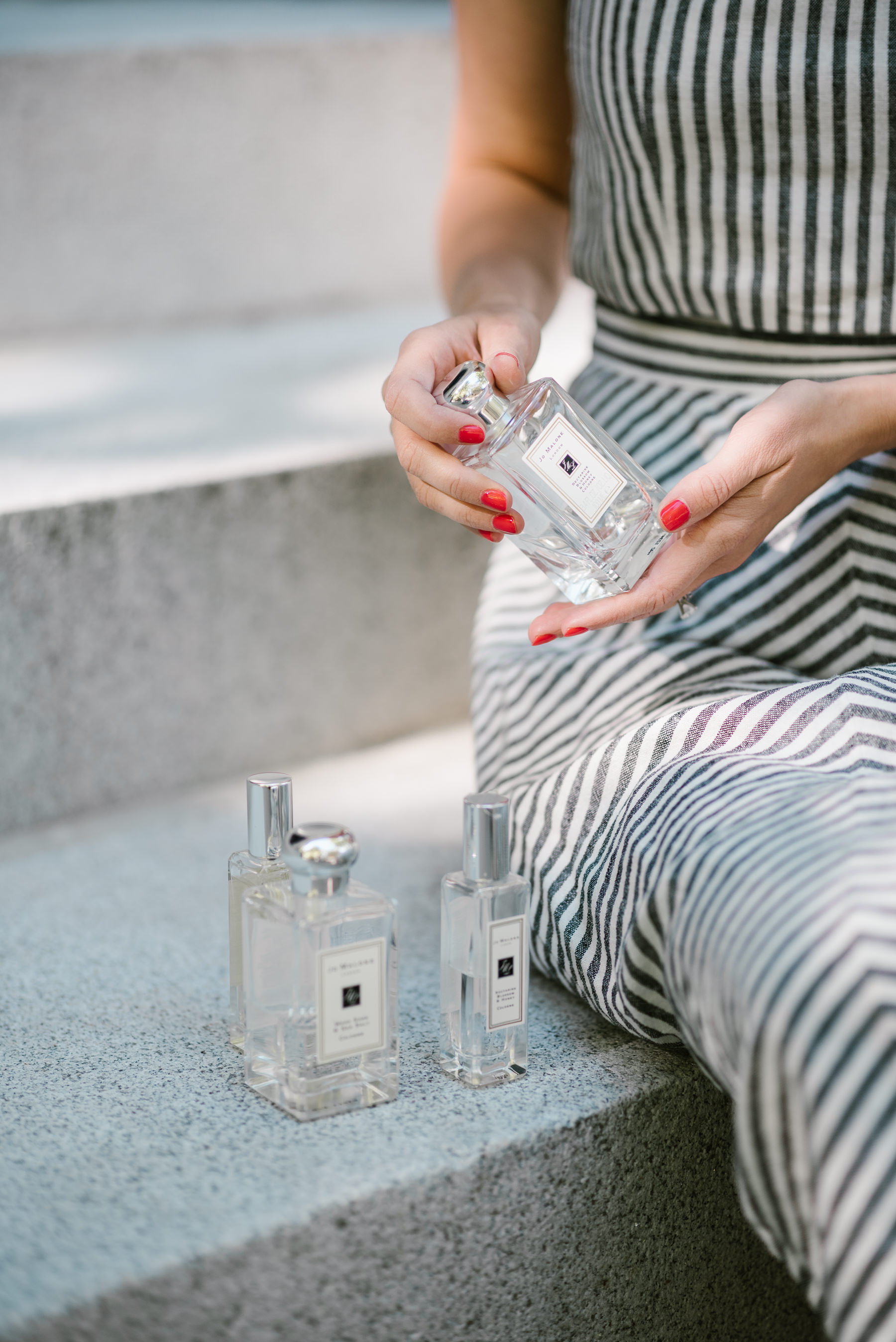 I've amassed quite the collection of Jo Malone London perfumes over the years.  I discovered the fragrance line through a friend about ten years ago and it's been a favorite every since.  Nordstrom has the entire line, including the constant favorites and the new scents that rotate in each season.  My signature summer scent is Nectarine & Honey Blossom–so much that a friend I hadn't seen awhile gave me a hug and told me she missed that scent (Nordstrom has the candle, too, in case your home needs a signature summer scent).  Lastly, Jo Malone creates her perfumes so that you can layer scents.  My favorite combination during the summer is Nectarine & Honey Blossom + Wood Sage & Sea Salt.  The wood sage scent adds an extra layer of complexity and I always receive compliments on it.  One note about Jo Malone: I always thought it faded fast and didn't last all day but I've asked my husband and others and they've assured me they still smell it hours later I spray it on me.  Here are my favorite Jo Malone scents (and yes, I've owned and worn all of them):
Peony & Blush Suede – a true floral
Dark Amber & Ginger Lily – a sultry scent perfect for cooler months and also great withNectarine & Honey Blossom
154 Cologne – the most unisex of the scents that Eric and I have both worn–think sandalwood.
Other summer beauty essentials that I can't live without and stand behind:
Supergoop! CC Cream – amazing for pool days–light coverage and sunscreen.  I ever wear it to work when I don't feel like wearing much makeup.
R+Co texturizing shampoo – I've never believed in air-drying my hair because it would just end up too flat.  With this shampoo, I get more texture than I've ever had and my hair actually looks good when I let it air dry (which it great during hot summer months).
Sunday Riley cleanser – this is a splurge for me but it feels so good on your skin in summer months when you're piling on the sunscreen and get greasier than usual.  It smells amazing, too!
Chantecaille Lip Chic in Moroccan Rose – it's like my own lips but better–plus, it's slightly plumping and the perfect sheer pink.
Neulash – I love eyelash extensions–like, a lot.  However, the upkeep is time consuming and it's currently low on the totem pole of priorities these days.  Neulash really works and I've personally never experienced any real side effects.  Whenever I use it consistently, people ask if I have extensions in, which is a good enough reason for me to keep using it.  And let's face it–mascara melts down your face in the summer.
Alright – what are your summer beauty favorites?   I'd love to hear!
*Thanks to Nordstrom for partnering with this post!