Transitioning From the City to the Suburbs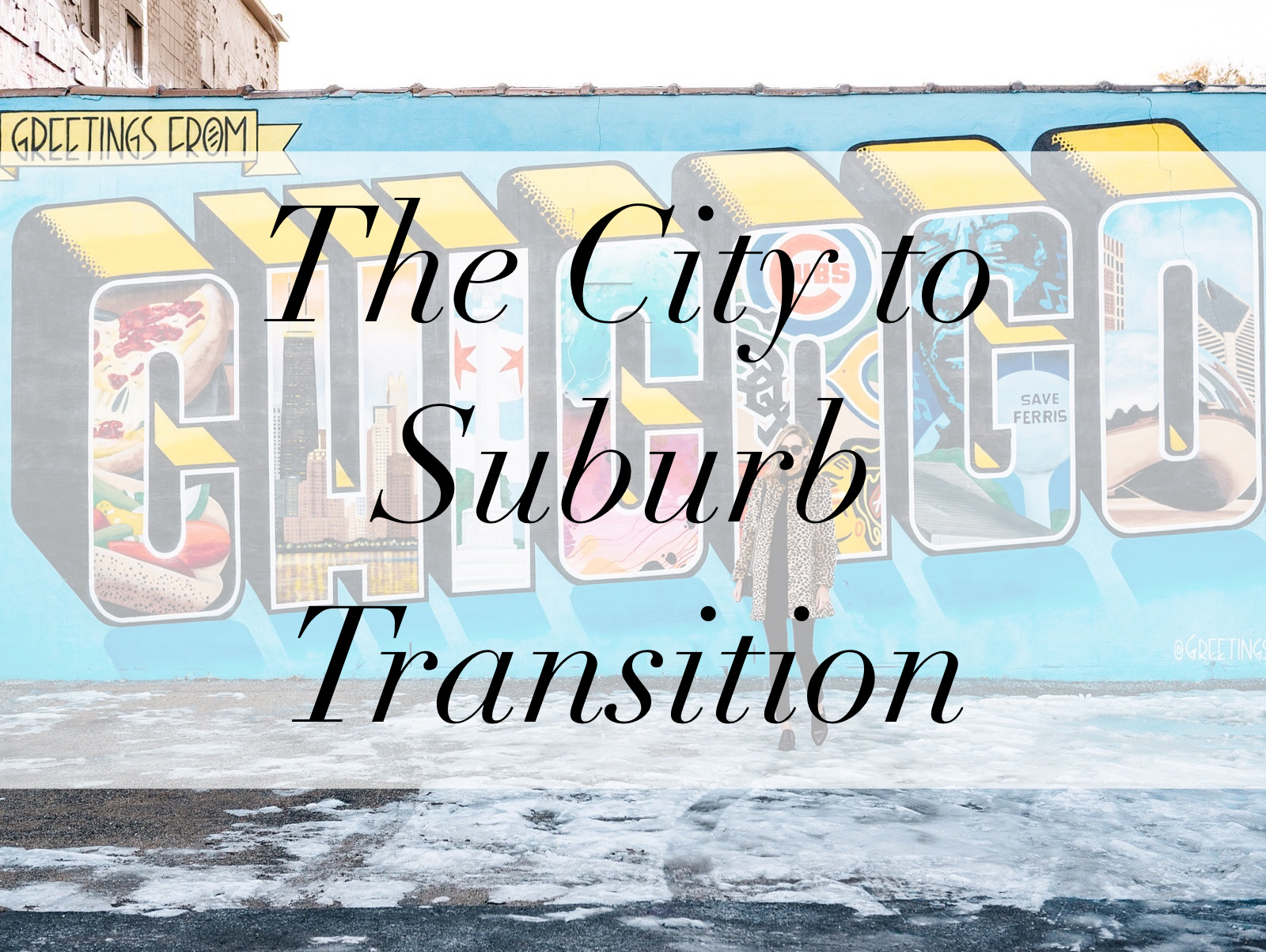 The day has come and gone already–we moved.  It was not a decision we took lightly, either.  How do you leave the city for the suburbs?  We hemmed, we hawed, we thought about moving to another state completely (didn't work out), but ultimately, we decided to move to the Chicago suburbs.  "Moving to the suburbs" didn't become part of my vernacular until I lived in Chicago (I know it's also common in NYC, but I lived there when I was 23 so it didn't resonate back then).  Where I grew up, it was just one, big, sprawling suburb–most people I knew lived in one of the surrounding suburbs and that was that.  I've lived in Chicago now for a decade and after I had our first baby, I thought to myself, 'nope, never leaving the city.  My kids are going to be city kids, I love this, I don't even need a car because I have this Uppababy Vista!"  Well, my baby turned into a toddler and started running and then we had another baby and the stuff accumulated and before we knew it, our spacious 3 bedroom/2 bath condo was overrun.  We lived on the second floor and if you have kids, you know how hard it is to get 2 year old to walk or use light feet–or even use an inside voice.

The city is amazing for children: the classes, parks, diversity, museums, restaurants–we really loved it.  What we didn't love was the lack of space and storage (strollers take up a lot of room in your shared garage), uncertainty about schooling (I really tried to navigate CPS and was excited about Harry starting preschool there but he wasn't accepted to any of the several pre-schools I applied to and it was lottery-based…I tried to talk to several people about it and their retort was, "it'll work out."  It didn't.) and crime; I can handle myself but it's another thing to be worried about your kids safety during the day and to have to deal with something like your stroller being stolen in broad daylight behind a locked fence (they must have really wanted it) . And of course money was a huge factor in this; we knew that in the city, we wanted to live in a certain area (for schools) and also knew we wanted a single-family home (for reasons listed above)–we also knew we didn't want to overextend ourselves there.

I'll admit, I'm a little disappointed we didn't stay in the city; I can't help but to think I gave up–that I didn't try hard enough.  Growing up in a rural area (we had horses at our house!), I was determined to live in a big city.  And I knew as a little girl that when the day came, I'd want to have 'city kids.'  At the time, they (they being people on TV and even those I met in high school) seemed so cool and so much savvier than someone like me–their little bumpkin counterpart.  But now, looking back at my childhood, I think I can say that no matter where you choose to raise your kids, their childhood will be special.  You'll look back fondly (hopefully, anyway) and feel pangs of nostalgia for a simpler time when people were nicer and the time went by more slowly.  I didn't give up, I just opened up a different chapter–that I hope our family benefits from.  And if my kids were like me growing up, they, too, can dream about raising their kids in the city some day and I can fill them in on stories of what it was like when they were babies in Chicago.