Sunday Self-Care Routine with Colleen Rothschild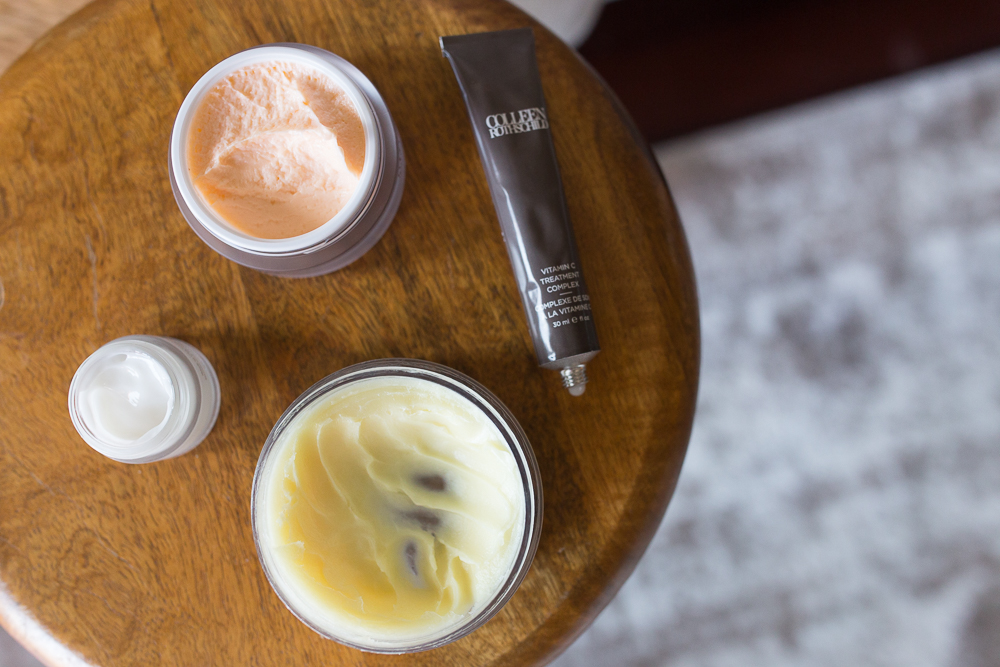 I was a newbie to Colleen Rothschild products until this past April.  When I went to the RewardStyle conference, there were networking sessions with brands, so I popped in to learn what they were all about.  It's a Dallas-based skincare company started by a beauty industry insider.  The products feel luxe and spa-like and I've been incorporating them into my routine every since April.  Now, just as a disclaimer, I try A LOT of skincare products–it's fun for me and I love trying new things.  But when I use a product so much that it gets a spot on my medicine cabinet shelf, that means I really love it and a few Colleen Rothschild products have made that coveted move.
I find myself incorporating them most into my Sunday routine, when I take my time and really cleanse, exfoliate or mask.  Here's what I use:
Cleansing balm – I use this as the first cleanser when I 'double cleanse.'  It thick, almost vaseline-like, and really removes residue and makeup.  I use this stuff nearly every day and on a typical evening, I follow up with a gel cleanser (like this one).  But 1-2 nights a week I use….(see next)
Dual enzyme polish – I use this a couple times a week for extra exfoliation (my facialist told me I need more of that) and this does the trick and then some.  Honestly, it feels like a spa treatment and smells fantastic while sloughing off your dead skin cells.
Clarifying detox mask – This mask, again, feels like what you get at a fancy spa.  It goes on cool and then tingles a bit–I freaking love it.  When I rinse it off, my skin feels so soft and my pore look smaller.
Because the cleansing and masking portion of my Sunday self-care routine is so long, I keep it simple with the serums afterwards.  On Sunday evenings, I want freshly scrubbed skin that can breathe so I'll go to bed with moisturizer or light oil and that's it.
Other tips: I am really digging the Sheer Renewal Cream for under makeup–it gives you a nice glow and isn't heavy under my CC cream.  I also like the Complete Eye Cream!  And I'm never impressed by eye creams (true story).  It's super light but brightens up the area a bit (because the older I get, the darker my circles become).
Until 9/30, you get 25% your order at Colleen Rothschild with code HBD25!  A great place to start and test products is with her Discovery Kit.
*Thanks to Colleen Rothschild for partnering with this post!