My Everyday Jewelry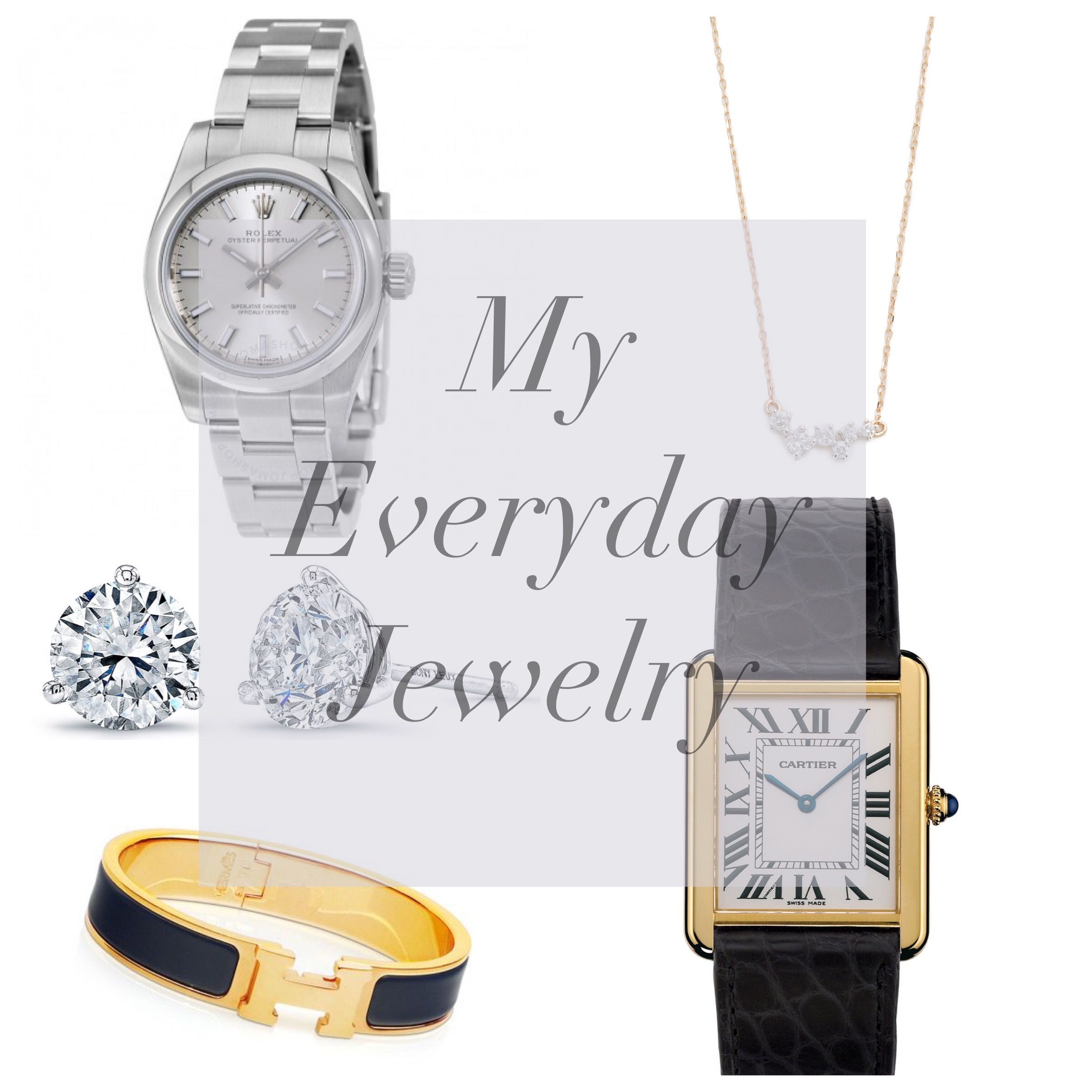 I'm a fan of simple jewelry – I always have been.  I rarely change it up and have a habit of wearing the same, simple jewelry and accessories every day.  I wanted to share these pieces with you because I sometimes receive questions about what I'm wearing and if you're looking at one of my outfit posts, I can guarantee I'm wearing all of the items below (well, one of the watches).  To me, it's not about the item itself but what it represents.  Eric has given me almost every piece of jewelry I wear and it holds such significant meaning, whether a birthday, anniversary or birth of one of our boys.  So, here's my jewelry routine, with a little backstory:
Adina Reyter necklace – I recently bought this for myself as I was looking for a delicate everyday necklace that I would always keep on (backstory: I lost my Maya Brenner necklace after taking it off for Harry's birth).  It's a scattered diamond necklace with five stones and I like to say they represent the beautiful chaos that is my life.  Plus, there's five in our family (including Jerome). This necklace is so dainty that you probably don't notice it in my photos but people always ask me what is is and where I bought it–it's a beaut!
Gold-faced watch – Eric bought this for me after I had Harry.  He loves watches and he picked out an awesome one for me.  I LOVE the classic style and leather band.  I wear it most days (and take it off at night).  Harry's initials and birthdate are inscribed on the back and I want to give it to him or his future wife and/or family when he's older.
Silver watch – I know, I know – like I said, Eric loves watches and this was a 5 year anniversary/birth of Teddy gift.  I love the simple silver and small face (I have really small wrists so I can't wear oversized watches).  I haven't had it engraved yet but I'll put Teddy's initials and birthdate on it and pass it down to him/his wife/family when he's older
Bangles – Eric has given me a couple of these over the years.  If you have noticed in my outfit photos, I'm always wearing either the navy/gold bangle (I wear it with the gold-faced watch since it's gold-plated) and I wear the red/silver bangle with the silver watch.
Diamond studs – A wedding day gift and these will be forever special to me.
Other great brands to check out if you like simplistic and dainty jewelry: Dana Rebecca,  Monica Vinader, Zoe Chicco, and more Adina Reyter.