Life Update: Career Change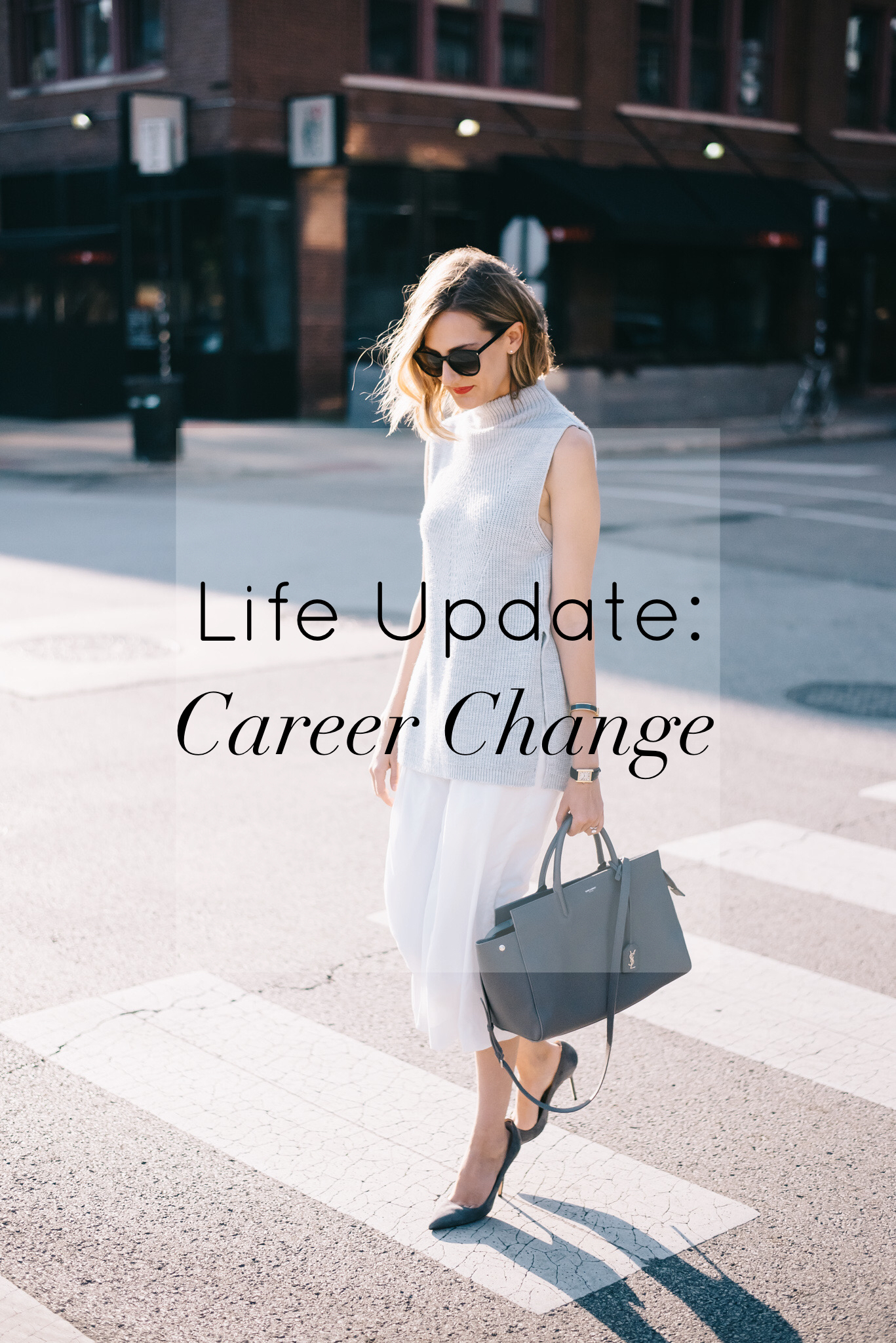 It's high time I addressed this because I've received a ton of messages about what I'm doing now that we moved up to the suburbs.  I've been meaning to address it–I just wasn't sure HOW and felt like it deserved a post of its own.  I know many of you reach out for career advice and are always interested about how I went from finance to fashion with a blog stuck in there, too, so I'm more than happy to tell you about my thought process, my journey and what's next on the docket for me.
You probably have noticed more IG stories during the day or perhaps you're missing my work mirror-selfies.  It's true, I left my full-time job at Trunk Club last month.  The decision wasn't easy and there's days when I still miss it but I was there for 6.5 years and I felt that leaving in tandem with my move to the suburbs was the right choice for me.   I've only had two jobs out of college and the career paths couldn't be more different.  I was a Finance major in college who went straight into management consulting.  I like to call that period my 'foundation building.'  That job taught me independence, problem solving and also made me realize that I couldn't fathom working in finance for the next 30 years.  I started my blog during that time and also found Trunk Club–it was fate.  The next 6.5 years was almost like business school (well, my version of business school).  As one of the earlier employees, I learned a ton about business, my strengths, my weaknesses, made life-long friends, had difficult bosses who taught me that I can achieve anything if I put my mind to it–hell, I learned about life.  It also made me realize that I loved helping build something and ultimately, it made me want to yearn for that entrepreneurial life–I'd love to get back into that phase of a business again some day.
What's next for me?  Considering I just decided to go big and take on massive life changes all at once, like leave a job I've been at for nearly a decade, move from the city to the suburbs and try to spend more time with my kids–I'd say my work is cut out for me.  We are in the process of selling our condo in the city and once that closes, we'll be starting some major home renovations, too.  Oh, and I'm also working on a passion project that I hope I'll be able to tell you all about sometime in the upcoming months.  You can also find me here–the ol' blog.  The one thing that's stayed consistent over the past eight years is my blog; this is my platform for sharing tips, tricks, what I've learned, my dreams, aspirations and passions–that's not changing!  (I've had a few people ask if I'm a full-time blogger now and to that I'll say: kind of/sort of, but ultimately, it's not really my end game.  I'm so grateful to have the opportunity to work on this and that I've built this over the past eight years but I have some other stuff up my sleeve that I'm excited to also work on.  The blog will always be here, though!)
If I can answer any questions, leave them in the comments and I'll do my best to answer them.