Last Three Books I Read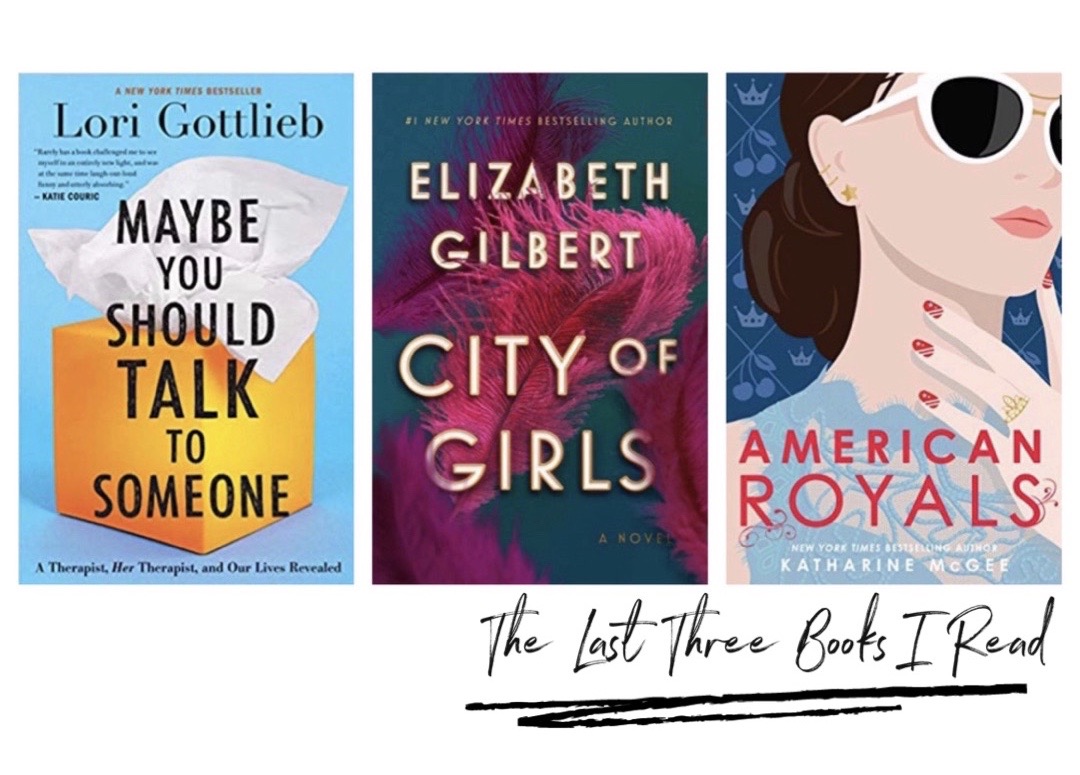 Ok, full transparency, I actually LISTENED to these because I have an Audible addiction. But I started this conversation the other day on instagram stories because I wondered if people considered an audiobook reading. So, are audiobooks really books? I realize it's not the traditional reading in the sense that your eyes are on paper, but it's the consumption of text through a different medium, so I consider a book "read" if I listen to it on Audible. I also consider it "reading" when I read stories aloud to my kids each night. Harry is just learning to read and I'm reading more of it aloud, but I still consider us all reading a book together, even if the boys are just listening. Someone messaged me that audiobooks don't require your full attention like a normal book does, but I respectfully disagree on that point. I have had to rewind audiobooks (and podcasts!) when I find myself spacing out, just like I would have to flip back a few pages to re-read if I wasn't paying attention.

It's a controversial subject, I learned, but hopefully we can all agree that these books are worth the read (or listen), so matter how you consume them! And I realize that many of you disagree with me and that's ok–Eric does (ha) and it was actually split 50/50 on my poll and thousands of you voted!

PS Audible was a 2019 instagram partnership for me but in case you're interested in trying it out, you can get 30 days and one audiobook for free through my link (it still works, I checked).

American Royals – Let's take it back to the end of the Revolutionary War–what if George Washington had taken a crown and been made royalty? What would America look like today fill of duchesses, dukes, and noblemen? American Royals is such a fun, wistful read that portrays the personal lives of modern day American royals–let love, scandal, and drama ensue! True, it's a little young adult-ish, but it's fun to hear the snippets of how American worked as a monarchy for the past 200+ years. I, personally, cannot wait for part two, which is coming out this year!

Maybe You Should Talk to Someone: A Therapist, Her Therapist, and Our Lives Revealed – Holy moly this book was a bit of a saving grace during a very difficult time for me. I started it the day I decided to call a therapist for my first appointment ever (my sister, the therapist, sighed in relief that I decided to go right after we said goodbye to our baby at 20 weeks). I honestly chose it randomly; I thought it would be a light-hearted listen and it was, but it was also so much more. Hearing Lori's therapy journey as well as her patients' journeys helped me approach my own therapy in a constructive manner. It also helped me deal with some heavy stuff going on in my own life. I'm sure it's a good read in the traditional sense, but the narrator for this book was incredible. I didn't want it to end. I brought my phone in the shower with me (maybe don't do that). There's so many people to root for in this book. You must listen/read.

City of Girls – No matter what your opinion on Elizabeth Gilbert of "Eat, Pray, Love" fame, I think we can agree she's a talented writer (I personally didn't finish the book–it lost me halfway through). This book is a little dose of historical fiction–set in 1940 Manhattan and I enjoyed the ride of protagonist Vivian Morris. The narrator was fantastic–I loved her rich voice. It was a really fun ride (full of sex scenes) and I really enjoyed it. I will say, I didn't love the ending and I think a lot of people would actually disagree with me; I kind of found myself saying, "huh" at the wrap-up but I'd still recommend it.

Leave me comments for book (or audiobook, sigh) suggestions in the comments!

Moree book suggestions here and here.