Chic Flats Roundup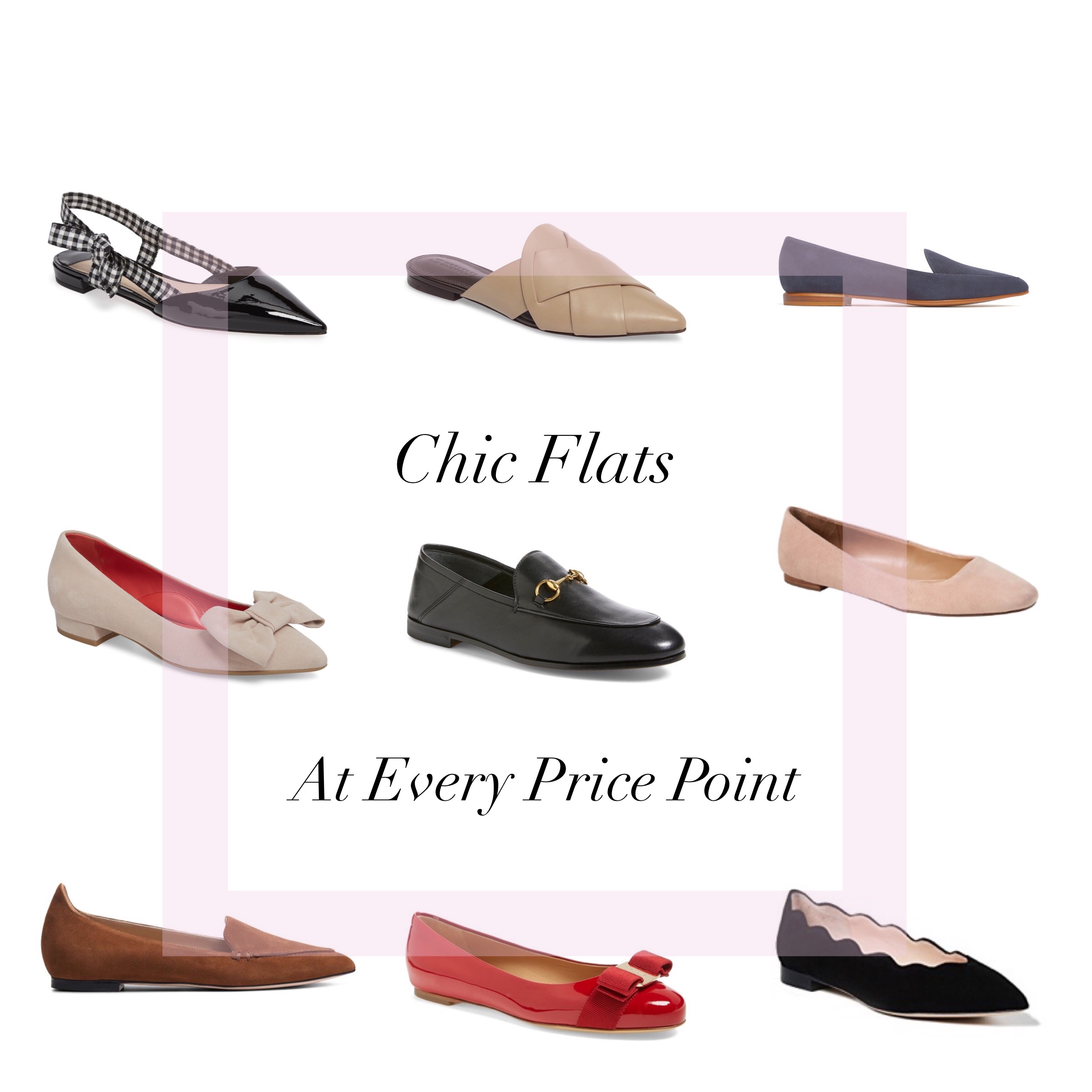 Here's another rendition of 'you ask, I answer.'  A reader asked if I would round up some 'chic flats' that could be worn casually or to work.  The only parameter was that she didn't want them to be frumpy and I assure you, none of these are.  I actually own four of the recommendedpairs and definitely want a couple more on the list.  Flats have really made a comeback in the past year or so.  I'd like to think it's a revolt against the insane 6-inch heels we were wearing in 2012 (remember those?).  Now, flats are chicer than ever and there are tons of options–it's not just ballet flats and loafers (although I'll never abandon those classic options), we have two-toned flats, scallops and mules.  It's a great time to be wearing some flats.

Check out my favorites (from right to left, all in order):

Miu Miu flats (look for less here) – slingbacks are all the rage right now and I love that these have a contrasting pattern.  You'll see these A LOT this spring and summer–just you wait.

Mercedes Castillo flats (look for less here) – An awesome, yet underrated brand.  The leather on these mules is beautiful in person, but I also found a look for less in case you want to try the trend.  Mules blew up on the scene a few years ago, but honestly, they're not going anywhere for awhile.

Everlane flats – Tried and true…pointy, chic and they come in a plethora of colors (size up half a size).

Pas de Rouge flats – A gorgeous bow detail makes these a perfect match for classic skinny jeans and a trench.

Gucci loafers (look for less here) – Yes, they're worth the investment.  They're four season shoes that go with everything…and they've been around for decades! (And I really scoured the internet for something similar at a better price point, so I hope you like it.)

Banana Republic flats (under $100!) – A slight derivation from the classic round-toe–these are slightly squared off.  I love the neutral color AND the price!

M Gemi flats – I've worn mine loyally for the past three years…and they're still kicking.

Ferragamo flats (shop more Ferragamo here) – One of my first pair of designer shoes I bought.  I purchased these when I was still working in finance (whoa, that was like eight years ago) and I still have them!  They're classic and perfect for the office OR a chic, casual look.

Club Monaco flats (shop more Club Monaco here) – Yes, these are in my cart.  The scallops are so tempting and the toe cleavage on these is so subtle and chic!