Billie Razor Review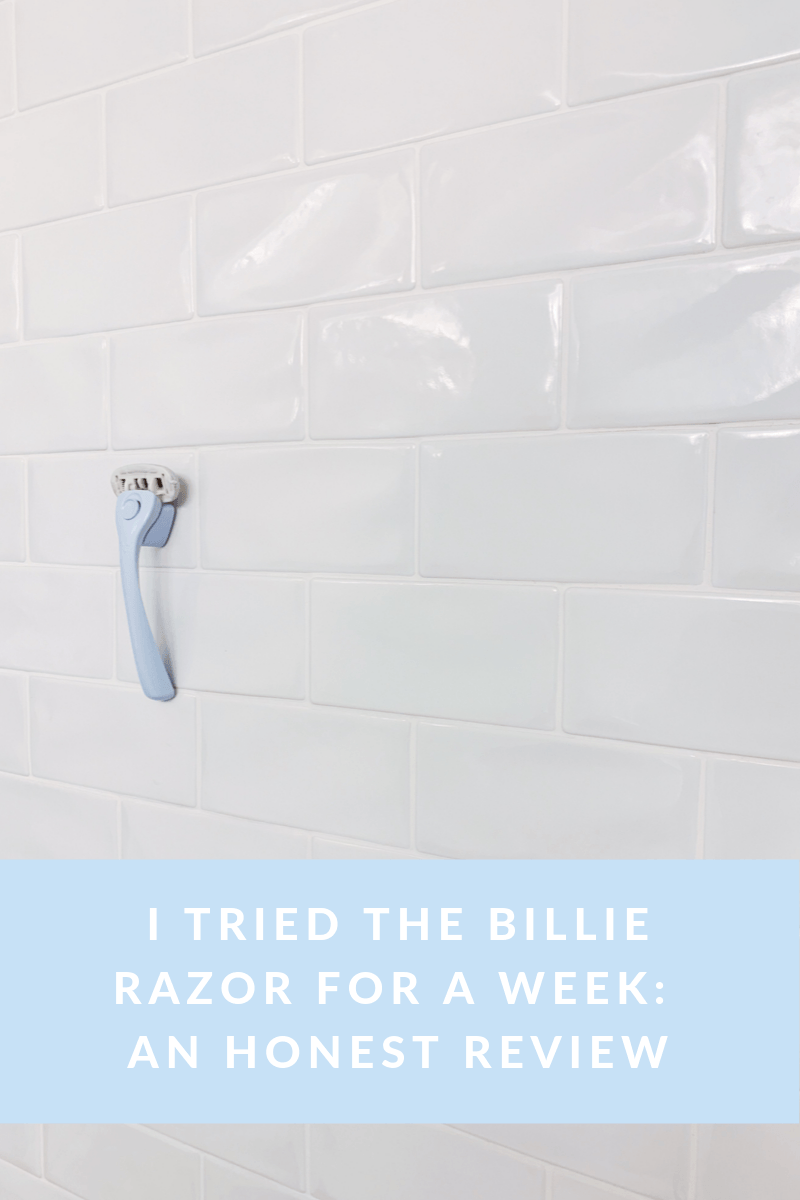 Billie: the razor with a ton of hype. You've seen everyone praising it on instagram. Maybe you've even been served the ads on social media. But, like, it's a razor–what's so special about it? Before I get into it, I must let you know that I have been using this razor for a little over a week and shaved every other day. That may not sound like much in the grand scheme of things but when it comes to hair removal and razors, you pretty much know if you like something after the first shave; I wanted to give it a solid week before making the call. And as for some background, I've been a Venus Gillette loyalist since high school (probably?). I've dabbled with other disposable razors but have always remained true to the Venus. What I'm about to reveal isn't actually that revelatory–so, sorry in advance. In fact, your life will most likely not be changed by the purchase of the Billie Razor. It won't do your laundry or pay your taxes (those are life-changing tasks to me, ha). HOWEVER, there's some good stuff here and I'm going to show you why Billie is a smart company that just might change how you shave your legs.
Billie Razor Review – what's great about it:
the price. I chose the "least frequent" option, which means I shave "once a week." I actually shave more than that but I don't really shave above my knees (TMI?) because I don't really grow hair there (another TMI?). The starter kit package I chose was only $9–which includes four razor cartridges every quarter. That in itself is incentive enough to purchase this razor. When you include the free shipping–that's significantly cheaper than the $20 (not including tax) four-pack of cartridges from Venus Gillette that I normally buy at any local retailer like Target, Walgreens, Walmart, etc (and you need a salesperson to get them out of the case for you).
the shave. It's a pretty good shave, ladies. The razor blades are sharp and I like the built-in charcoal; I don't really like to use shaving cream–so, this is one less step–and there's no synthetic fragrance (great for sensitive skin)…sometimes, I'll use body wash in lieu of shave cream, too. My legs felt SO smooth and I've been shaving every other day for a week and the blade is still razor sharp as ever. For a sniff test, I made Eric feel my legs–he replied, "smooth." Very helpful. Very descriptive. But, I will say that the smoothness is comparable to my Venus Gillette razors. The Billie blade seems to be a smidge sharper after using it so much for a week. And I'm also happy to report that there's no razor burn to be found here!
no nicks. I often nick my ankles or that spot right behind the knee with my other razors. Don't you love how when you lightly nick while shaving the blood just pours out of you and circles the drain like there's a murder scene? Anyway, there's something about the shape of the Billie handle and razor that isn't nicking me at all. Literally, no nicks over the past 8-9 days and a very close shave, to boot.
the magnetic holder. I'm not going to lie–it's an awesome feature being able to hang the razor up. I love just sticking the razor handle to the wall. It gets less goopy and doesn't rust this way (Note: our bathroom subway tile is super slippery and handmade, so it has fallen off once this week, but I got it back on.)
Verdict: Buy it for the price alone. It's the smoothest shave and for that price, you can't get any better. The pink tax is a real thing and I love that this industry is changing. There's absolutely no reason that a single Venus Gillette cartridge should be $4. Plus, I love their pro-hair marketing stance because, you may have noticed, women in commercials are normally shaving their hairless legs. Don't get me started on women's razor television commercials and the fact that the Venus razor is named just that ("men are from Mars"…yuk yuk).
Other similar razor brands I am thinking about trying: Flamingo (available at Target) and Dollar Shave Club. And can anyone tell me why this Mave razor is $75 when it's compatible with Venus Gillette cartridges?
PS After doing more razor research, I learned that Venus Gillette launched an exact version of Billie online for a dollar more. While I've been loyal to them for so long, I think I'm going to stick it out with Billie and also try some other companies, like Flamingo. I like that these companies compelled Gillette to change, though!