Best Podcasts for Book Lovers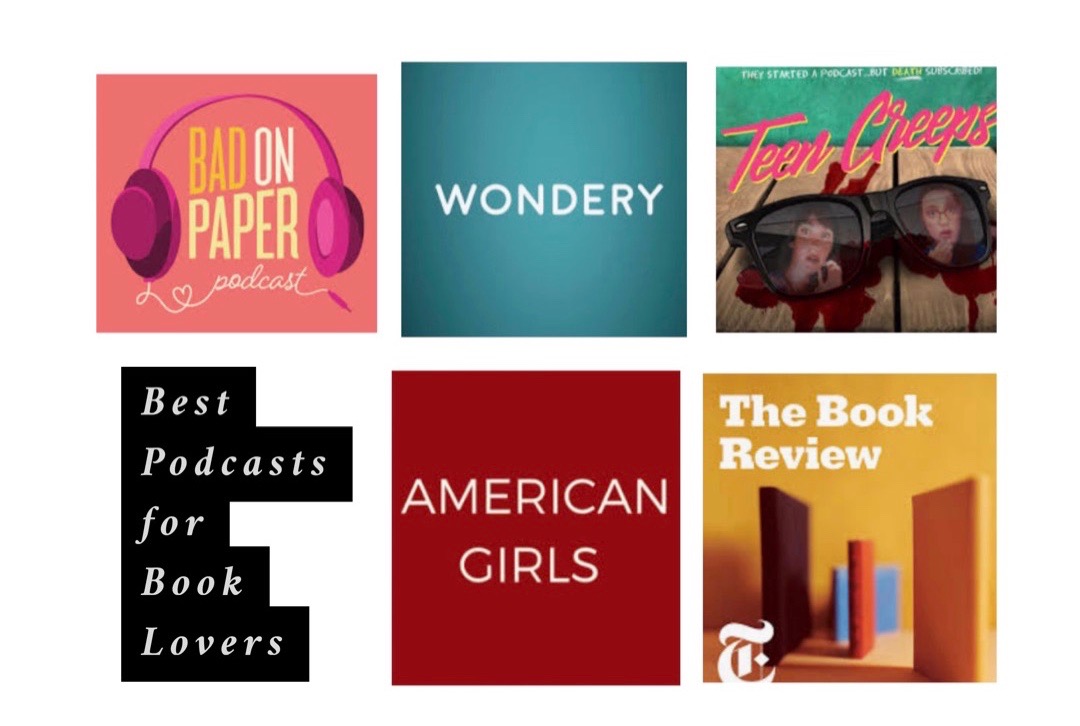 I had a festive debate on my IG stories a few months back about reading books vs audiobooks. No matter what your opinion on the matter, sometimes we want to keep the conversation going. Or perhaps we want to revisit the past and unpack some nostalgia. That's where book podcasts come in. Maybe you listen to them for new book recommendations. Maybe you want to know what the next New York Times Best Seller will be. Or maybe you want to hear witty hosts dissect books of your youth. Basically, that's what I'm looking for in a book podcast. So, let me share some of my favorites…and why.

(And be sure to check out some of my other favorite podcasts here)
Best Podcasts for Book Lovers
My lady friends Grace (who also blogs over at The Stripe) and Becca (yes, we're actually friends–I was a guest on their live show in Chicago) started this podcast and it catapulted me into the whole podcast world. Before becoming a Bad on Paper regular, I didn't dabble much in podcasts. But once I started to listening to them, I was hooked. I needed more! So thank you, Bad on Paper for welcoming me to the dark side.
I think what I love most about BOP is that it's not just about books. I love listening to their other vast array of topics that include fun guests (where we learn THEIR favorite books), skincare, life in your 30s, and even asking for a raise in the workplace. It's a super relevant podcast for the urban millennial (yes, I know I moved to the suburbs, but i still consider myself an urban millennial).
I pretty much get like 80% of the books I listen to or read from the BOP gals; they have excellent taste in literature and I also love to hear what their guests are reading as well. Be sure to give BOP a listen (and a review!).
Alright, Wondery isn't actually a podcast but a podcast network and they don't actually talk about books. Soooo, why the heck did I add it to this list? Because, as a book lover, I think their story telling abilities are second to none and all of the podcasts I've listened to remind me of an audiobook!
Wondery has a TON of podcasts under its name and I certainly haven't listened to all of them but here are my favorites (if you're a book lover, of course): Dirty John, Dr. Death, Bad Batch, Over My Dead Body, Man in the Window (warning: this one is terrifying), The Shrink Next Door, and Cold. All amazing true crime stories. There are also a ton of audio dramas they they offer (I still need to dig into these). Plus, Wondery also offers audiobooks, like Handmaid's Tale, so I think perhaps I was spot on with calling Wondery a podcast network for book lovers–wink, wink.
What I'm listening to next on Wondery: The Dating Game Killer (I'm two episodes in) and 1865.
The hosts, Mary and Allison, are historian besties and have a hilarious, monotone banter–I love it. But what I really love is the content–they are going through every American Girl book that I grew up reading and loving. They're re-reading them as adults and discussing them and analyzing them with a modern lens. They did feature the Josefina books, which I never read; I think I was a little too old by then.
I absolutely loved that they go through every single book. It's like living my childhood over and over again. I won't hold it against them that they're both self-proclaimed Mollys because that's just what makes the world go round. But, I'll bet when they recap the Molly books i'll be into them. I can't remember why I didn't love the Molly or Kirsten books–but I liked Kirsten a lot more after they recapped her books. I was always a huge fan of Felicity, Addy, and Samantha. Those three with the Holy Trinity, to me.
And I'll just say, as a Felicity with a Samantha wing, I'm a little offended (not really) how much they bag on her, but I'll let it slide, because I'm an independent and spunky girl living in 2020 who knows not everyone will like her.
Love a Times review? Looking for your next book to read, then this is the podcast for you. I'm not a regular listeners but I do check it out from time to time. They always have great authors and thoughtful dialogue. It's fun to listen to an episode after you've read the book–especially if you want to keep the conversation going (sometimes a book stays with you, right?)
I'm also a casual listener of this podcast but it brings me back because they re-read Babysitters Club mysteries, Christopher Pike (I had older siblings who were all about these), Sweet Valley High mysteries, R.L. Stine (not his Goosebumps series but the ones for the "older kids." How creepy were these YA books growing up? I mean, I loved them but they seem to dated now, right?! It's a fun dose of nostalgia and the hosts are comedians, so it's more than entertaining. I was never an avid listener of My Favorite Murder but it kind of reminds me of that.
What are you all listening to right now?! What do you think are the best podcasts for book lovers?