A $3 Shampoo I Love: L'Oreal Elvive Review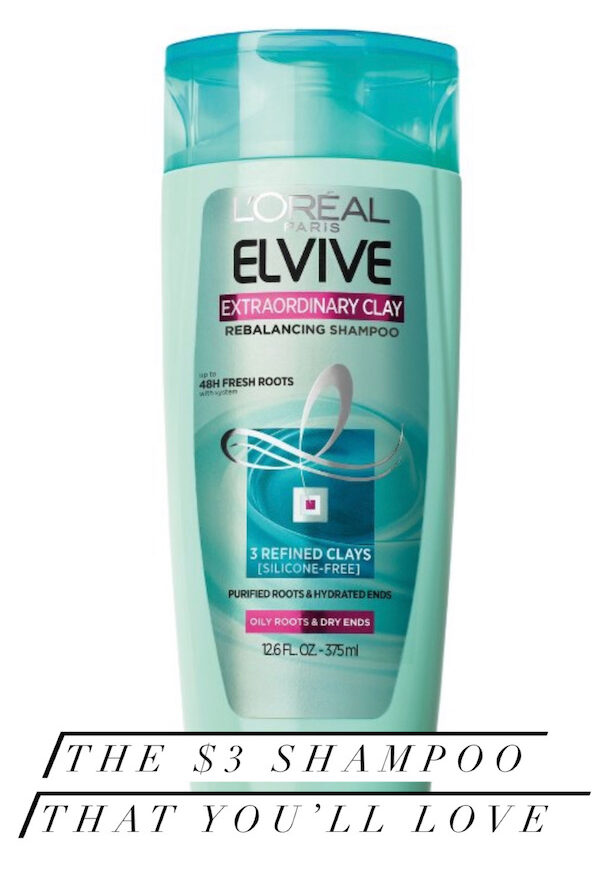 I'm a complex person; I enjoy the finer things in life but also LOVE a good deal. Hidden gem restaurants? I love to see it. Cheap thrills from the drugstore–you know it. In my shower, you'll notice the same pattern. I currently have Oribe Gold Lust shampoo (it's thick, luxurious, smells amazing and I love it), Living Proof, and this $3 L'Oreal Elvive Extraordinary Clay shampoo….and I love them all.
I discovered L'Oreal Elvive Clay Rebalancing Shampoo at Target (you can also buy it on Amazon!). And because I like to make educated decisions, I looked at the Target app real quick and saw thousands of awesome reviews. People with hair like me raved about it–those with oily roots and dry ends particularly loved it.
So, I've been incorporating L'Oreal Elvive Clay Rebalancing Shampoo into my hair care routine for over a month now and here's what I've found. Hope you find it helpful!
It keeps my hair cleaner, longer. My roots don't seem to 'grease' up as quickly. And for someone who struggles to keep clean-looking hair without washing, I'll take that!
I really like the smell. But not everyone will–it smells like fresh, clean shampoo and I love it. It's almost a little nostalgic!
I don't use it every time I shampoo–I alternate it with my more expensive shampoos.
It has no affect on my hair color; I get highlights a few times a year and they still look fresh even after using this shampoo.
I like that it suds up! It's super thick, creamy, and lathers so nicely. I know that sulfate-free is preferable in a lot of ways but sometimes you want a good sudsing; this line IS silicone free, though.
Your hair feels SO clean after. Not dry, but clean! It's hard to describe but you know what I'm talking about, right?!
Rumor has it that this L'Oreal line has the same formulation as Kerastase. I used Kerastase for years and honestly, I believe it! (It's the same parent company!)
But, I know it's not everyone's cup of tea. When I skimmed through the reviews, the biggest point of negative feedback was that people said it made their hair feel MORE oily–it's almost a counter-effect of what I experienced. Obviously, I can't speak to that but wanted to point out what the negative reviews were saying. All in all, I really like this shampoo and want to try more treatments in the Elvive line!